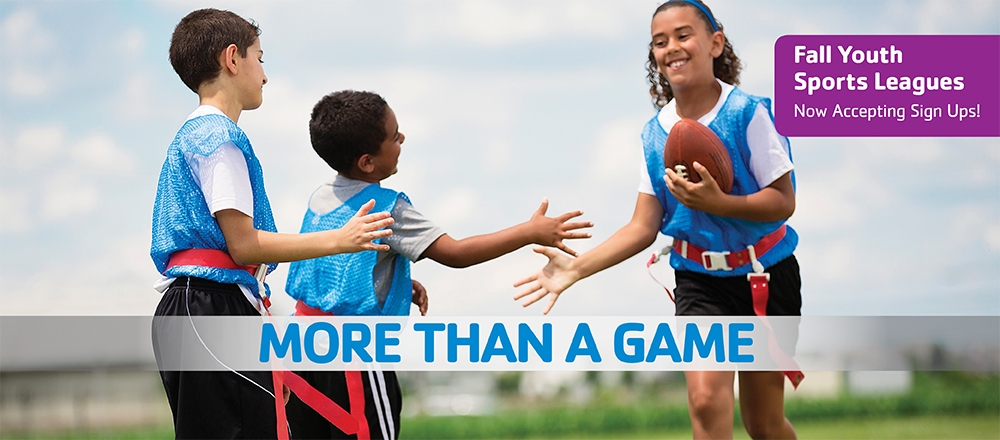 CONTACT INFORMATION
For more information on youth sports, please contact:
Katie Kimmle at Katie.Kimmle@gwrymca.org or 618.526.5628
Have you heard?! We are partnering with the Village of New Baden to manage their youth sports programs! Check back here for more information on future sports seasons.
________________________________
Registration for Our Fall 2019 Flag Football Season
Early Bird Registration: May 6 - July 14 (fees increase $15 on February 19
Registration: July 15 - July 29
Practices Begin for League Play: Week of August 5 | Season Dates: August 24 - October 12
Youth Flag Football League
________________________________
About YMCA Youth Sports Leagues (Grades K and Up)
Weekly practices and games will be at the Y or another location. Practice days and times will be determined by availability. Families will receive practice and game schedules in advance by email. YMCA coaches participate on a volunteer basis and receive training and support from sports staff. Attendance at one coach's meeting is required. Please contact us if you're interested. Teams (grades K and up) may have away games at other YMCA locations. We limit travel as much as possible.
Uniforms/Equipment and What to Bring
Each player will receive their team jersey/shirt before the first game of the season. These will be handed out to the coaches, and it will be their responsibility to distribute these to each of their players. Athletic or sport-appropriate shoes and shorts and/or sweats should be worn in addition to the uniform shirt. Mouth guards and eye goggles may also be worn but are not mandatory.
All players should bring water in a spill-proof, non-breakable container to practices and games.
Flag Football - We recommend that players wear mouth guards. Optional equipment is their own ball and cleats (no metal cleats.) Grades 3 and under use a pee wee ball. Grades 4-6 use a junior ball.
Volleyball - We recommend that players wear knee pads. Optional equipment is their own ball. Grade 2-6 use a Volley Lite. Grade 7-8 use a regulation ball.
Basketball - Optional equipment is their own ball. Preschool players use a 22-inch mini or 27.5-inch junior ball. K-2 players use a 27.5-inch junior ball. Grade 3-4 boys and grade 3-8 girls use a 28.5-inch intermediate. Grade 5-8 boys use a 29.5-inch official ball.
Informational Youth Sports Handbooks​
For More Information on Sports You are Currently Enrolled In
If you are already enrolled in a sports session that is current, you can view our Sports Website for teams and schedules.
Sports Safety
The Gateway Region YMCA partners with Cardinal Glennon SportsCare to give kids a healthy advantage through educational programs and support for parents, coaches and athletes. Cardinal Glennon representatives visit sports programs at our YMCA branches to share information on injury prevention, proper technique and overall athletic health. Here are tips for:
Baseball Safety
Basketball Safety
Flag Football Safety
Gymnastics Safety
Soccer Safety
Softball Safety
Volleyball Safety
Click here to view more Sports Safety and Injury Prevention sheets from Cardinal Glennon SportsCare. If you need help finding an expert physician for your young athlete, contact a local SportsCare representative at 314-577-5640 (this is a Cardinal Glennon phone number, Y numbers are above.)
Youth Sports Cancellation Policy/Refunds
Any cancellation made prior to the registration deadline will receive 100% refund
Cancellations received after the registration deadline will be subject to a $15 fee
No refunds issued for cancellations after the 2nd scheduled game