TAKE ACTION TO IMPROVE HEART HEALTH
The YMCA's Blood Pressure Self-Monitoring program is designed to help adults with hypertension lower and manage their blood pressure.
PROGRAM BENEFITS
►

 

Reduction in blood pressure
►

 

Increased awareness of triggers that raise blood pressure
►

 

Better blood pressure management
►

 

Enhanced knowledge to develop healthier eating habits
FREQUENTLY ASKED QUESTIONS
What is the YMCA Blood Pressure Self-Monitoring Program?
The YMCA's Blood Pressure Self-Monitoring Program is designed to help participants with hypertension lower their blood pressure by following an evidence-based program that combines blood pressure self-monitoring, nutrition education seminars, and personalized support.
A Healthy Heart Ambassador will work with you one-on-one to be certain that you know how to correctly and consistently measure your blood pressure. During this 4-month program, you will also learn how to improve your blood pressure through different strategies, including nutrition seminars - we know that there is no "one-size-fits-all" approach and we are committed to finding out what works best for you!
Is there a fee to participate?
Yes, there is a program fee. However, the Y is committed to reducing or covering the cost of the program through financial assistance or grant funding for eligible participants. 
How and when is the program offered?
We are now offering the YMCA's Blood Pressure Self-Monitoring Program virtually! Enrollment opportunities are offered regularly across the metro-east region. If you are interested in learning more about the program and participation options, please call 314-598-2120 or email bpprogram@gwrymca.org.
In-person Diabetes Prevention Program options may be available at the following locations:
Does the Y offer other programs to assist with managing chronic diseases?
Yes! The Y is committed to ensuring healthy living across the region through several evidence-based programs that support those who have been diagnosed with or are at risk of developing chronic conditions such as cancer, diabetes, Parkinson's, and high blood pressure.
YMCA's Diabetes Prevention Program
Social Support Services
Community Gardens
PAUL'S Y STORY
In July 2020, Paul began to feel unwell, but decided to wait until his next doctor's appointment to address the issue. In the meantime, he went to the YMCA's Blood Pressure Self-Monitoring Program. Upon being tested, his results were abnormal and he was encouraged to call his doctor immediately. Paul was able to see his doctor and was diagnosed with an irregular heartbeat. Through immediate treatment, he was able to return to his regular routine. Paul will be the first to tell anyone, "While no one knows what would have happened, if Mary (YMCA BPSM Staff Member) had not seen the problem, there is a good chance that waiting could have resulted in a much more negative result."
CINDY'S Y STORY
Cindy needed to lose weight because her cholesterol and blood pressure were high and she thought she might require knee surgery. Cindy had never liked to exercise and was intimidated by the machines. With the help of Y staff, though, she began to enjoy exercise. Cindy has lost 50 pounds by coming to the Y frequently, participating in a variety of classes, personal training, Blood Pressure Monitoring, and other activities. She says she feels 20 years younger, and not only is her cholesterol in normal range, her blood pressure medication has been reduced and she will not need that knee surgery. Cindy is grateful for the Y team supports her along the way.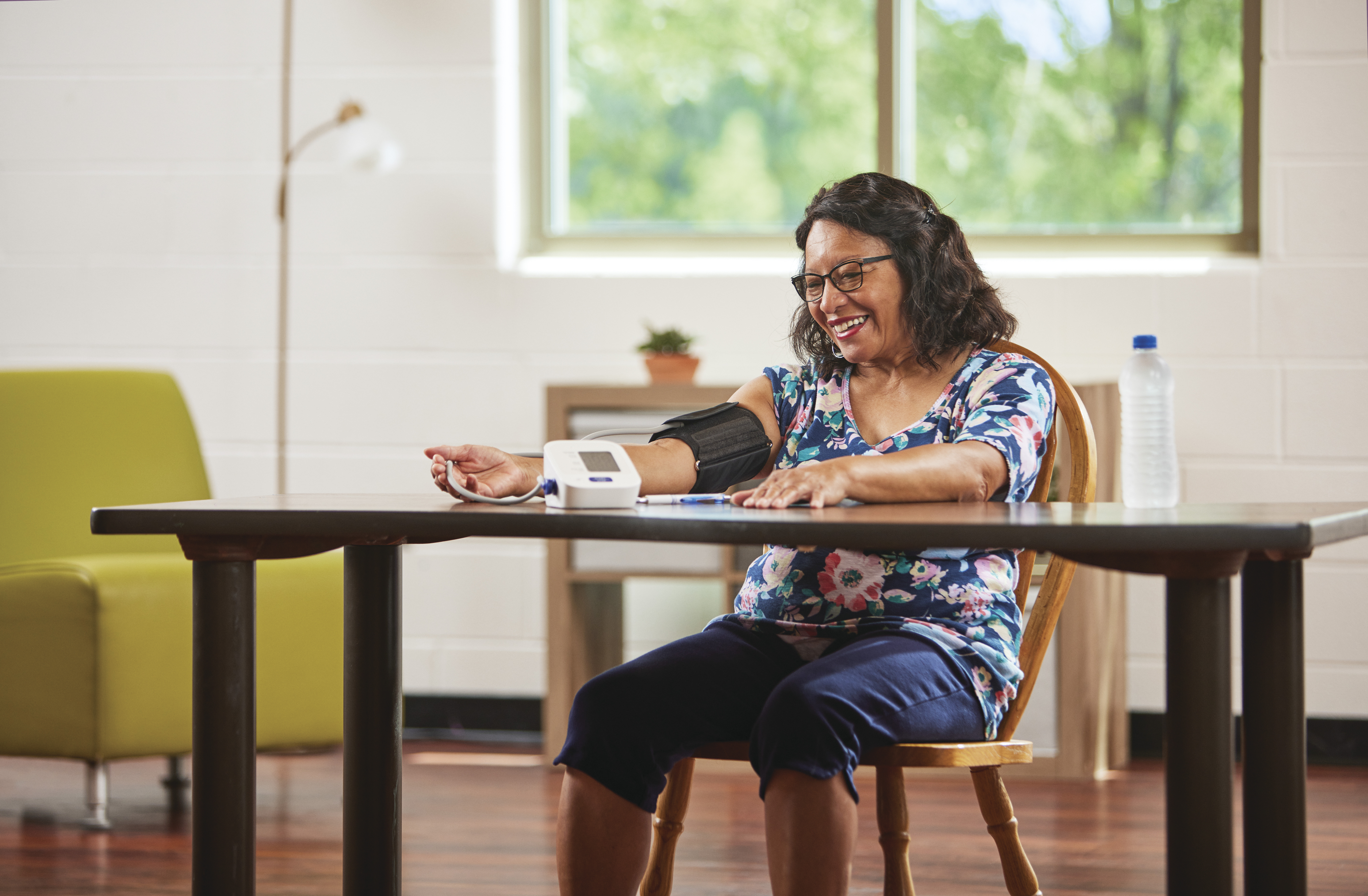 Understanding and Managing Blood Pressure and Hypertension
This blog dives into the causes of blood pressure fluctuations, how you can prevent and manage high blood pressure, and tips on blood pressure self-monitoring.