You are here
Youth and Government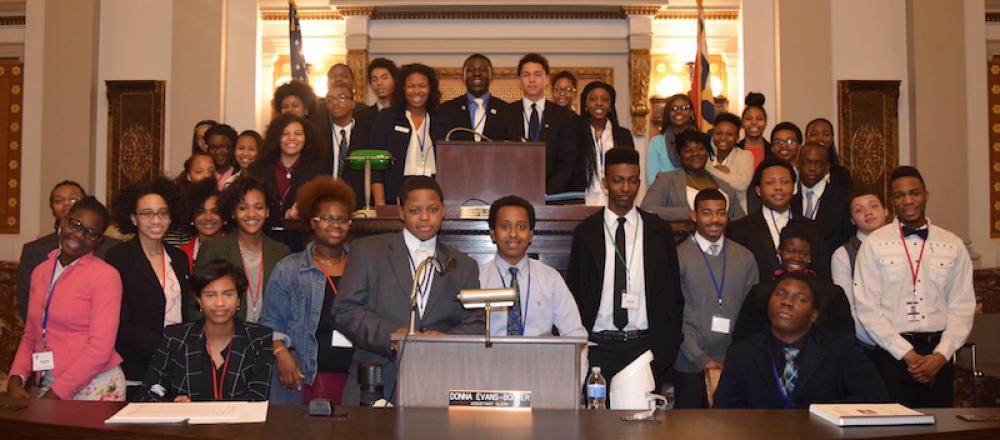 Youth and Government (YAG) provides students the opportunity to experience the democratic process and develop the leadership skills needed to become citizens of a participatory society. Based on the motto "Democracy Must Be Learned By Each Generation," Youth and Government is a nationwide program that involves more than thousands of youth in grades 8-12 each year.
YMCA Youth and Government promotes:
An understanding of local, state, national, and international concerns
Research, study, and debate on public issues
Exploration of careers in public service
Interaction with adult and youth leaders involved in decision-making processes
An understanding of political systems and the forum they provide for the effective and peaceful resolution of issues and concerns
Appreciation for the diversity of viewpoints on public issues and a concurrent respect for ideas, beliefs and the positions of others
Demonstration of citizenship responsibilities and leadership roles essential to the health of a participatory democracy
Beginning in the fall of each year, students come together in their local delegations to choose their roles, and prepare for the State Convention. Delegations meet at schools and YMCAs across the Gateway Region. At the YAG State Convention, students create their version of state government under the guidelines of their state Constitution. All YAG participants come together for a three-day event at their State Capitol. Legislators meet in committees and in the House and Senate chambers to debate legislation. Attorneys try their cases before student judges and engage in a moot trial competition. The entire event is covered by a student newspaper, published four times in three days, and by a student television news program that airs several times each day. Participants also engage in campaigns and elections for officers who will serve during the following year.
For more information on how to participate in YAG, contact Lauren Carmack or visit Missouri YMCA Youth In Government or Illinois YMCA Youth and Government.
Upcoming Illinois Youth & Government Registration:
Area high schools that Illinois branches serve: Belleville East, Belleville West, Althoff, Cahokia, O'Fallon, and Governor French Academy.
Recruitment/Registration: darin.williams@gwrymca.org or call 618.233.1243
Legislative
Students in the Legislature turn the ideas of Missouri youth into formal laws by writing, debating, and voting on legislation according to specific rules and procedures. 
Legislative Leadership
In addition to the elected student leadership, there are a number of leadership positions available for students in the Legislative program. These positions include:
Judicial
The goal of the Judicial Program is to expose youth to the judicial process, from participation in trials as attorneys and witnesses, to developing leadership skills through mentoring and serving as Judges in those trials. The focus of the students' work during the fall is on learning and practicing the various parts of a trial, and developing the case you work on throughout the semester.
Media
The goal of the Media/Print Press Program is to provide students with an opportunity to understand the role of media in a democracy. Print Press participants engage in the writing, interviewing, commentary, editing, layout, photography, graphics, production, and circulation of a newspaper.
Dress Code
There are two levels of dress for Youth and Government events.
Business Casual Dress and Professional Dress.
Business Casual Dress Guidelines:
Males should wear nice pants or slacks and nice shirts or sweaters.
Other business casual guidelines for males: