You are here
Six Snow Day Boredom Busters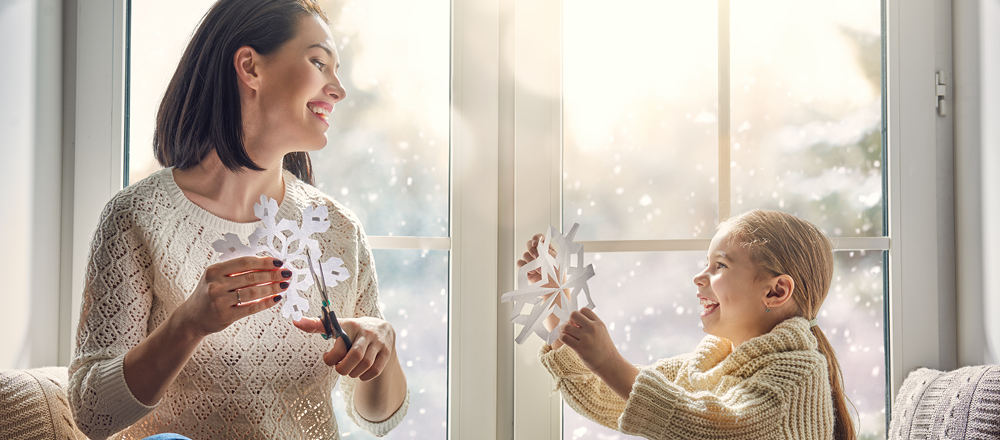 Kids may jump for joy when they anxiously await to hear the official ruling of "snow day" but parents aren't always as equally enthused. Having a plan in place that includes activities, snacks and a healthy dose of creativity could be just what you need to save the day!
Get Creative
Snow Paint: Send the mess outside with this fun activity. It only takes 2 ingredients plus a little imagination. Combine several drops of food coloring with cold water in a squirt bottle and mix. Use one bottle for each color. Then let the little ones channel their inner Picasso or Pollack and let the games begin! You could even use this to dress up your snowman.
Make a Snow Volcano. This is a fun way to play in the snow while learning a bit of science and it only takes a handful of ingredients including a plastic bottle, baking soda, vinegar, and food coloring.
Control the boredom snacking and get the kids in kitchen with you. There are lots of kid friendly recipes online but a few easy ones to make include this tasty Snowman Quesadilla with this Edible Marshmallow Snowman for a delicious dessert or afternoon snack.
Get Active
ABC Hunt: Have your kids go around the house with a basket, collecting items that start with each letter of the alphabet (A for apple, B for Barbie, C for Crayola, etc) – give them a checklist to mark off each one as they go. Time them so they run!
Animal Exercises: So normal calisthenics may not appeal to your family suffering from Cabin Fever but what about acting like an elephant by bending at the waist and swinging your arm back and forth like a trunk is way more fun! Make it a game of charades or Simon Says. Can they arch their backs like a cat? Wave their arms like a butterfly? Skitter like a crab?
Minute to Win It Games: Sock Toss, Cup Towers, Rubber band Shoot-Out, Chopsticks & Marshmallows…lots of fun activities to keep your kids engaged and challenged. See what games they can come up with using what you have in the house.
All opinions expressed here are those of their authors and/or contributors and not of their employer.
Any questions or concerns regarding the content found here may be sent to info@gwrymca.org.