You are here
Basketball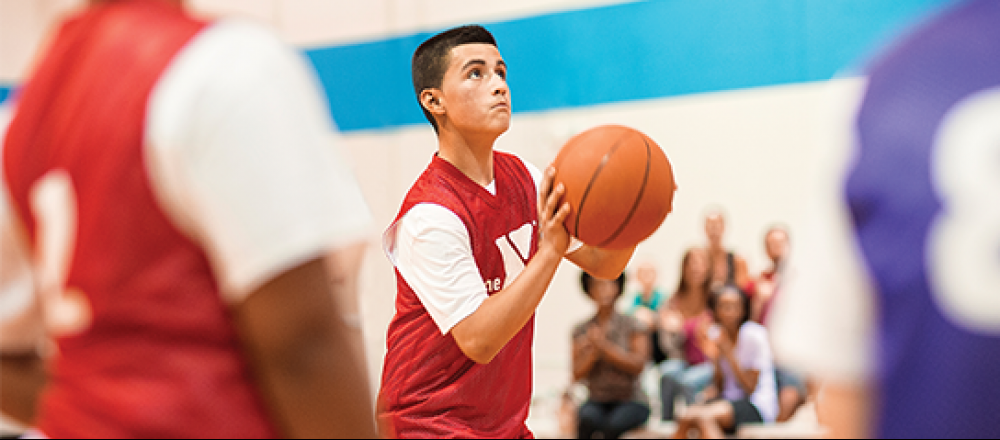 Youth Basketball
Youth basketball is an exciting sport combining team play and individual skills. YMCA Youth Basketball promises no try outs, no getting cut and no bench warmers! Players learn skills or improve skills including dribbling, shooting, passing and rebounding, and learn the positions of the game. Our approach to coaching allows players to learn and have fun! Our Youth Sports are open to Y members and non-members; members receive the lowest program fees.
Youth Basketball Preschool
(Ages 2-5*) - Instructional skills clinic/game for boys and girls (coed) to learn the fundamentals of basketball.
Youth Basketball League
(Grades K-8*) - Our league features:
One practice during the week and games on Saturdays
Six games per session (some sessions offer a bonus game for a total of 7 games)
Trained volunteer coaches
Trained officials
Good sportsmanship and YMCA core values modeled and promoted
Fundamentals and a focus on new skill development
Equal play time for players
Team jerseys and end of season awards
*Programs, program ages and sessions may vary by branch. Branches may offer this program during additional sports sessions, may offer skills clinics and may offer leagues for other age groups. Please check with your branch for offerings. View branch locations.
Sessions
Winter 2019
Early Bird Registration: October 15 – December 10 (fees increase $15 on December 11)
Registration: December 11 – January 2
Practices Begin for League Play: Week of January 14 | Season Dates: January 26 – March 9
Fall II 2019
Early Bird Registration: July 22 – September 23 (fees increase $15 on September 24)
Registration: September 24 – October 7
Practices Begin for League Play: Week of October 21 | Season Dates: November 2 – December 14
Basketball Uniforms and Equipment: What Players Need to Bring
Each player will receive their team jersey/shirt before the first game of the season. These will be handed out to the coaches, and it will be their responsibility to distribute these to each of their players. Athletic or sport-appropriate shoes and shorts and/or sweats should be worn in addition to the uniform shirt. Mouth guards and eye goggles may also be worn but are not mandatory.
Basketball players should bring water in spill-proof, non-breakable container to basketball practices and games. Optional equipment is their own ball. Preschool players use a mini basketball. K-2 players use a 27.5-inch junior ball. Grade 3-4 boys use a 28.5-inch intermediate. Grade 3-8 girls use a 28.5-inch intermediate. Grade 5-12 boys use a 29.5-inch official ball. Grade 9-12 girls use a intermediate size ball 28.5.
Sports Handbooks
Sports Safety
The Gateway Region YMCA partners with Cardinal Glennon SportsCare to give kids a healthy advantage through educational programs and support for parents, coaches and athletes. Cardinal Glennon representatives visit sports programs at our YMCA branches to share information on injury prevention, proper technique and overall athletic health. Here are tips for Basketball Safety. View more Sports Safety and Injury Prevention sheets from Cardinal Glennon SportsCare. If you need help finding an expert physician for your young athlete, contact a local SportsCare representative at 314-577-5640 (this is a Cardinal Glennon phone number.)
Gateway Region YMCA Basketball
If you're looking for family fitness, fun, community connection and sporting opportunities for kids in the St. Louis and southwestern Illinois region, you've come to the right place. Along with our membership benefits like group and individual classes, fitness programs and child education and enrichment services, we offer you and your kids the opportunity to participate in exciting, stimulating youth sports.
With our basketball leagues for kids in St. Louis and around Illinois, the YMCA aims to promote youth development, healthy living and social responsibility among the greater St. Louis community and southwestern Illinois.
Whether your child is an experienced, skilled athlete or a beginner excited about learning a new sport, the YMCA welcomes the opportunity to bring the game of basketball to members of the Gateway Region community.
The YMCA is more than just a fitness center — it's a way of life that encourages every member to thrive. Our youth sports programs are part of our efforts to promote the following key values:
YOUTH DEVELOPMENT
Promoting learning, development and social involvement in kids is one of our most important goals. Here are some of the programs we provide especially for your kids:
Youth sports, including basketball, volleyball, soccer, gymnastics, flag football and more
Early childhood education
Swim lessons
Summer day camps
Overnight camps
HEALTHY LIVING
Wellness should always be your top priority, and they Y helps you put that in perspective by providing you with fitness skills and facilities. Here's what we offer you:
Free access to our pool, indoor track, basketball court and gymnasium
Free water fitness classes
Free group exercise classes like Cycling, Piyo, Pilates, Yoga, Zumba, Insanity, BODYPUMP® and more
Access to blood pressure monitoring programs
Access to individual and group personal training
Free MyFitness wellness consultations
Access to our special programs, including the YMCA Diabetes Prevention Program and the LiveStrong® at the YMCA Program
Low rates on paid programs and the Y Weight Loss Program
SOCIAL RESPONSIBILITY. Strengthening our community is our ultimate goal, and our volunteers and donors help us achieve it. We strive to build the community in these ways:
Financial Assistance: We're proud to offer financial assistance for membership and programs — because the Y is an experience everyone should have.
Community Development Programs: Both kids and adults deserve the opportunity to expand and enrich their minds with our developmental education programs and services.
Inclusion Services: With these special services, we ensure our programs provide the best experience for all ages and ability levels.
Why Basketball?
Basketball camps in St. Louis are extremely popular because the sport is easy to learn and challenging to play. All you need to get started is a ball and a hoop, but YMCA youth basketball offers so much more. In our St. Louis and southwestern Illinois youth basketball teams, kids enjoy complete facilities, team jerseys and playing opportunities — we believe in getting everyone involved, so games are a time for kids to shine with equal playing time!
With the YMCA Games Approach, kids learn important basic skills like dribbling, passing, rebounding and shooting, and every kid gets to have fun and learn the game — always playing at least half of the game.
Playing in a positive environment can also benefit kids emotionally — for example, our summer camp's physical and social activities benefited six-year-old Noah after the passing of his father. If your kids need an outlet or support through team-building and encouragement, it's a great idea to get them involved in a YMCA youth sport like basketball.
YMCA Basketball Youth Leagues
The YMCA offers a wide range of basketball opportunities for kids of varying ages. To develop social skills and offer physical outlets on all levels, leagues are available for kids as young as three years old and as old as 12.
With winter, spring and summer sessions, kids play six or seven games with YMCA trained officials and trained volunteer coaches. We always strive to promote our core values of youth development, healthy living and social responsibility, and this absolutely applies to our youth sports programs. We teach kids fundamentals and good sportsmanship, help them develop their athletic skills and provide them with healthy collaboration experience.
While these games are competitive, the focus is on fun and giving all kids the opportunity to participate, learn and build teamwork skills. Players of all skill levels and experience levels are welcome to enjoy the opportunities the YMCA provides with its youth basketball and all its youth sports leagues.
Basketball Safety
Safety is always our top priority while we supervise and instruct kids during organized activities! Cardinal Glennon SportsCare is a valued Gateway Region YMCA partner that sends representatives to YMCA sports programs to make sure we prevent injuries and promote athletic health.
Gateway Region YMCA for Youth Basketball Teams in St. Louis and Illinois
Your kids' health, wellness and enjoyment are our goal. That's why the YMCA offers basketball leagues for kids in St. Louis and other locations throughout Missouri and Illinois to help them socialize, stay fit and engage in a beneficial sport. To get your kids in on the action as members of their own YMCA St. Louis basketball team, sign up for one of our youth basketball leagues today!