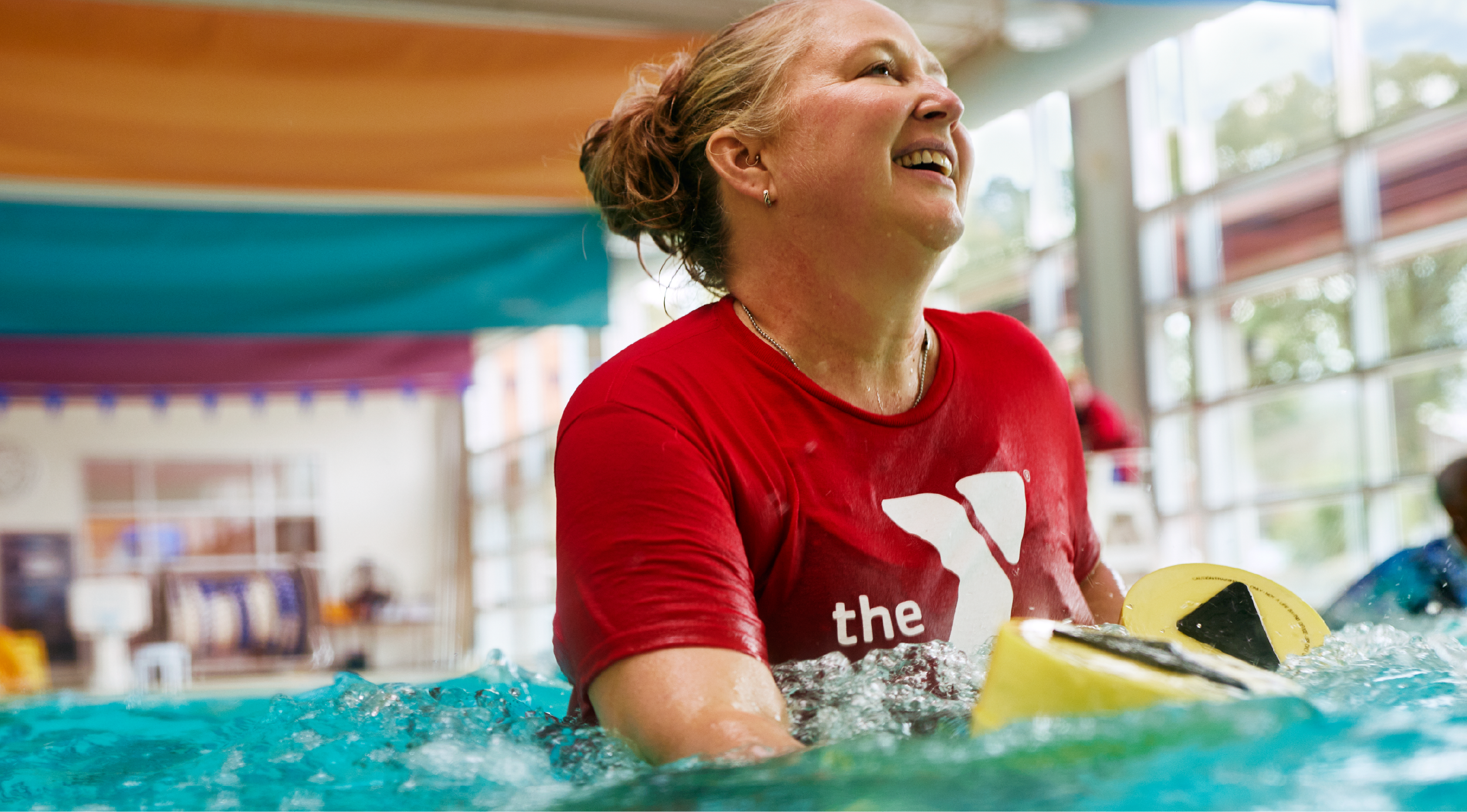 Hopping into a pool at the Gateway Region YMCA is more than just splashes and laughs. Water offers natural resistance, which improves a workout and helps you reach your health and fitness goals.
Water exercises are also accessible. When you exercise in a pool, you enjoy low-impact exercise with less pressure and stress on your joints. Pool exercises are a healthy option for pregnant women, new exercisers, older adults, those with injuries or in physical therapy, kids and everyone else.
You can do many workouts in the water, from weight-bearing exercises and intense aerobic sessions to gentle stretches and more. Exercising in the pool tones your muscles, provides a heart-healthy workout and is a fun way to stick with your healthy habit!
Essential Pieces of Water Exercise Equipment
You can enhance your workout with a few pieces of aquatic tools. Try these items of swimming pool exercise equipment:
Aqua dumbbells: Aqua dumbbells float easily. You push them down for resistance as you swim, jog in place or participate in other water exercises. Dumbbells for the pool make any workout more intense.
Water jogging belt: Jogging in the deep end of the pool is a great cardiovascular workout comparable with some treadmill workouts. Water jogging is easier on the knees and joints, too. A water jogging belt enhances your buoyancy so you can jog easily.
Pool noodles: Use this classic pool toy to improve your buoyancy as you work on swimming skills, do calisthenics or take part in noodle pulls and twists.
Kickboards and pull buoys: Kickboards allow you to rest your upper body while working on your kick. Pull buoys give your lower half break while you work out your arms and upper body.
Ankle and wrist weights: These foam weights add resistance in the water, kicking up the intensity of everything from water tai chi to your pool aerobics class.
Foot pads: These weights attach to the bottom of your feet and naturally stretch out your body. Foot pads provide extra resistance or an "anchor" so you can do underwater Pilates and other exercises requiring stability.
Water aerobic equipment: You can also choose from water aerobics googles, aquatic webbed gloves, resistance fins and other gear to add resistance.
You'll be able to find most of the water exercise equipment listed here at your local YMCA pool. Even though pool equipment may vary at each pool, you are welcome to bring equipment of your choice to make your workout beneficial to you.
Find Out More About the Gateway Region YMCA Today
If you're ready to plunge in, Gateway Region YMCA can help. Our inclusive programs help you get and stay in shape. Choose from our many water exercise classes or sign up for our swimming programs for every level. We have water fun and fitness for everyone and we even offer rec time in the pool, personal training and childcare while you work out. We are a nonprofit, 501(c)(3) charity whose mission is to improve the health and wellbeing of our communities.