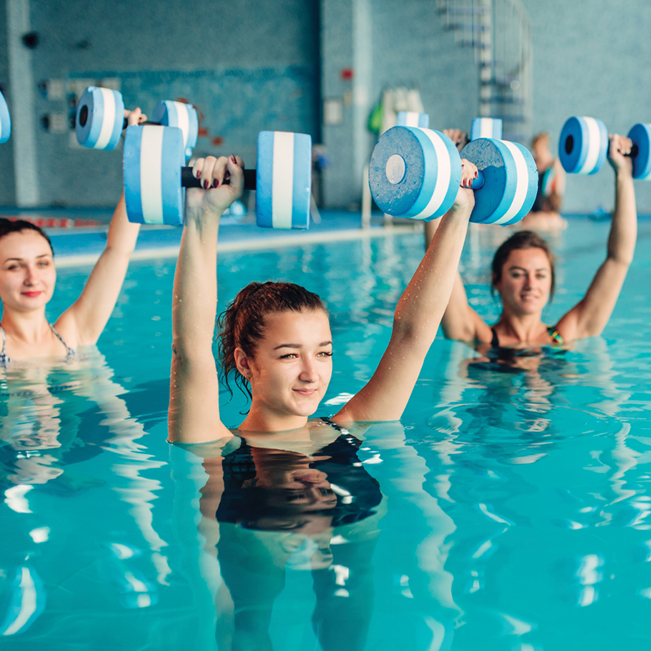 Are you looking for ways to kick-start your fitness goals or looking for a fun new fitness routine? When planning your routine, make sure to avoid one of the most common fitness myths we hear at the Y: Water aerobics is for seniors.
What would the Y be without water? As an organization, the Y is known for being the most accessible community resource to prevent drowning. As one of the largest community-based organizations in the country, the Y owns or manages over 2,000 pools and teaches more than a million children invaluable water safety and swimming skills.  
But our pools are for more than just teaching swim lessons and for seniors – they are for everyone. Water fitness can be for any age and any fitness level! Exercising in the pool is gentle on the joints while you get to also experience a vigorous workout. At the Y, there are so many ways members can incorporate pool time into their fitness routines:
Take a water fitness class. Water fitness classes are a great way to gain muscle conditioning and cardiovascular endurance without putting stress on the joints. Instructors lead small groups through water aerobics, choreography and resistance exercises. Classes are geared for any fitness level – from water walking to aqua power and more! See a full list of aquatic classes included in membership here or contact your local Y for a full list of group exercise classes.
Adult swim lessons. If you haven't had the opportunity to learn to swim, it's never too late. The Y offers swimming lessons for ages 6 months through adulthood! You can take swim lessons with a group or in a one-on-one setting. Whether you're a complete beginner or training for your next triathlon, adult swim lessons will help you to become a proficient swimmer and perfect your stroke.
Open swim. If a group setting isn't for you, independent workouts can be just as effective. Need some ideas for the water? Contact your local Aquatics Director for swimming tips and tricks. Check out your Y's pool schedule online or via our free mobile app for open swim times.
Get started at the Y
Your membership means so much more! Be a part of a cause-driven organization committed to nurturing kids, supporting healthy lifestyles and giving back. Learn more about our free resources for members.
Not a member yet?
Join the Y Online Today