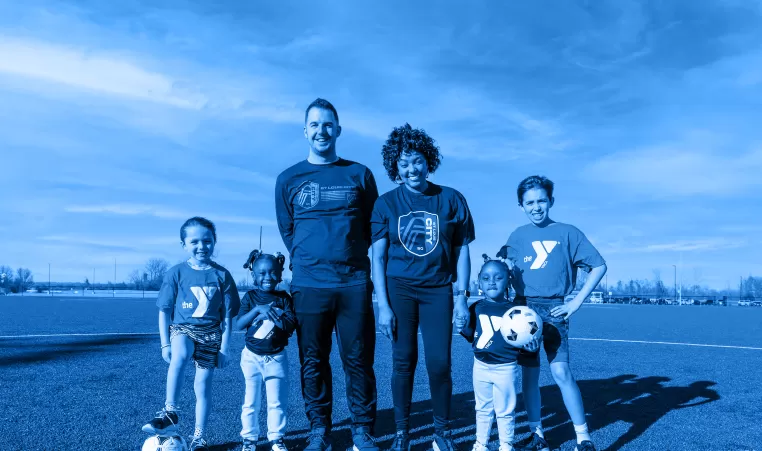 Major League Soccer expansion team St. Louis CITY SC and the Gateway Region YMCA are launching a new partnership that will provide reduced-cost soccer programming to under-resourced youth.
St. Louis CITY SC will support the YMCA soccer program by providing eligible youth the opportunity to participate in the program for a reduced cost – only $5 for Y members or $10 for non-members per season – in an effort to expand access to soccer within the region. St. Louis CITY SC will provide equipment for the program including soccer balls and STL CITY SC branded t-shirts for the team's coaches. The club will provide additional support by working with the Y to implement a training curriculum for the participating coaches to heighten the level of training and play within the existing soccer program. The training portion the partners are collaborating on will develop new soccer curriculum for coaches and youth participants that reflect a well-rounded education on technical, emotional, social, tactical and physical skill sets.
"This partnership with St. Louis CITY SC will enable us to improve access to our soccer programs and better serve under-resourced youth, which is core to the Y's mission," said Tim Helm, Gateway Region YMCA President and CEO.  "We are so grateful to the generosity and leadership of St. Louis CITY SC in their ongoing efforts to help strengthen our community."
The soccer program will initially be available to eligible youth in Pre-K through sixth grade at four YMCA branches including Bayer YMCA, Carondelet Park Rec Complex, Emerson YMCA, and the South City YMCA. The Y soccer program serves approximately 1,000 youth annually between these four locations, with the goal of expanding the program to other branches in the future.
"St. Louis CITY SC is committed to making high-level soccer training accessible to all within the St. Louis region through interactive and inclusive programming, and this is just the first of many ways we plan on accomplishing that goal," said STL CITY SC's Vice President of Community Relations Khalia Collier. "Our partnership with the YMCA allows us to offer these opportunities through the power of collaboration, and we look forward to bridging the gap of soccer together."
Registration for the spring session is open until March 7, with practices kicking off the week of March 21 and the official season going from April 2 to May 21. Those eligible to receive discounted soccer lessons include current Y members receiving financial assistance, non-members eligible to receive financial assistance, and those who qualify for the free or reduced lunch program through the state of Missouri. St. Louis families interested in learning more about the program can visit gwrymca.org/stlcitysoccer or call 314-436-1177.
 
About the Gateway Region YMCA:
The Gateway Region Y is a nonprofit organization dedicated to youth development, healthy living and social responsibility. Featuring 24 traditional Y branches in Missouri and Illinois, along with the Campus Y student leadership facility at Washington University. Our Y also includes YMCA Camp Lakewood and Trout Lodge in Potosi, Missouri. The Carondelet Park Rec Complex and O'Fallon Park Rec Complex are owned by the City of St. Louis and operated by the Y. The Y is committed to serving people of all abilities. For those who qualify, we offer financial assistance so everyone has the opportunity to participate in Y programs, regardless of ability to pay. Our Y is a proud member of the United Way of Greater St. Louis. For more information, please visit www.gwrymca.org or call 314-436-1177.
 
ABOUT ST. LOUIS CITY SC
St. Louis CITY SC, one of the few majority female-led ownership groups in all of professional sports, was awarded Major League Soccer's 28th expansion team in 2019. The St. Louis-based ownership group unveiled the club's crest, logo and branding in 2020 and will take the pitch for their historic, inaugural season in 2023. Currently, CITY is constructing an STLMade 22,500-seat world-class soccer-specific stadium, practice facility and team headquarters all within the same urban campus in St. Louis' Downtown West District to create a 24/7/365 fan experience that is furthering St. Louis continued growth and revitalization.
To stay up to date with St. Louis CITY SC, visit STLCITYSC.com and follow the club on Facebook, Twitter and Instagram. 
In March 2023, the Soccer for Our CITY program added Together Credit Union as a partner. Read more.