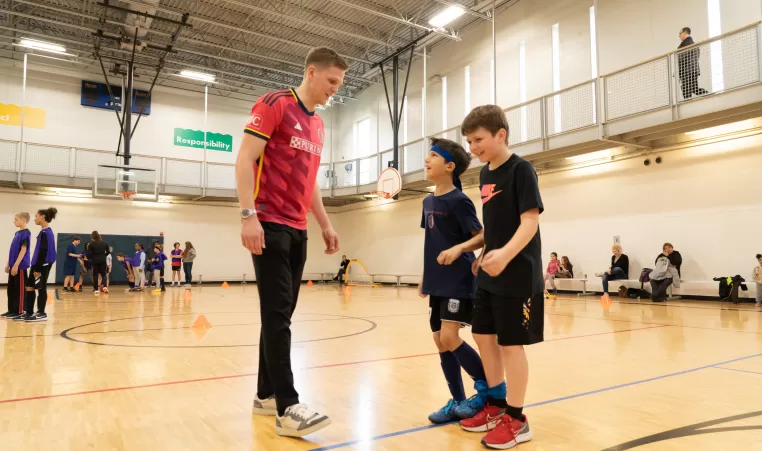 ST. LOUIS (March 21, 2023) - St. Louis CITY SC, in partnership with the Gateway Region YMCA, are growing interest in and expanding play of soccer among regional kids with Soccer for Our CITY presented by Together Credit Union. Soccer for Our CITY, part of CITY SC's CITY Futures platform, provides eligible youth the opportunity to participate in the YMCA's soccer program at a reduced cost.
"Our club looks to unite our community through soccer and inspire our next generation of players, and this is being brought to life with Soccer for Our CITY," said Barbra Silva, St. Louis CITY SC's Director of Community Relations. "As we work with Gateway Region YMCA and Together Credit Union to reach and engage with our area's youngest players, we look forward to continuing to work with the communities this program will serve."
It is $5 for Y members or $10 for non-members (per season) to participate in Soccer for Our CITY. CITY SC will provide equipment for the program, including soccer balls and branded T-shirts for the team's coaches. The club will also work with the Y to implement a training curriculum for the participating coaches to heighten the level of training and play within the existing soccer program. This training will focus on technical, emotional, social, tactical and physical skillsets.
"Our partnership with St. Louis CITY SC and Together Credit Union will allow us to continue to improve access to our soccer programming and impact over 2,000 youth this year alone," said Matt Thompson, Gateway Region YMCA's District Vice President. "We are grateful for the generosity and leadership of St. Louis CITY SC and Together Credit Union as we come together to better serve under-resourced youth in our communities."
Soccer for Our CITY is available to eligible youth in pre-K through sixth grade at eight Gateway Region YMCA branches: Bayer, Carondelet Park, Emerson and South City in Missouri; and O'Fallon, East Belleville, Downtown Belleville and CMT (Collinsville, Maryville, Troy) in Illinois.
Together Credit Union, the club's second Founding Partner and Official Banking Partner, has collaborated with CITY SC on several community initiatives focused on youth development since their partnership was announced in 2021. In addition to serving as the presenting sponsor of Soccer for Our CITY, the credit union donated $10,000 to the YMCA in support of their mission to help people and communities learn, grow, and thrive.
"Soccer for Our CITY helps create equitable access to sport and will help teach invaluable life skills like problem solving, communication, and teamwork," said Tom Kraus, Together Credit Union's Chief Operating Officer. "We are thrilled to partner with these great organizations to empower youth as they pursue their goals and dreams."
For more information about Soccer for Our CITY, including eligibility details and program information, call 314-439-1177 or visit the link below.
About St. Louis CITY SC
St. Louis CITY SC, one of the few majority female-led ownership groups in all of professional sports, was awarded Major League Soccer's 28th expansion team in 2019 and plays at CITYPARK, an STLMade 22,500-seat world-class soccer-specific stadium. CITYPARK is part of a new stadium district which includes a practice facility, team store and team headquarters all within the same 30+ acre urban campus in downtown St. Louis to help further the region's continued growth and revitalization.
About Gateway Region YMCA
The Gateway Region Y is a nonprofit organization dedicated to youth development, healthy living and social responsibility. Featuring 24 traditional Y branches in Missouri and Illinois, along with the Campus Y student leadership facility at Washington University. The Y also includes YMCA Camp Lakewood and Trout Lodge in Potosi, Missouri. The Carondelet Park Rec Complex and O'Fallon Park Rec Complex are owned by the City of St. Louis and operated by the Y. Additionally, the RiverChase YMCA is owned by the City of Fenton and operated by the Y. The Y is committed to serving people of all abilities. For those who qualify, the Y offers financial assistance so everyone has the opportunity to participate in its programs, regardless of ability to pay. The Y is a proud member of the United Way of Greater St. Louis. For more information, please visit our website or call 314-436-1177.

About Together Credit Union
For over 80 years, Together Credit Union has served as a trusted financial partner, empowering more than 140,000 Members nationwide to achieve their financial goals. As a member-owned, community-focused, not-for-profit financial institution, the Credit Union offers comprehensive banking products and financial services at 28 branches nationwide and through 24/7 Member resources and amenities. In addition, Members can access their accounts and perform transactions at more than 5,600 shared branch locations and self-service shared branch express terminals, as well as more than 25,000 surcharge-free ATMs, through the CO-OP Shared Branch Network in all 50 states.
With more than $2.4 billion in total assets, Together Credit Union is an independent financial institution chartered by the state of Missouri and federally insured by the National Credit Union Administration (NCUA).