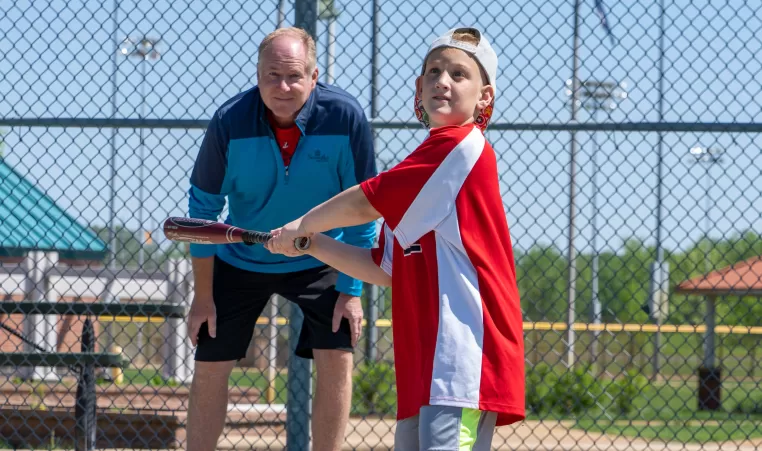 On June 22, 2022, the Gateway Region YMCA announced the launch of its inaugural baseball and basketball adaptive sports programs. Youth and young adults throughout the St. Louis region who have physical or cognitive disabilities will have an opportunity to play sports as a team member in an organized program.
"Part of our mission at the Y is to provide inclusive programs and services where all in our community can participate," said Matt Thompson, District Vice President at the Gateway Region YMCA. "Every child deserves the chance to play sports and feel part of a team, and we are so excited to provide these life changing experiences for the participants and their families."
Beginning fall 2022, the Gateway Region YMCA is partnering with the Miracle League to begin offering Miracle League baseball. The Catch 22 Miracle League will be held at the Chesterfield Valley Athletic Complex's Miracle Field. Adaptive Basketball games will take place at the Chesterfield YMCA.
Volunteer coaches and buddies will support each player to ensure they have a fun, memorable experience.
Registration
Registration is currently open for the Catch 22 Miracle League

Competitive league: ages 8-24
Non-competitive league: ages 5-24.
Registration is $25 per participant, and all players will receive a jersey and hat.

Adaptive basketball begins the week of October 31 with registration opening August 1.
Click here for more information and registration.
The Gateway Region Y is a leader in inclusion and adaptive support services. Last year, the association allocated more than $600,000 to serve 725 individuals with disabilities through adaptive programming for summer camp, after school programming, fitness and other traditional Y programs. The Y also is home to one of the largest youth sports programs in the area, with over 11,000 participants annually.
About the Gateway Region YMCA
The Gateway Region Y is a nonprofit organization dedicated to youth development, healthy living and social responsibility. Featuring 23 traditional Y branches in Missouri and Illinois, along with the Campus Y student leadership facility at Washington University. Our Y also includes YMCA Camp Lakewood and Trout Lodge in Potosi, Missouri. The Carondelet Park Rec Complex and O'Fallon Park Rec Complex are owned by the City of St. Louis and operated by the Y. The Y is committed to serving people of all abilities. For those who qualify, we offer financial assistance so everyone has the opportunity to participate in Y programs, regardless of ability to pay. Our Y is a proud member of the United Way of Greater St. Louis. For more information, please visit www.gwrymca.org or call 314-436-1177.