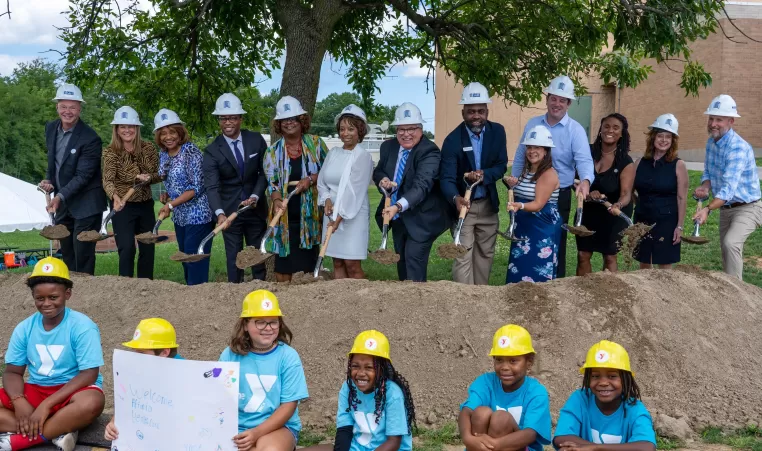 Affinia Healthcare Breaks Ground on a New Site in Ferguson
Affinia Healthcare will celebrate the development of its newest location with a groundbreaking ceremony 11 a.m., Wednesday, August 10 at the new site, adjacent to the Emerson YMCA at 3390 Pershall Road.   
The new facility will be approximately 15,000 square feet in size, and include 23 medical exam rooms, four dental operatories, and four behavioral health and MAT spaces. The total estimated cost for the project is $7.5 million. The projected completion date is late 2023.  
This project is coming to fruition in part due to congressionally directed funding requested by U.S. Rep. Cori Bush (1st District-MO). Dr. Kendra Holmes, Executive Vice President and COO, commented that "Congresswoman Bush secured $2 million toward our project. We are very appreciative of her community advocacy and leadership, and also to other donors and funders who help make this expansion possible."   
Affinia Healthcare opened its first St. Louis County location in Pagedale in 2017. The nonprofit organization's decision to expand into North St. Louis County is the result of a community health assessment that identified areas where unmet primary health care needs are prevalent.   
"Our expansion into North County is aligned with our mission to ensure high quality health care is available to all in our communities," said Dr. Alan Freeman, Affinia Healthcare President and CEO. "We welcome the opportunity to partner in Ferguson with a long-time community pillar in the North County area, the Emerson YMCA. We are extremely appreciative of this collaboration and look forward to providing health and wellness services to our patients in need."  
"Core to the Y's mission is providing essential services that help strengthen the communities where we operate," said Tim Helm, Gateway Region YMCA President and CEO. "We are so thankful to Affinia Healthcare for making this investment that will provide people of all ages in Ferguson and the surrounding communities with both affordable healthcare and more access to Y programs that improve individual health and wellbeing. The Emerson Y provides financial assistance to more than 3,000 members annually and this tremendous partnership with Affinia Healthcare continues to offer resources to help those who have the most critical need."  
When constructed, Affinia Healthcare at 3390 Pershall will be open Monday through Friday and employ 35 new full-time staff. The facility will provide access to primary care and services for an estimated 8,675 individual patients per year who predominantly live in Ferguson and neighboring areas.   
About Affinia Healthcare 
Affinia Healthcare is a dynamic and transformative health system, providing affordable primary and preventive health care located in St. Louis, Missouri. Affinia Healthcare is a community health center, 501(c)(3) non-profit organization, and is accredited through The Joint Commission and NCQA organizations. Affinia Healthcare serves over 43,700 people per year, of whom more than 90 percent have incomes under 100 percent of the federal poverty level. Approximately 70 percent of patients served are Black or African American, 11 percent are Hispanic/Latinx, and over 4,000 are un-housed.   
Affinia Healthcare depends on a wide array of funding sources and individual donor contributions to care for the most vulnerable and disenfranchised in our community. To make a donation to Affinia Healthcare, visit www.affiniahealthcare.org/donate. 
For more information about Affinia Healthcare, call 314-814-8700, or visit www.affiniahealthcare.org. 
About Greater St. Louis Region YMCA
The Gateway Region Y is a nonprofit organization dedicated to youth development, healthy living and social responsibility. Featuring 24 traditional Y branches in Missouri and Illinois, along with the Campus Y student leadership facility at Washington University, the Y also includes YMCA Camp Lakewood and Trout Lodge in Potosi, Missouri. The Carondelet Park Rec Complex and O'Fallon Park Rec Complex are owned by the City of St. Louis and operated by the Y. Additionally, the RiverChase YMCA is owned by the City of Fenton and operated by the Y. The Y is committed to serving people of all abilities. For those who qualify, the Y offers financial assistance so everyone has the opportunity to participate in its programs, regardless of ability to pay. The Y is a proud member of the United Way of Greater St. Louis. For more information, please visit www.gwrymca.org or call 314-436-1177.