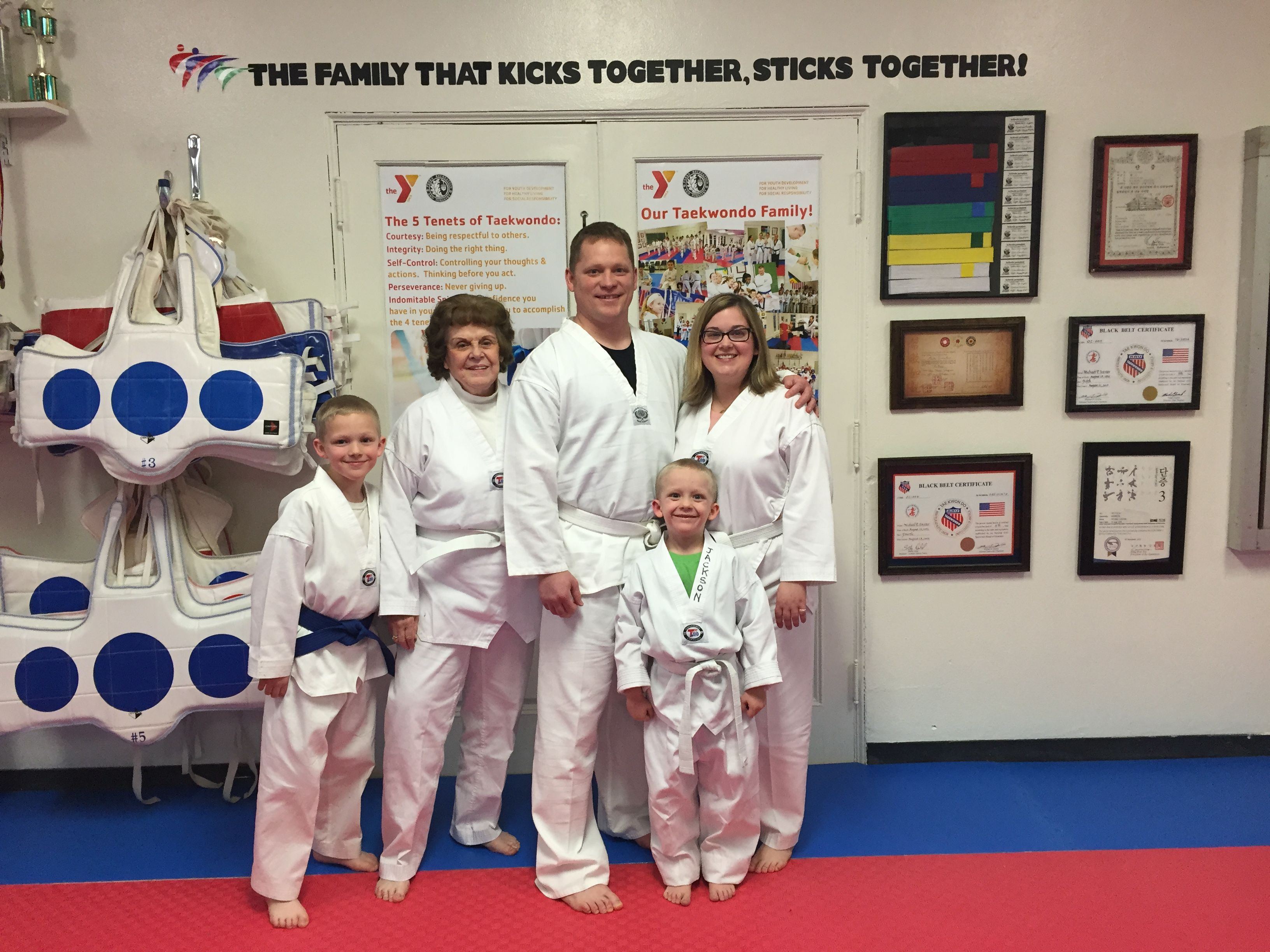 What are the benefits of learning Taekwondo in a Community based environment like
the YMCA?
Taekwondo is a Korean martial art of self-defense that stresses foot and hand techniques
(kicking, striking, blocking, etc.)

Besides the obvious benefits of increased self-defense skills, Taekwondo provides excellent
weight reduction training, increased flexibility, improved cardiovascular functioning,
strengthening and toning of all major muscle groups, better balance, and coordination.
Taekwondo is a holistic system that does not just improve the functions of the body, it also
offers mental benefits of increased self-confidence, stress reduction, mental discipline, self-
control and peace of mind.

Learning Taekwondo in a community, a family-type atmosphere is one of many ways to
strengthen family ties, both within the family and within the community. Even though the
learning of Taekwondo requires energy and hard work, often learning in a warm and friendly
family environment strengthens and reinforces any learning that takes place.
There is potential for great camaraderie and friendship with other students and siblings
(as well as parents) as they learn to build trust with each other as they develop and improve
their skills.

The martial arts (in general) are one of the few activities that families often participate in
together, thereby strengthening family bonds through mutual understanding, respect,
competition and FUN!

"The family that kicks together, sticks together"!

In addition to the many benefits mentioned above, martial arts teaches and reinforces
what we like to call Life Skills. Life Skills are inherent in all of us, but as with any trait
or skill, must be practiced and reinforced often.

Life Skill #1.
FOCUS: TO PAY ATTENTION
Focus is the #1 reason parents enroll their children in martial arts. It also helps to develop
other life skills such as balance, control, and memory. Focus begins with good eye contact.
Always look at your parents and teachers when they are talking and you will hear them better.
Look with your eyes, listen with your ears, think with your mind and do the right thing with
your body. From doing well in school to earning your next belt, focus helps you to learn and
do better.
Life Skill #2.
DISCIPLINE: TO ALWAYS DO YOUR BEST
Self-esteem is the result of doing your best no matter what. Even if is not fun or something that
you want to do, you'll do a better job with discipline. Whether it's cleaning up your room,
doing homework, or practicing martial arts, you'll always feel great when you do your best.

Life Skill #3.
RESPECT: TREAT PEOPLE THE WAY YOU WANT TO BE TREATED.
How do you want to be treated? Then how should you treat people?
Treating people well shows respect. It helps you to make more friends and get along better
with others.
Treat your parents with respect by doing what they ask.
Treat your brothers and sisters with respect by being kind and sharing.
Treat your teachers with respect by paying attention.
Respect yourself by treating your body well through exercise and eating healthy.
Respect your mind by learning every day.
Respect your heart by loving yourself, your family, and your friends.

Life Skill #4.
FAMILY: A GROUP OF PEOPLE WHO FORM A HOUSEHOLD, THAT IS THE
MOST IMPORTANT PART OF YOUR LIFE.
In Taekwondo, we have 5 tenets (rules) that we learn, practice, and strive to develop into
everyday Life Skills. They are Courtesy, Integrity, Self-Control, Perseverance, and Indomitable Spirit.

These tenets tie in and work hand-in-hand with the YMCA Mission Statement:
To put Christian principles into practice through programs that build healthy spirit,
mind, and body for all. "To strengthen movements where people grow in body, mind, and
spirit."