You are here
Personal Training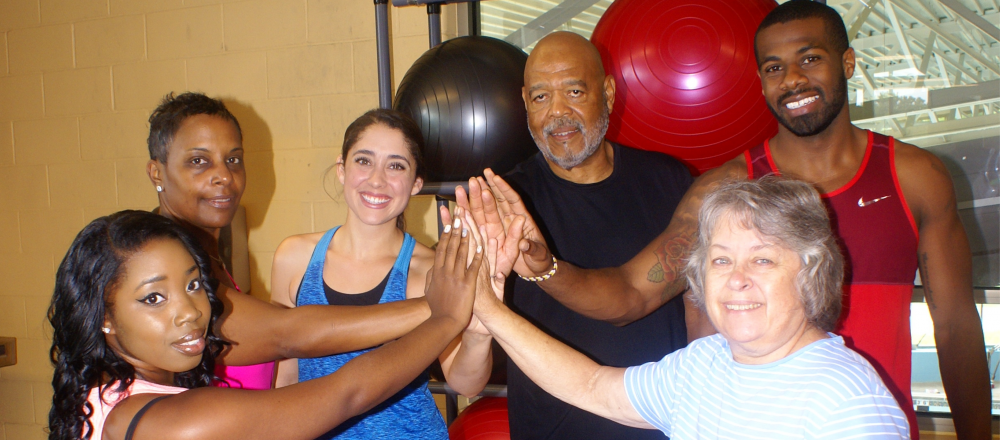 If you are looking to achieve your health and fitness goals faster, the benefits of working with a personal trainer are endless.
Regardless of your goal, be it weight loss, muscle gain, athletic performance, training for a specific fitness event, preparing for a special life event, or looking to form a more sustainable, healthy lifestyle…. personal training can help you achieve those goals safely, efficiently, and with the support you need.
IS PERSONAL TRAINING RIGHT FOR YOU?
Personal training is just what it sounds like...it's personal. It's always focused around your goals. It considers where you are now, limitations, past injuries, or interests. Your programs are always designed to help you achieve your goals faster, without injury and help educate you about more healthful living and training.
GETTING STARTED:
The gym is a big place and often quite intimidating - but it doesn't have to be! Working with a personal trainer will allow you to confidently approach each piece with an understanding of how it will bring you closer to your goals. A personal trainer will teach you proper form and technique so you can stay safe and injury-free. Starting something new can often leave a lot of questions, you may have insecurities and lack confidence but working with a personal trainer will help diminish your questions, worries, and educate you in a supported environment.

OVERCOMING PLATEAUS:
Personal training isn't for those just starting out; even long-time exercise enthusiasts and elite athletes hit a plateau in their routine and performance. During plateaus, it's hard to stay motivated when we aren't moving closer to our goals. A personal trainer can help you work through a plateau so that you continue to feel challenged and see results. You might just need a few session to learn some tweaks and adjustments to your program and exercise. We know you don't have a lot of time so they can help you learn to maximize your time and efforts spent in the gym!

SETTING REALISTIC GOALS:
Many of us have more than one health and wellness aspiration. Some goals take time to reach, while others are achievable in a shorter period of time.
Large or small, long-term or short-term… all goals are important, but they need to be realistic. A trainer will help you set realistic goals in a realistic time frame and help you create a plan to achieve them.

CUSTOMIZING PROGRAMS TO YOUR NEEDS:
Everyone's abilities are different; for that reason, there isn't a one size fits all approach to exercise. No matter your place along your fitness journey, a personal trainer will customize a program specific to YOU.

ACCOUNTABILITY & LIFETIME HABITS:
Life is busy, and sometimes exercise falls to the bottom of the priority list. A personal trainer can help you to overcome obstacles and find ways to make exercise a priority in your life through small, attainable goals. Working with a trainer keeps you accountable to more than just yourself. Committing to meet your trainer at the gym on a specific day and time, minimizes the likelihood that you'll cancel or delay your workout. Thus creating consistency, thereby forming sustainable lifetime habits and goal attainment!
TYPES OF PERSONAL TRAINING
Personal training is available through a variety of programs so that you can choose which best fits your needs.
Work in a one-on-one setting with a trainer, so everything is tailored to your specific goals and needs.
Looking for extra motivation and lower cost training? Consider partner or semi-private training. A trainer will program workouts for a group of 2-5 people. This is easiest with groups with similar goals but trainers can adapt and modify programs to meet the needs of all in your group. We want you to have fun, meet others and feel supported by other members, your friends, or spouse and semi-private training is the best solution!
Small group training (6+) is also available at most YMCA locations. Ask your health and wellness director what small group training options are available at your Y. (Ex. CrossFit, Next Level, Shred Bootcamp, or our Weight Loss Challenges).
FOR MORE INFORMATION
YMCA members have access to Personal Training at all 24 branches of the Gateway Region YMCA. For more information, contact your local Y.