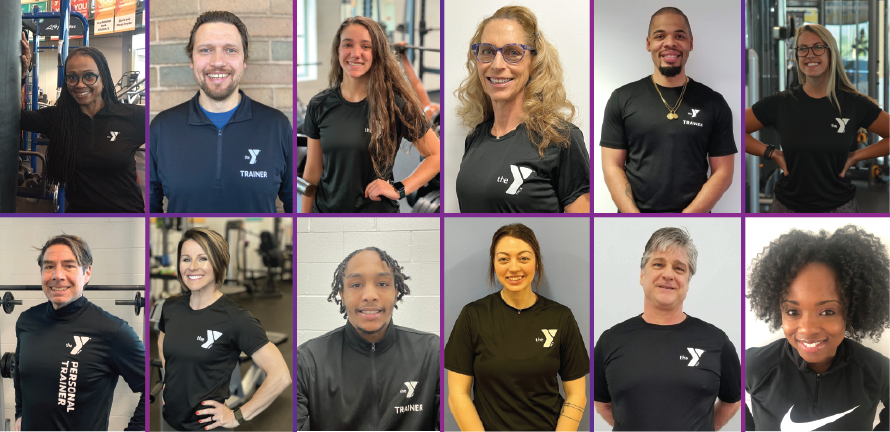 Whether you're just starting to work out or the gym is like your second home, a personal trainer can help you reach your health and wellness goals!
Certified personal trainers can help create and implement safe and effective workouts for you and your specific needs, keep you accountable, be your support to reach your goals, and motivate you through your workouts. With one-on-one attention and guidance, they'll give you the tools you need to reach your fitness goals.
Read on to learn five reasons to try personal training.
1. Accountability
How many times have you laid down at night promising yourself to wake up early and workout only to hit the snooze button? One of the most common struggles of getting into the habit of regular exercise is just that—working out and staying consistent. By having someone waiting for you at the gym (or virtually), you're far less likely to skip your workout.
Trying personal training will give that often much-needed nudge to get up and get active. Whether your trainer is in-person or virtual, they'll help you stay on top of your fitness goals both during sessions and throughout the week.
Having someone there during your workout can also inspire you to work harder while you're in the gym. With constant distractions like work, kids, phones, and more—having a personal trainer can help you temper your distractions and keep you focused on your workout.
Besides your personal training holding you accountable, a workout buddy can also offer support. Joining a group training session is a great option to enjoy challenging and unique workouts in a group setting that fits into your schedule.
2. Fitness Education
Personal training isn't just about helping you during your workout! Good trainers will not just make you sweat, but also teach you ways to better improve your overall wellness.
To become a certified personal trainer, individuals can't just take a course. They must seek accreditation from organizations like the American Council of Exercise (ACE) or the National Academy of Sports Medicine (NASM), have a high school diploma, be certified in CPR, and be knowledgeable in the use of an AED. Initial certification is required and ongoing education hours to stay current.
With the certifications and continued education, personal trainers know a lot about human physiology, body mechanics, exercise science, and more. They can help you learn how to use proper form, how to use equipment in the gym, and what exercises will be most effective for you.
After an initial assessment, they can also determine the best way to start your journey toward your fitness goals! You may be able to hop right into HIIT training or may need low-impact exercises, like aquatic group fitness classes.
3. Goal Setting
Everyone has their own unique set of fitness goals, like losing weight or running in a race—but setting the right goals that aren't too big and aren't too small can be challenging. With the help of a personal trainer, you can set better, more attainable goals based on your experience and abilities. Utilize our NEW Coach Finder tool to find a trainer that specializes in the fitness goals you're looking to tackle.
An example of a small step toward your overall fitness goal may be getting yourself into the habit of working out! Your personal trainer can start off coaching you virtually or show you workouts to start at home that are available in the Gateway Region YMCA mobile app.
4. Personalized Plan
Everyone is different! Your abilities and exercise knowledge may require a different workout than what you can easily find online. A personal trainer will help you create a personalized workout routine that targets your strengths and weaknesses and better equips you to reach your fitness goals.
Knowledge is power when it comes to creating an effective workout routine. Whether you're working with your trainer in person or virtually, learning a variety of exercises that target different muscle groups can help you create your own workouts outside of your training sessions.
A good personal trainer will also show you proper form and teach you how to choose the appropriate weights, reps, and sets for your specific exercises. Your personal trainer should be your resource for proper form, personalized workouts, and prevent you from falling into common exercise mistakes.
You may also have a specific injury or condition that needs to be taken into account when creating a workout plan. Personal trainers are there to help you customize your exercises and make accommodations based on your specific needs.
Are you looking for a few quick nutrition sessions to get started on a path to better eating? Our Registered Dietitian can help put together a personalized plan just for you! 
5. Exercise Variety
We're all creatures of habit! It's far too easy to go to the gym and do the same workouts day after day and week after week. But consistently doing the same exercises can cause weight loss plateaus, injuries, and burnout.
Doing the same thing over and over also won't help you reach your goals. Personal trainers can look at what you're already doing and suggest ways to make your workout more efficient and effective.
Research shows that changing up your workout routine with varying exercises can not only help you stay motivated but also promote muscle growth and weight loss. It's good to switch up your workouts! You challenge not only your body but also your mind. Plus, you may find a new movement or exercise you love!
A personal trainer gives you the confidence and support you need to reach your fitness goals while also providing you support, accountability, education, and a personalized routine to help you find the ideal routine for you and your lifestyle.
So if you're struggling to reach your fitness goals, need the motivation to make it to the gym, or are tired of doing the same workouts—getting started with a personal trainer may be just what you need!
With 24 YMCA locations across St. Louis and Southwest Illinois, you'll find a Personal Trainer at the Gateway Region YMCA that's the right fit for you. Utilize our NEW Coach Finder tool to find a Personal Trainer or Nutrition Coach that fits your lifestyle and specializes the goals you want to achieve.