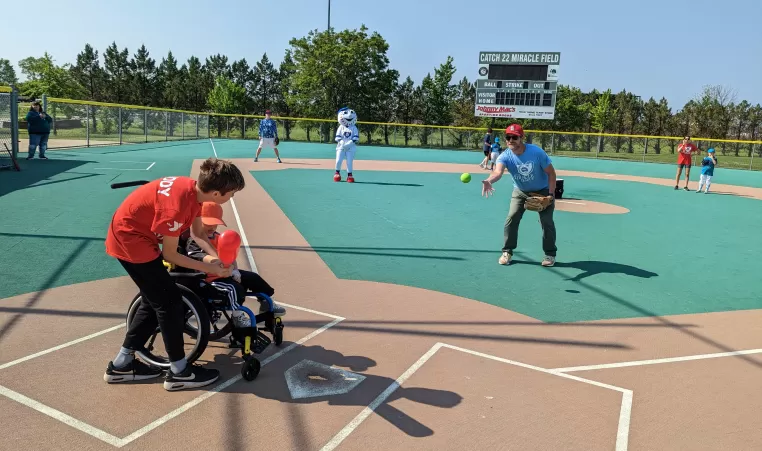 ST. LOUIS, Mo., September 7, 2022 – Today, the St. Louis Cardinals and Cardinals Care, the team's charitable foundation, in partnership with the Gateway Region YMCA, Boniface Foundation, and Miracle League, broke ground on a new YMCA Adaptive Sports Complex on the campus of the South County YMCA.  
"This project is a perfect opportunity to carry out Cardinals Care's mission of caring for kids," said Michael Hall, Vice President of Community Relations and Executive Director of Cardinals Care. "We are proud to partner with Boniface Foundation, the Gateway Region YMCA, and the Miracle League on this investment in our community that will provide state-of-the-art sports facilities to allow children with special needs to take part in our national pastime."
"Boniface Foundation is honored to make this investment along with Cardinals Care in support of this wonderful resource for the St. Louis Region," said Win Reed, Boniface Foundation Chairman. "We recognize the incredible impact adaptive sports programs have on the well-being of youth with special needs as well as on our community. We look forward to ensuring the success of this amazing new facility and cannot wait for the children to be able to 'play ball'."
Located on the South County YMCA campus, the centerpiece of the $5.2 million sports complex is a custom-designed Miracle League Baseball Field with a cushioned, barrier-free surface and barrier-free dugout to provide accessibility for players with disabilities. The field is designed to have a look and feel similar to Busch Stadium and provide participants and their families with a "major league" experience, including a silhouette of the Gateway Arch on the outfield, just like the St. Louis Cardinals home field. The complex also includes fixed and lawn seating, a fan plaza with shelter canopies, scoreboard and concessions. In addition, the complex includes an inclusive and fully accessible playground, soccer field and running track.
"The Gateway Region YMCA currently serves more than 1,550 children and adults with diverse abilities, and this new facility will allow us to expand our work in the region," stated Tim Helm, President and CEO of the Gateway Region YMCA.  "We are so grateful to the St. Louis Cardinals and Cardinals Care, Boniface Foundation, and Miracle League, for this tremendous investment to build what will be the nation's premiere adaptive sports complex to provide equal opportunities to this underserved community."
As part of its newly launched adaptive sport programming, the Y will run Miracle League baseball and other programming for youth and adults at the new facility including football, soccer, and bocce ball, and continues to run basketball and other indoor sports for those with disabilities.
"We were so excited when the St. Louis Cardinals, YMCA, and the Boniface Foundation reached out to partner with us on this amazing new resource for the community," said Stephanie Davis, Vice President of National Program at Miracle League. "These are the types of partnerships that enable Miracle League to fulfill its mission so children can experience the joys and benefits that come with playing sports, being on a team and having fun just like every other child."
Learn More about Adaptive Sports
— STL —
About Cardinals Care
Cardinals Care was established to give fans a way to team up with Cardinals players and the organization to help children in our community—both on and off the baseball field.  Established in 1997, Cardinals Care has invested over $29 million to support St. Louis area children, built or renovated 24 youth ball fields in local under-resourced neighborhoods, and distributed over $15 million in grants to nonprofit organizations.  To learn more about all of Cardinals Care's programs visit cardinals.com/community and follow @CardinalsCare on Twitter.
About Boniface Foundation
Boniface Foundation is a private foundation dedicated to providing support for charitable and educational activities that promote individual and community health and well-being in St. Louis counties and city.
About Gateway Region YMCA
The Gateway Region YMCA is a 501(c)(3) nonprofit strengthening community through youth development, healthy living and social responsibility. Serving more than 225,000 members and program participants, the Y offers 24 health and wellness branches, operates in close to 100 community sites, and includes YMCA Camp Lakewood and Trout Lodge in Potosi, Missouri, and the Campus Y student leadership facility at Washington University. The Gateway Region YMCA provides $2.76 million in financial assistance annually to those who otherwise could not afford its services. The organization also employs more than 2,000 full-time and part-time individuals and engages more than 1,100 volunteers annually. The Y is a proud member of the United Way of Greater St. Louis. For more information, please visit www.gwrymca.org or call 314-436-1177.
About Miracle League
The Miracle League is a non- profit organization that builds baseball fields and develops baseball leagues for children and adults with special needs worldwide. The organization removes the barriers that keep children with mental and physical disabilities off the baseball field and lets them experience the joy of America's favorite pastime. But it's more than playing a game. The Miracle League is about making new friends, building self-esteem and being treated just like other athletes.