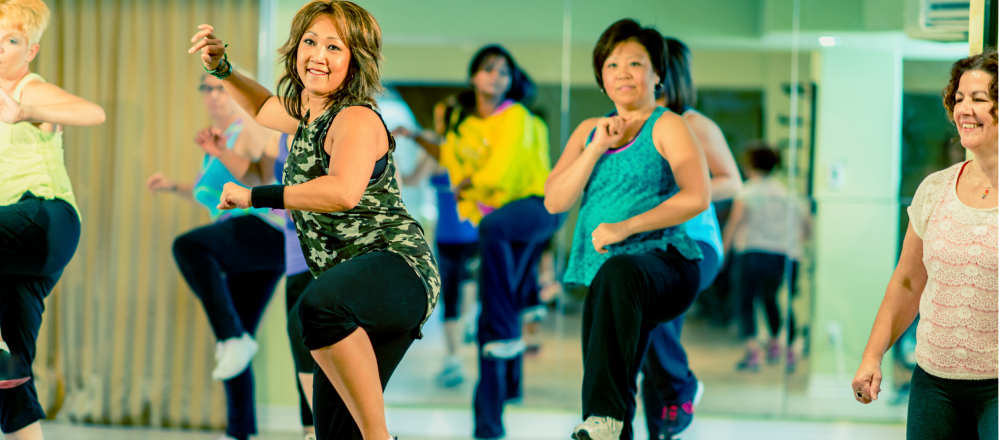 Hey, you made it! You have conquered the hardest part about coming to the gym.
In my opinion, walking in the front door, dressed and ready to go is a tremendous achievement. There are so many issues to handle trying to accomplish that one task. Starting with joining the Y and all that goes with it, the personal tour, the decision to join, paperwork, giving up your hard earned money, taking your picture, getting your membership card. Next, you have to carve out time in your busy life. Find workout clothes, a lock, shoes, a bag to put it all in.  You did all this!
Walking on the Fitness Floor can be intimidating for everyone. You're a little lost trying to figure out what's next. We hop on some cardio, maybe the treadmill for a while. Then try out the circuit strength training. Not really sure what to do or having a plan can be frustrating and discouraging. This is where Group Fitness Classes can assist in finding the balance of your workout routine. You've seen the classes going on behind those glass doors. Looks like fun but your hesitant to open that door and step in. Don't worry. We all feel that way.
Here are five reasons why you should be brave and take the plunge:
Free: Many of the Group Fitness classes are included with YMCA membership. Whether you're looking for a class geared toward cardio, strength training, mind/body, stretching or core-based classes... the Y offers a variety of classes each week at no additional charge! Yoga classes at a Yoga studio range from $10-$15 per class. And that's just the beginning. We have a tremendous selection of free classes ranging from Insanity to Zumba®, Belly dancing, LesMills BodyPump™, Cycling, and so much more. We also have classes for those who need to take it a little slower or have injuries. Check out our Aqua classes and Enhance Fitness, both are geared towards those with Arthritis. There are High-Intensity classes for those who are ready to push themselves to the next level.
Highly educated Instructors: All our Instructors are certified with the top 4 Group Fitness Educators in the US. Our Specialty Instructors are certified thru the specific trademark organization for that class. Such as Zumba®, Insanity, Bodypump™, Yoga, Cycling, and more. You can relax and trust that the Instructor will professionally guide you thru your class. For your safety, all Y staff are certified with CPR and AED. 
All Inclusive: The Y provides everything you need to take a class. You just have to magically appear with a towel and water; instructors provide the rest. Each class is outfitted with all the equipment needed. Cycling has beautiful bikes set up and ready for you to hop on. Yoga has all the mats, straps, and blocks. Bodypump™ has the weights, risers, and mats. Water fitness has the water dumbbells and all the water toys. You get the idea; we are ready for you to join us.
Timely: We have so many classes! They start as early as 5:15 am and as late as 7:30 pm. Take a look at our line up. It is posted at the Welcome Center and the Fitness Desk. You can also find all the class listings on our handy Gateway Y App. If you need assistance in downloading the app, don't hesitate to ask us. Many of our classes repeat themselves on a timely basis such as Monday, Wednesday, and Friday to assist in making your personal workout plan.
Social: In my opinion, this is by far the most important reason. When you step into a Y Group Fitness Class, you automatically belong. You are part of this Tribe. They are a group of like-minded people. Zumba® and Belly Dancing have all the dancers. Insanity has all those high-intensity people who are, well, just a little Insane. Spinning has the bikers; Aqua Fitness has the water people. We have something for everyone.  Look around, find your Tribe, they think like you and will be happy for you to join them. You will meet new people, and soon they will hold you accountable. Life will get in the way and you will miss a few classes. When you finally can make it back to class your group will ask you where you have been. You're expected to be there. Where are you?
The YMCA offers a large variety of Group Fitness Classes at each branch, with something for every interest and fitness level. The Y has gone to great lengths to take away all your excuses for not going. Be Brave. Open that glass door and walk in. We look forward to seeing you there!
Written by: Mia Miller.
Mia is a Personal Trainer, Health Coach, Group Fitness Instructor, and Yoga Teacher