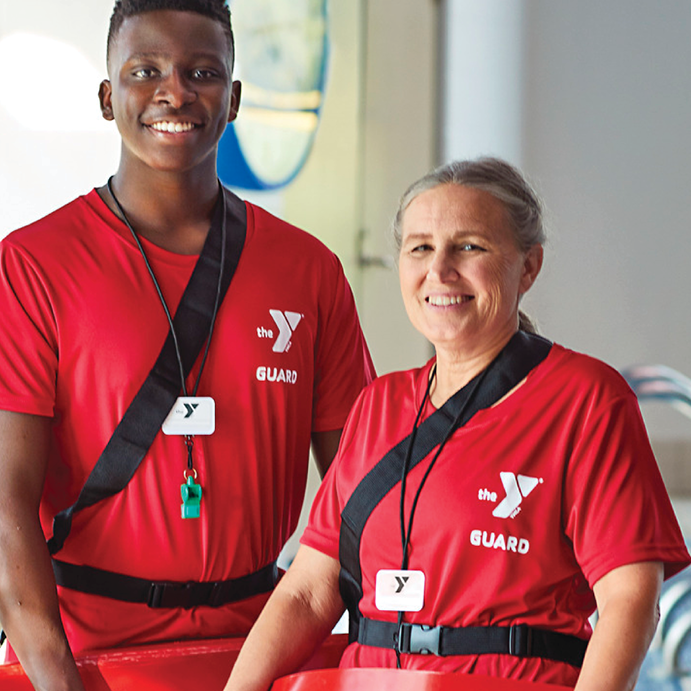 Being a lifeguard is an excellent choice for someone who is comfortable in the water and who has strong swimming skills. It's also a great way to work with a team and develop important life skills.
If you're thinking about becoming a lifeguard, it's important to consider what the job actually entails. It's not just about sitting in a lifeguard stand and watching a pool, though it may appear that way to others. When a lifeguard is on duty, he or she is constantly scanning the water and keeping an eye on everyone on the pool deck. A lifeguard must always be rescue-ready when on duty, which means being prepared and able to respond immediately to any incident, accident, or issue that might occur in the pool area. This involves being alert and knowledgeable of how to respond, as well as being physically capable of helping someone.
As a lifeguard, it's important to maintain a reasonable level of physical fitness. It's also important to practice swimming and rescue skills on a regular basis. Lifeguards should be comfortable in the water and willing to get in it at any time. Ideally, lifeguards should practice swimming laps every week and practice rescue skills every month.
In order to be physically capable as a lifeguard, he or she must be a strong swimmer. When rescuing someone in the water, it might be necessary for the lifeguard to keep himself or herself afloat while also supporting the person who is in trouble. The lifeguard must also be strong enough to remove an unconscious victim from a pool, assisted or unassisted. If the situation also requires CPR, the lifeguard would then need to be able to start compressions immediately.
At the Y, we're happy to train new lifeguards in all rescue skills that might be needed. In order to make sure a candidate is physically capable of training and performing all these rescues, we go through a series of physical competency skills toward the beginning of the lifeguard certification course.
Candidates must be able to swim the following without a break:
Freestyle (face in the water): 100 yards

Freestyle (face out of the water): 50 yards

Breaststroke (competitive style): 50 yards

Breaststroke (face out of the water): 50 yards

Sidestroke: 50 yards (25 yards on each side)

Elementary backstroke (arms on chest): 50 yards
Additionally, a lifeguard candidate must be able to dive down and retrieve an object from the bottom of the deep end. This is usually either a dive ring or a weighted brick. He or she must then bring the object back to the surface and tread water with it for two minutes, and then exit the water and perform 100 good compressions on a CPR manikin. The instructor might then review a few more exercises with the candidates, including scanning, before proceeding with rescue skills.
Lifeguarding at the Y, it's important to embrace and embody the core values of the Y: caring, honesty, respect, and responsibility. These are all important qualities to possess when working on the deck as a lifeguard, as well as in the office with coworkers or elsewhere at the branch. It is also essential to be reliable, to treat others with kindness, and to communicate well with members and coworkers. 
In Aquatics, we very much work as a team. Team members should share any important and pertinent information with coworkers and/or supervisors, and they should also be able to rely on each other as skilled, punctual, and caring lifeguards. It's very important for lifeguards to get along well with each other and be able to talk to one another. It's also a great idea to help a fellow lifeguard who might be unsure of something or who might need help covering a shift. Lifeguards who go above and beyond to help teammates in this way tend to have the favor willingly reciprocated. In addition, it's essential for lifeguards to attend in-service training every month to review and practice important rescue skills and keep up-to-date with any new information. This also helps a team of lifeguards have confidence in each other and know they'll have adequate support in an emergency. 
Besides practicing the Y's core values and learning important lifesaving skills, lifeguards can gain other qualities and experiences that will benefit them at present and in the future. As part of a team, lifeguards practice good communication and friendly social skills with their fellow staff, which sometimes results in lifelong friendships outside of work. A good sense of responsibility is necessary for the job and is practiced by all the staff, as well as developed in lifeguards who are new to the working world. Having a key role in giving people from the community a safe place to swim and exercise also gives lifeguards a sense of purpose each time they come to work. 
Many of our members at the Y come to the pool because they love to swim and enjoy exercising in the water. Others come to the pool to learn how to swim and how to be safe in and around the water. For some members, though, getting in the water is the only option for exercising, due to physical or health reasons. Whatever the reason might be for getting in the pool, members at the Y know that, because a lifeguard is always on duty, they can swim in a safe and pleasant environment. If you're interested in water exercise classes near you or looking to learn how to swim near you, Gateway Region YMCA has an indoor swimming pool with instructors ready to help.
The Gateway Region YMCA is currently hiring lifesavers.