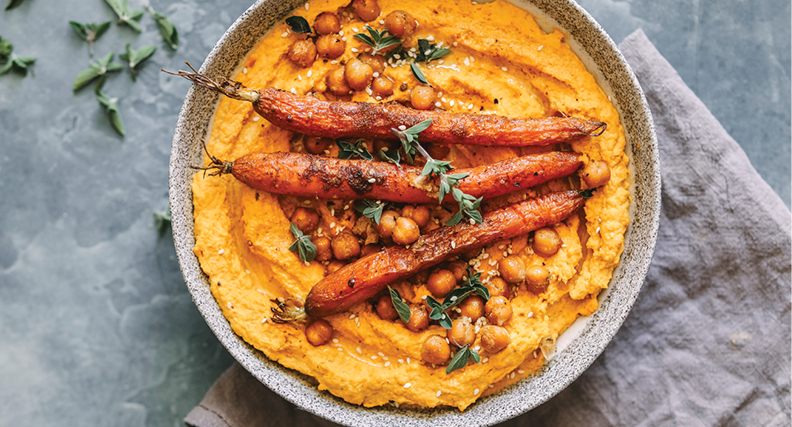 Ten Savory Treats That Can be Prepared in 10 Minutes or Less!
In 10 minutes or less, you can make a Dietitian approved savory treat to satisfy those belly rumbles any time of day!
1. Raw veggies with hummus.
2. Ants on a log.
This is an oldie but goodie. Peanut butter spread on celery sticks topped with raisins.
3. Airpop popcorn.
Top your Airpop popcorn with a drizzle of olive oil and nutritional yeast to add a savory "cheezy" twist.
4. Edamame in salted shells.
Eat warmed or chilled.
5. Guacamole deviled eggs.
Boil eggs, slice peeled egg in half, mix yolk with mashed avocado, lime juice, salt and pepper. Put guac-mix back in yolk space.
6. Deli turkey and swiss roll ups with mustard.
7. Cottage cheese.
Top your cottage cheese with sliced black olives and a few pistachios.
8. Rice cake.
Add a nut butter spread and a dash of cinnamon to your rice cake to spice it up.
9. 2oz cheese on whole grain crackers.
10. Roasted chickpeas:
Roasted chickpeas can be eaten as a snack or added to a salad for extra high fiber, protein crunch.
Rinse and dry 1 can chickpeas.
Heat oven to 400 degrees.
In a bowl, mix chickpeas with 1 Tbsp olive oil, 1 tsp turmeric, 1 Tbsp nutritional yeast, dash of salt and pepper.
Spread seasoned chickpeas on parchment lined, rimmed baking sheet.
Bake for 30 minutes, allow to cool for 10 minutes before eating.
Learn more about our YMCA Nutrition Services to help you implement healthier eating habits. Work with a Registered Dietician who is a licensed healthcare professionals in the field of nutrition trained to diagnose and treat nutrition-related illnesses and counsel patients in all areas of nutrition-focused wellness care.
Blog post written by Marie Gorski, MFN,RD,LD.