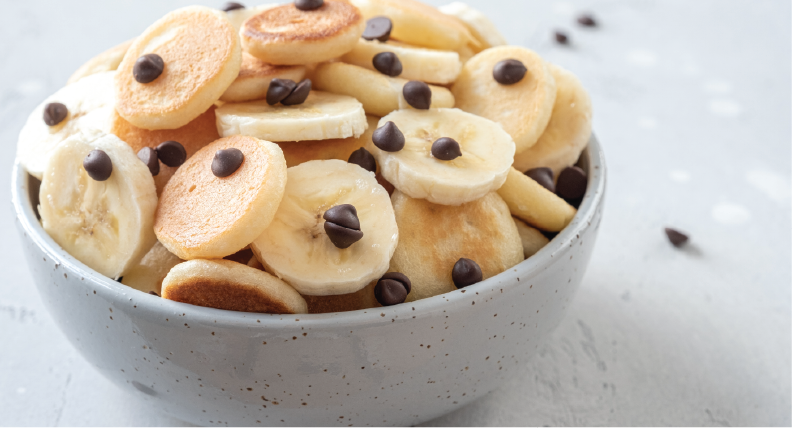 Ten Healthy Sweet Treats That Can be Prepared in 10 Minutes or Less!
In 10 minutes or less, you can make a Dietitian approved sweet treat to satisfy that sweet tooth any time of day!
1. Bananas + Chocolate
Take 1 small ripe banana, roll in mini-dark chocolate chips and freeze for 30 minutes. Store frozen bananas in freezer safe bags for a sweet treat anytime. *Bananas are an excellent source of potassium, however some people need to monitor their potassium intake, consult with your doctor or registered dietitian before increasing potassium.
2. Frozen Grapes
It's that simple! Wash and dry fresh grapes then freeze them for a healthy snack.
3. Berries + Whip
Fresh or thawed frozen berries topped with 2 tablespoons whipped cream.
4. Faux Candy Bar
Fill pitted dates with nut butter of your choice (may use non-nut butter such as sunflower seed butter), top with a dusting of cinnamon or add a few mini-chocolate chips and freeze.
5. Greek Yogurt
Use 1 cup of Greek yogurt with 1 sliced kiwi and a drizzle of honey.
6. Sliced Green Apple with Gjetost Cheese
This Norwegian cheese has a flavor profile strongly similar to caramel. A slice of green apple with a small piece of Gjetost cheese creates a unique and delicious treat! Look for Gjetost cheese in your local international  grocery store.
7. Ch-ch-ch-CHIA!
Chia seed pudding is as simple as ½ cup milk of choice (dairy or plant), 2 tablespoon chia seeds, 1 teaspoon honey or (sweetener of choice). Mix well and chill in the refrigerator for at least 2 hours before serving. Mix-ins could include 1 tsp cocoa powder for a chocolatey treat!
8. Frozen Yogurt Bomb
Mix ½ cup frozen (thawed) berries with 1 cup greek yogurt and ½ cup chopped unsalted nuts (omit nuts if allergic), using an ice cream scoop, dollop yogurt mix onto parchment paper line baking sheet and freeze for 2 hours then enjoy!
9. Dessert Hummus
Visit your local grocery store for a dessert hummus.
10. Baked Apple
Core one red apple, add 1 tsp butter, margarine or coconut oil. Add 1 tablespoon chopped unsalted walnuts and a dash of cinnamon, bake at 375 degrees for 30-45 minutes and serve warm.
Learn more about our YMCA Nutrition Services to help you implement healthier eating habits. Work with a Registered Dietician who is a licensed healthcare professionals in the field of nutrition trained to diagnose and treat nutrition-related illnesses and counsel patients in all areas of nutrition-focused wellness care.
Blog post written by Marie Gorski, MFN,RD,LD.