You are here
STEM for the Holidays!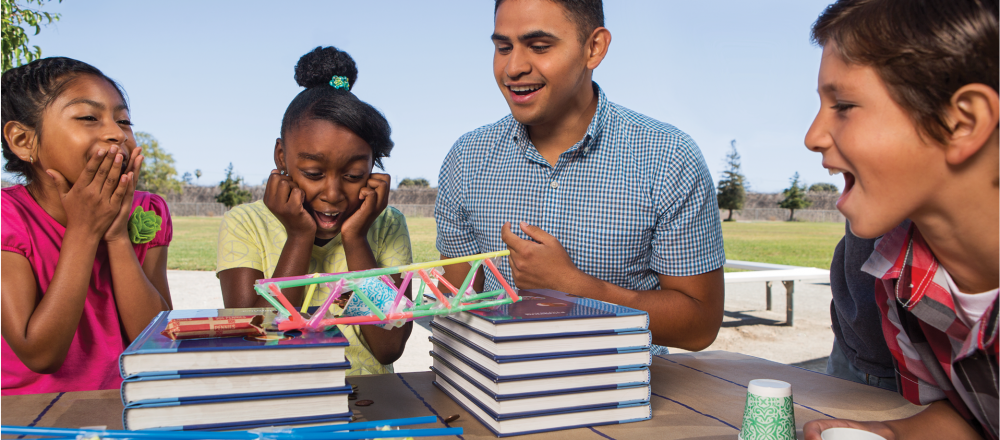 Food, family, joy and laughter is upon us and many of us are preparing to embark on a journey to find the ultimate gift of the giving season. This year STEM toys will be at the top of the list of parents looking to inspire their little scientist, engineer, tinkerer or creative genius. There is no better way to support youth development than to have some fun learning through play! The list below is not a "Top Ten" or "Best of" but a collection of opportunities to add some educational fun into the mix.
1. Makedo​ ​Cardboard​ ​Construction​ ​Tools​ ​ ​$12.50
Pick up a kit and grab some cardboard to get your kids started as cardboard creators! This kit will make low-cost/low-tech DIY playdates a snap and keep children engaged in creative play for hours. The website includes plenty of "How-to's" and "Tips and Tricks" along with plans for optional parts that can be 3D printed separately .
2. Strawbees​ ​Maker​ ​Kit​ ​$20
Strawbees help young engineers design and build mechanical creations using basic straws. Strawbees allow makers of all ages to participate in low-cost/low-tech prototyping, an important step in any design thinking process. The website includes great support, offering playing guides, workshops and even an app!
3. Klutz​ ​LEGO​ ​Chain​ ​Reactions​ ​Craft​ ​Kit​ ​$20
Design and build "Rube Goldberg" chain reactions using LEGO bricks! This kit contains parts and plans to build 10 different chain reactions to begin exploring the Science of physics. A few LEGO bricks are included but additional bricks will be need to complete some of the designs. The detailed instructions provide instructions with color images and explanation of the physics for each machine.
4. Rocketbook​ ​Color​ ​$22
Crayons are a time tested tool for inspiring creativity and Rocketbook brings the tech into the 21st Century with a digital notebook. Save and share your young artists' creations with family and friends using the Rocketbook app and when the notebook is full just wipe clean with a damp cloth and start fresh! Crayola Dry Erase Crayons (non-toxic) are preferred but the notebook works with any brand.
5. Code-a-pillar​ ​$30
Code-a-pillar allows even pre-schoolers to get into the coding fun! This product from Fischer-Price develops critical thinking and problem solving skills all while your child has fun playing and exploring. Young learners can use the easy to connect the segments to send the Code-a-pillar off to a destination then re-arrange to find a better path. Blinking lights, cool sounds and start/finish target complete the pack.
6. Magformers​ ​$36​ ​
Amazon Magformers, a magnetic construction designed for young learns to design and build and expand their imagination through creative play. The combination of large plastic pieces and rare-earth magnets make this toy both durable and easy to use.
7. Snap​ ​circuits​ ​$45
Learning about circuits and electronics has never been this fun and easy. Snap the components together to build more than 300 different projects ranging from simple circuits to complex water detection alarms. Each piece is numbered and color coded for identification and no soldering or tools needed.
8. Bloxels​ ​$40
Bloxels is the latest offering from Pixel Press, a St. Louis based tech company, that specialize in game-based learning. With Bloxels and a compatible mobile device, young developers can design and create story animations and video games to share with an ever-growing community through the app. Starting with a story, children build game maps and levels for characters they create and animate themselves. Publishing is safe an easy, allowing young creators to share and play each others games on the Infinity Wall built into the app.
9. Sphero​ ​Mini​ ​$50
Sphero Mini is new to the Sphero family line and sports all small form factor and lower price than the original. That's where the differences stop! This tiny app-enabled robot, which connects to your mobile device via bluetooth, is packed with tiny motors and LED lights. Have fun just controlling the movement of the robot with your fingers or use the camera to control Sphero with your face!
10.Google​ ​Ai​ ​Voice​ ​kit​ ​$25​ ​/​ ​Raspberry​ ​Pi​ ​$35
Artificial Intelligence (AI) and home automation are growing interest in the DIY/ Maker community. Young creators can now add AI to their projects using the Google Aiy Voice kit paired with a Raspberry Pi microcontroller. This kit brings the human voice recognition and interaction of Google Assistant to your fingertips.
11. Kano​ ​Computer​ ​Kit​ ​$120
Take screen time to the next level with the Kano computer kit. Kids can build their own computer and use it to connect to apps and learn to code! Powered by Raspberry Pi, kids have access to hundreds activities the teach how a computer works. Kids will explore and play while learning to code Java, Python, and Unix through creative coding challenges. Kano's unique operating system allows kids to make creative art and even hack Minecraft.
12.Blue​ ​Microphones​ ​Yeti​ ​USB​ ​Microphone​ ​with​ ​Studio​ ​Headphones​ ​and​ ​Knox Pop​ ​Filter​ ​$149
Audio podcast and video streaming is an incredible way to share with the world. Whether you are a budding radio/ talk show host or the next Youtube sensation, you set up would be incomplete without a microphone. The Blue Yeti microphone will add high quality audio to your teens' Twitch stream or your weekly radio podcast. The simple usb connection makes it plug and play with both Mac and Windows Pc.
Written by: Orlando Sharpe, STEM Program Director, YMCA Community Development
All opinions expressed here are those of their authors and/or contributors and not of their employer.
Any questions or concerns regarding the content found here may be sent to info@gwrymca.org.