You are here
Get the Family Involved at Mealtime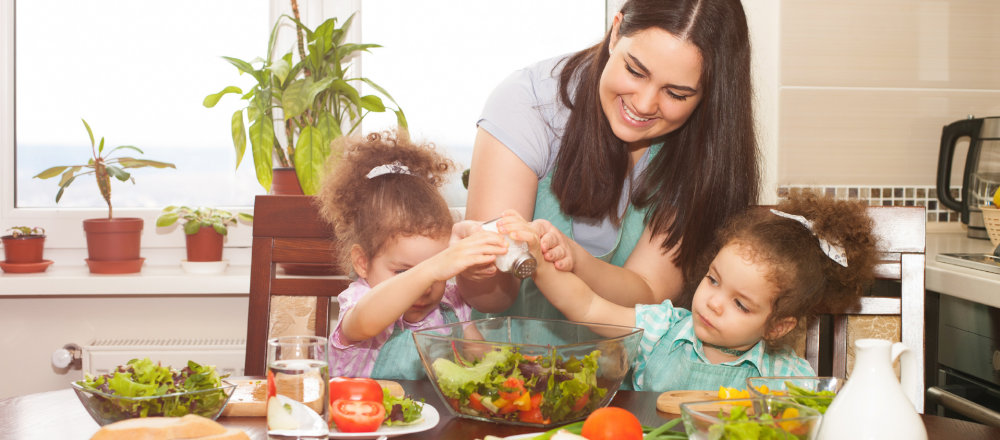 "What's for dinner?" How many times do you hear this question? Getting kids involved with mealtime will help answer this question. It also helps set them up to make meal times a priority as they grow into adults. A study conducted by the University of Michigan looked at how 3-13-year-old kids spent their time. The greatest predictor of high achievement scores and less behavioral problems was meal time at home. Other studies have shown that as regular family meals increased, rates of childhood obesity, depression, and substance abuse decreased. The meals were also more nutritious. Kids can help in all aspects of meal planning: from what meals they like, picking produce in season, grocery shopping and meal preparation. Here are some tasks that children can participate in depending on their age. Make the whole family involved in what is for dinner and dessert!
Preschoolers (Ages 2 to 5):
Wash fruits and vegetables in the sink
Dry lettuce in a salad spinner
Tear lettuce for salads
Smash graham crackers for crusts
Brush oil with a pastry brush
Use a rolling pin
Stir
Mash ingredients (ripe bananas, potatoes, cooked vegetables, avocado)
Pick fresh herb leaves off stems
Use a pepper grinder
Use cookie cutters
Spread peanut butter and jelly on bread
Young Cooks (Ages 6 to 8)
Use measuring cups and spoons
Crack and whisk eggs
Grease pans
Cut soft items with scissors
Grate cheese
Knead dough
Peel fruits and vegetables
Read recipes aloud or sound out words
Scoop batter into muffin cups
Set the table
Preteens (Ages 9 to 12)
Put foods in the oven and remove them
Cook soup
Cut fruits and vegetables
Toast bread
Use a waffle maker
Cook pancakes on a griddle
Cook eggs on the stovetop
Roast vegetables
Use a timer and thermometer
Double recipes
Bake quick breads and muffins
Make sandwiches
Wash and put away dishes
Unload groceries
Teenagers (Ages 13 and Up)
Use all kitchen appliances
Develop knife skills
Marinate foods
Bake more complicated recipes
Cook chicken and other meats on a grill or in a pan
Make a full dinner
Run and empty the dishwasher
Clean the kitchen
Let your child be the chef for the day and plan and prepare a meal that is age appropriate. Check out a family cooking magazine that is online at https://www.chopchopfamily.org/. They have many great cooking ideas. Here is a dessert recipe from this website.
Pineapple Frozen Yogurt
This is an easy dessert for young cooks to help prepare. For the easiest blending, freeze the fruit beforehand for at least 2 hours.
Hands-on time: 10 minutes
Total time: 2 hours
Makes: 4 Servings
Kitchen Gear:
Dinner knife
Cutting board
Measuring cup
Measuring spoons
Zester or grater
Food processor or blender (adult needed)
Ingredients
1 1⁄2 overripe banana, sliced and frozen
2 cups fresh or unsweetened canned pineapple chunks, frozen
1⁄2 cup plain yogurt
1 tsp grated lime zest
Instructions
Put everything in the food processor and process until smooth. Serve right away.
Written by: Tina Bowen, Registered Dietitian, O'Fallon Family YMCA
Sources:
Satter, Ellyn. Secrets of Feeding a Healthy Family: How to Eat, How to Raise Good Eaters, How to Cook. Kelcy Press, 2008.
"Cooking With Kids: A Guide to Kitchen tasks for Every Age." Taste of Home, https://tasteofhome.com/article/cooking-with-kids-a-guide-to-kitchen-tasks-for-every-age
"Cooking with Kids of All Ages." Williams Sonoma, https://www.williams-sonoma.com/recipe/tip/skills-by-age.html
"Kitchen Tasks for Different Age Groups." The Kids Cook Monday!, https://thekidscookmonday.org/kitchen-tasks-for-different-age-groups/
"Pineapple Frozen Yogurt." ChopChop, 19 Apr. 2016, https://www.chopchopfamily.org/recipe/pineapple-frozen-yogurt.
All opinions expressed here are those of their authors and/or contributors and not of their employer.
Any questions or concerns regarding the content found here may be sent to info@gwrymca.org.