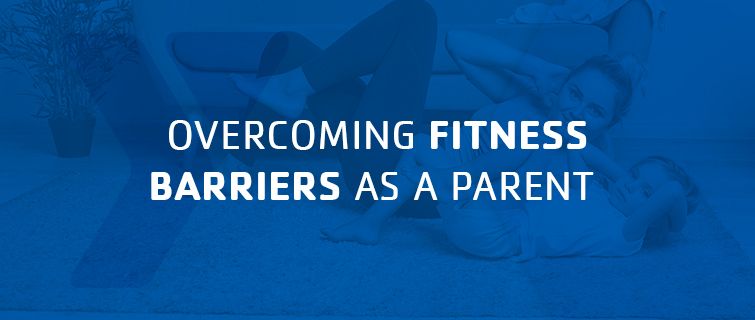 Finding the self-motivation to work out is hard enough. Add being a parent to the mix with its time and energy constraints, and it becomes even more of an uphill struggle.
Restore your motivation with these tips and suggestions to overcome common workout barriers as a parent. Some may succeed so well, you'll end up getting the whole family into fitness!   
Top Reasons Parents Find It Difficult to Work 

O

ut — and How to Overcome Each
With these suggestions on your side, you'll find creative solutions to incorporate fitness back into your busy life. Which can you give a try? 
1. Lack of Time
"Squeezing in" a workout can sound laughable to so many parents. From getting kids ready for school, to homework help, to errands, to household chores, to meal prepping and cooking, to bedtime routines — plus a full workday thrown in the mix — there's barely a free minute to breathe.  
Solution: Use your phone or a small notebook to track your day's activities for a week or so. Be sure to include the details of what time these activities take place, and how long each lasts. Review your notes to try to find a handful of 30-minute flex periods perfect for physical activity. These can even be when you watch TV after putting the kids to bed! Bonus points if you fill these slots with an at-home workout or way to move your body you enjoy — e.g., hip-hop dancing, yoga, etc.   
For deeply time-strapped parents, see if you can add more movement into your normal daily activities. For example, what if you biked to work three times a week, or used your lunch break to go on a walk instead of idly sitting around the break room? 
2. Lack of Energy
After a long day, most parents only want to unwind and head to bed. Adding exercise into the mix becomes another chore or responsibility — aka, yet another thing zapping your energy.
Solution: Use a similar journaling method to what we described above, only this time taking note of when you feel most energized during a typical day. You might be surprised by what you discover. For those who thrive on external motivation, try joining an online or in-person fitness class or even hiring a personal trainer. Other participants will help keep you accountable, plus ensure you don't waste your money! 
3. No One to Watch the Kids
Carving out alone time to work out might seem impossible, especially with little ones in the house. Babies and toddlers demand near-constant attention, the kind barring you from leaving home for a weekly workout class or even a quick jog. 
Solution

:

 First, see if you can include your kids in your workouts — especially if you're following a home video. Little kids innately love to move. They'll enjoy that calisthenics blast or Zumba class as much as you do, plus will likely see it as part of playt

ime. For out-of-the-house forms of fitness, look for a gym that includes some form of child care in its membership perks. For instance, the Gateway Region YMCA offers members a Child Watch amenity to keep children entertained and cared for while their parents get in a solid, uninterrupted workout.
4. No Idea Where to Begin
Working out for the first time can be incredibly intimidating. If you've been out of the gym for a while or are trying a new type of exercise altogether, that anxiety may only increase, which in turn prevents you from starting at all. 
Solution: Try a little of everything from the comfort of your home! Hop online and search for "at-home" versions of whatever exercise type you wish to try: Zumba, barre, HIIT, plyometrics, yoga, Pilates, kickboxing, resistance bands, calisthenics, core work — you name it, the internet will have it. If you're looking for a virtual one-stop shop for all your fitness needs, check out the hundreds of online workout tutorials available from the Gateway Region YMCA. The Gateway Region YMCA On-Demand YouTube channel features a wide variety of fun and informative workout videos for youth, adults and seniors alike.
5. Frequent Traveling for Work
Does your job require you to travel often? If so, it can be even more challenging to squeeze in workouts when you're home, since all you want to do is recharge and reconnect with your family.
Solution: Look into joining a national gym chain with reciprocal membership, meaning you can use any facility, anywhere. The Gateway Region YMCA Nationwide Membership enables you to visit any participating Y in the United States through membership at your "home" YMCA. Most YMCAs support cross-facility programs like this. You can also scout out hotels with fitness rooms to make the most of your bookings.    
6. Bad Weather Where You Live
Inclement weather can cast a downer on consistent outdoor workouts. Depending on where you live, seasonal weather variation might mean rain, snow, high winds or unbearable heat and humidity that only further demotivates you to workout. 
Solution: Find one or two types of exercise that aren't weather-contingent. Most intuitively, this could mean an at-home activity like aerobic dance, kickboxing, stair workouts, jumping rope, etc. During long stretches of poor outdoor weather, such as wintertime, consider signing up for a fitness class or taking up indoor sports, such as swimming or rock climbing.    
7. Little Social Support 
Working out alone is challenging. How do you stay motivated? Who keeps you accountable? With broader parental pressures to always put your kids first — giving them your free time — exercise quickly falls to the wayside without a little help from others.
Solution: Plan parts of your social life around physical movement. For example, you could join local clubs dedicated to physical activity, such as a rock climbing or hiking group. You could even turn date night with your partner into a fun sweat session by signing up for dance lessons. If those still don't provide the level of social support you need to overcome fitness hurdles, search for online accountability groups or download a fitness app to track your workouts, send workout reminders and even help you set and reach goals. Y Members receive exclusive access to the Gateway Region Y Mobile App. Set a workout plan, join a challenge, receive notifications, set a nutrition plan and connect with your fellow Y members for support! 
8. Money
You'd love a gym membership, but that's not in the budget right now. Without the equipment and resources available at gyms, though, you can't get yourself to stick with a steady fitness routine. 
Solution: 

Plenty of inexpensive ways to stay in shape don't involve a gym membership.

 Consider searching online for local workout groups that meet for runs or walks at area parks, or use public facilities themselves as your equipment. You can even turn the jungle gym at your kids' favorite park into a personal workout playground. However, some local gyms provide financial aid to make their memberships more affordable. For example, the Gateway Region YMCA provides financial assistance to those who qualify. Based on the belief that anyone who wants to be a part of the Y community should have the opportunity to join, the Y offers financial assistance for membership, early child care education, swim lessons, youth sports, camp, after-school care and more programs, making it an affordable fitness option.
Stay Motivated at Your Local Gateway Region YMCA
Gateway Region YMCA wants to make it as convenient as possible to maintain a healthy lifestyle, one that works for you and your family. 
Check out our current lineup of fitness classes, as well as financial assistance plans we currently support.