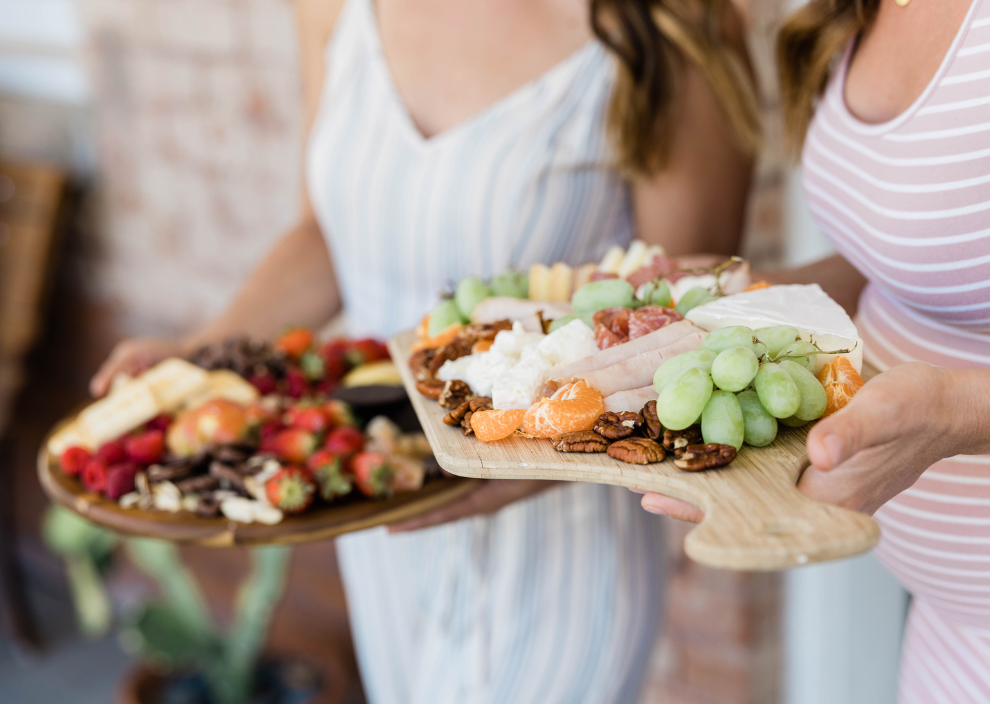 What is 'Girl Dinner' and is it Good for You?

Have you ever not known what to make for dinner, been too rushed/lazy to cook a full meal, and just ended up snacking on food around your house instead? If so, you've participated, probably unknowingly, in the current 'girl dinner' trend! Girl dinner is a food trend that rose to fame during summer 2023, primarily on TikTok, and quickly became a viral sensation, with "#girldinner" amassing 1.2 billion views on TikTok alone. Popeye's even debuted a girl dinner meal inspired by the trend! But, what exactly is girl dinner, and more importantly, is it good for you?
Girl dinners are simply random dinners that people enjoy (not just girls!) that focus on little prep, no-cook meals. Most of the dinners end up falling into the category of snack plates for dinner, since it is often made using ingredients found around one's house like popcorn, veggies, pasta, etc. The creator of the girl dinner trend explained its origins to Women's Health magazine saying, 'I don't want to cook something. I don't want to go grocery shopping…[I think] like, 'What do I have around the house that I need to get rid of?' I'm not throwing out food [as much] this way."
Like most food fads, this has sparked a debate on whether girl dinner is healthy, or if it's negative fuel for disordered eating. The way we see it - it can easily go both ways. This trend can quickly turn unhealthy, not providing a sufficient amount of calories or nutrients. But, girl dinners can also be the perfect opportunity to include an assortment of food groups in your meal, while eating something you enjoy, and saving time in the long run. Just keep in mind the recommended daily servings per food group and ensure your girl dinner includes a range of protein, fats, carbs, and fruits/veggies. Plus, don't be afraid to go back for seconds if you find yourself still hungry after the first plate! If you're wanting to follow along with the trend, but also make sure your meal is nutritionally satisfying, below are 5 fun ideas for a healthy girl dinner (aka a snack plate).


1. Mediterranean Mezze Platter
The Mediterranean region has been eating snacks and appetizers for dinner long before girl dinner came to be, referred to as the mezze platter. A typical platter is made up of ingredients that most people already have that are filled with plenty of nutrients - perfect for girl dinner. Simply arrange a selection of items like pita bread, crackers, cherry tomatoes, carrots, peppers, olives, cucumber slices, and feta cheese on a plate, eat with your go-to dip like hummus, tzatziki, or baba ganoush, and you're good to go!
2. Breakfast-for-Dinner Plate
Who doesn't love breakfast for dinner? Cook an egg, or two, your chosen method (scrambled, hard-boiled, fried), and add whole grain toast, greens of your choosing, sliced avocado, and any fruit you have laying around on a plate for a satisfying meal. Add a dollop of Greek yogurt for some creaminess, with a sprinkle of chia seeds on top for an extra boost in fiber.
3. Charcuterie Board
Charcuterie is all the rage right now, and it's the ideal girl dinner! Some of the best ingredients for nutritious charcuterie include whole grain crackers, sliced cheese (cheddar, gouda, goat cheese, brie), deli meats (opt for ones that are nitrate-free when possible), fresh or dried fruits (grapes, apricots, strawberries, apples), pickles or olives, and a handful of nuts. Feel free to add a sweet element like chocolate as well!
4. Loaded Nacho Plate
Upgrade a classic late-night go-to - shredded cheese on tortilla chips! Dip or top tortillas or tortilla chips with a number of filling, nutritious ingredients. You can even cut tortillas into triangles, arrange them on a pan, and bake them a few minutes until crisp to make your own healthier take on a chip. Ingredients we like with this include black/pinto beans, diced tomatoes and bell peppers, jalapeño slices, shredded cheese, guacamole, and sour cream (a good, healthy substitute is Greek yogurt). Plus, give it a boost of protein with leftover ground beef or cooked chicken!
5. Leftovers
Girl dinner is the perfect chance to get creative with your leftovers and finally get them out of your fridge. Some common leftover culprits that would be ideal for girl dinner include rotisserie chicken, an extra portion of pasta or rice, bread or rice cakes that you need to use up before they go stale, random fruits and veggies you forgot about in your fridge drawer, etc.
Happy Snacking!

At the end of the day, girl dinners are meant to be a fun, relaxed, and most importantly, delicious approach to weeknight meals. Just make sure that as long as you're finding them filling and satisfying, and include a range of nutrients, you should be good to go. If you're not sure whether or not your girl dinner checks all of those boxes, next time give a few of these ideas a try. Happy snacking!