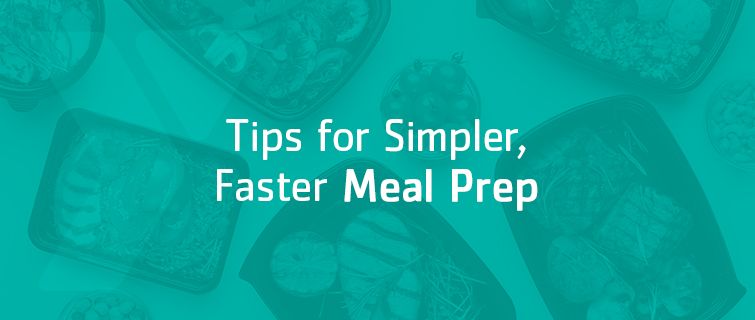 If you've spent any time searching online for healthy eating advice or following fitness-focused social media accounts, you've probably heard of meal prepping. But what makes meal prep such a well-loved strategy? And is there a right or wrong way to do it?
This article will reveal all the secrets to a simple and efficient meal prep strategy. We'll talk about why meal planning is worth your while before giving you our top meal planning tips to make the process easy and stress-free.
Is Meal Prep Worth It?
Before dedicating the time and energy it takes to meal prep, most people want to know whether it's worth the extra effort. Research says yes, meal planning can have various health benefits, including improved diet quality and maintaining a healthy weight. Meal prep helps with weight management by providing you with predetermined portion sizes to prevent overindulging.
Planning your meals also allows you to choose recipes that offer a full range of vital nutrients and minerals. With a bit of forethought, you can incorporate more fresh vegetables, fruits and whole grains into your regular diet. You will also be able to regulate what you eat more easily because you will know the exact ingredients and portions of each meal.
Meal prepping saves you time on busy days when you might not have spare time to think about what to make for dinner, let alone prep and cook it. Having preportioned, well-balanced meals readily available makes healthy eating as quick and convenient as ordering a pizza. Besides saving you time, meal prepping can save you money by preventing you from eating out as frequently and providing you with a set grocery list, so you don't make unnecessary food purchases.
7 Tips for Effective Meal Prep
Now that you know the benefits of healthy meal planning, make your meal prep a breeze by following these seven meal prep hacks.
1. Make a Meal Schedule Ahead of Time
Planning your meal schedule up to a week in advance is the secret to effective meal prep. Coming up with a concrete game plan for the week allows you to go through the other meal prepping steps — grocery shopping, preparing the ingredients, cooking — more efficiently. Taking some time to think through your menu for the week also helps you monitor your nutrition more closely.
Either on a piece of paper or digitally, write down the recipes you plan to make for the week and the ingredients you'll need. Map out what your schedule looks like for the upcoming week and which meals you will need to prep ahead. Make a note of any days you may be meeting a friend for dinner or have a lunch meeting at work, so you don't end up making too much food.
2. Put Together a Grocery List
Writing down your recipes for the week makes grocery shopping simple. If you don't get the chance to plan specific recipes one week, pick up kitchen staples and flexible ingredients at the grocery store. It's always a good idea to have essential and versatile ingredients on hand, such as lean proteins, whole grains and vegetables, because they're easy to turn into a nutritious meal.
3. Prepare Components Ahead of Time
Once you have your grocery items, you can start preparing parts of your recipes for the week ahead. Setting aside a few hours on the weekend to do things like wash produce, chop vegetables, roast poultry and mix sauces will save you time on busy weeknights. Having your ingredients precut and measured means all you will have to do is combine and cook them, if necessary.
You can also batch-cook large quantities of base foods like quinoa or rice, which you can use throughout the week in salads, grain bowls or as sides. If you know you'll be particularly short on time one week, consider cutting corners by purchasing precut fruits and veggies or premade items like a rotisserie chicken. While these items are typically more expensive, the convenience and reduced stress might be worth it.
4. Make Double Batches
You can save yourself tons of time later in the week by making large batches of your favorite recipes. The delicious leftovers you'll get from making double batches will allow you to get multiple meals by cooking only once — win! Whether you're dealing with a hectic schedule or don't feel like cooking one night, you'll be thankful to have some leftovers in the fridge or freezer.
5. Use Airtight Containers
If you're planning to make large enough batches to have leftovers, you'll need to ensure you have airtight containers to store the extra food in. These are also perfect for keeping precut ingredients fresh until you need them for a recipe. Because food storage containers are essential tools for successful meal prepping, you'll want to invest in high-quality ones.
Buying a nice new set will also make meal prep less frustrating by saving you from rummaging through your cabinets for matching lids. Before making your purchase, consider your containers' purpose. If you'll need to put them in the microwave, freezer or dishwasher at any point, make sure you get dishes suitable for each of those settings.
6. Try Slow Cooking
Your slow cooker will become your new best friend on hectic, rushed days. If you know you'll have an extra busy day one week, choose to make a slow cooker recipe on that day when you're planning your meals. From soups and stews to pot roasts and stuffed peppers, there's virtually no limit to what you can make in a slow cooker.
The beauty of a slow cooker is that you can toss all your ingredients into the pot in the morning before leaving for work, and the appliance will heat everything throughout the day, presenting you with a perfectly cooked meal in the evening. Relying on your mechanical sous chef will give you a nutritious, home-cooked meal with minimal work on your part.
7. Fill Your Freezer
Whether you decide to make double batches of pre-portioned meals or don't finish your entire meal one night, popping your leftovers in the freezer is the perfect solution. Meal prep can be as straightforward as storing your extra pre-made food in the freezer and thawing it when you need it later.
Besides stashing leftovers in your freezer, consider picking up some packages of frozen berries and veggies to keep on hand. Stocking your freezer with these items is a simple, time-effective way to have pre-washed, pre-chopped produce available when you need it.
Create a Nutrition Plan With the Gateway Region YMCA App
If you're looking for an easy way to track your eating habits, check out the Gateway Region YMCA mobile app. The Y app is the ultimate meal prep hack because it allows you to create a personalized nutrition plan that matches your dietary needs and schedule. Along with helping you meal plan, the app will help find local workout classes near you and stay up to date on activities at the Y.