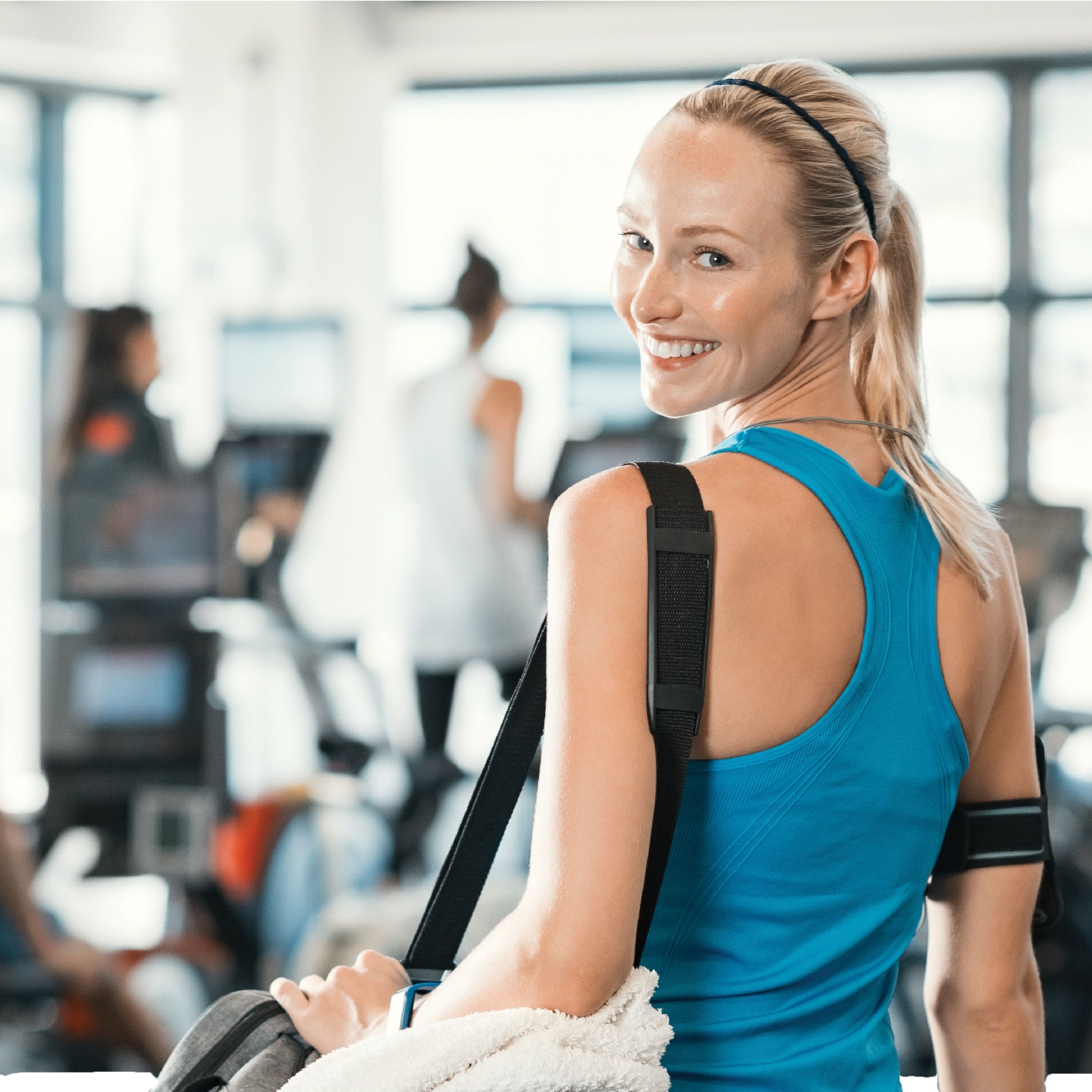 We all know the drill — diet and exercise are essential to healthy living. But the person who said that probably didn't have all the obstacles that fill up the schedule of a busy mom on the go. Whether you work or stay at home, there never seems to be enough hours in the day. From sunup to sundown, your life is filled with getting your kids ready, errands, business, carting your children from one activity to another — and the list goes on and on and on.
After all that, exercise gets a pretty low ranking on the list of priorities. But incorporating fitness into your daily life isn't just about losing weight. It's an essential aspect of keeping you happy and healthy so that you can tackle all those other tasks with energy and confidence. But exercise, like anything else that's important, requires persistence. It's crucial that we find a way to fit workouts into our already-hectic schedule.
Whether you're a first-time mom or a mother of four, we want to help you find the time to squeeze a workout into your schedule. It may seem impossible between picking up the kids, going to work and hauling them to soccer practice, but the rewards will be well worth it. Here is our go-to guide on how to make time in your schedule for exercise and even a workout routine. Not only will it promote your own health, but it will also emphasize healthy living in your family.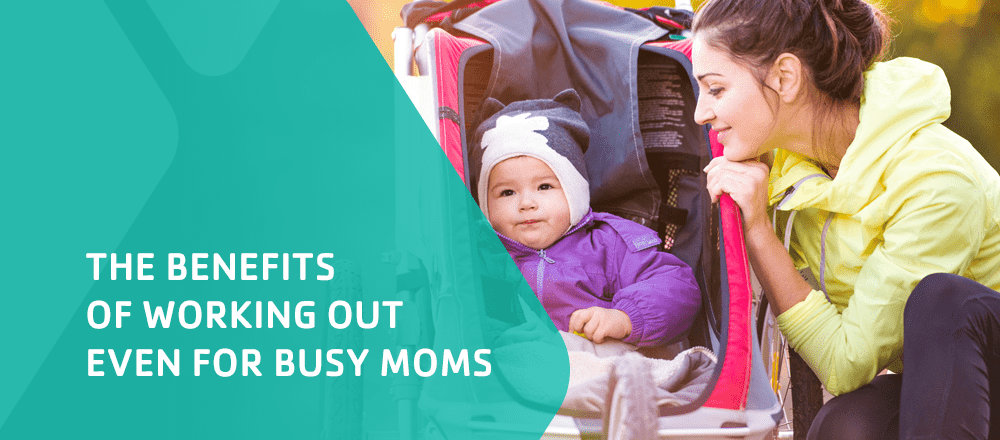 The Benefits of Working Out — Even for Busy Moms
As your time gets eaten away by the pressings tasks that arise for busy moms, exercise begins to look pretty unimportant. In fact, any type of "me time" gets pushed to the back burner. Guilt creeps in, telling you that you have no time for anything that doesn't revolve around your family.
Whether it's that 15-minute coffee break in the morning or reading a good book, you may feel guilty for taking any time for yourself. That's especially true for exercise, as a daily workout can last anywhere from 30 minutes to an hour. But what you may not realize is that working out regularly has incredible benefits that will improve your quality of life and your family's as well. Here are some benefits of working out that you may not have thought of. You can achieve each one in time.
1. Role Model the Importance of Exercise
As tablets, TVs and gaming systems take more of your children's free time, healthy living has become harder and harder for these young members of your family. Kids don't play outside like they used to because they'd prefer to sit in front of a screen. This behavior is one of the reasons that childhood obesity has risen to 18.5 percent among children ages two to 19.
Your kids look to you to set the tone of the home. When fitness and daily activity become important to you, they also become a priority for your children. By showing your kids that you're not too busy to incorporate workouts into your schedule, you're putting a high value on exercise. It also teaches them that fitness can be an ordinary part of life, not something weird or foreign. Just by watching you, they learn to live healthier lives themselves.
2. Relieve Built up Stress
Worry is to motherhood as picnic baskets are to Yogi Bear. We may fight the urge to worry, but with so much to do and so little time, stress becomes a familiar acquaintance. But stress is not good. In fact, it can damage your health and your psyche. Exercise releases endorphins, the brain chemicals responsible for a happier mood and a more positive outlook. When you exercise, it also lets you release pent-up feelings of frustration in a healthy and constructive way.
After a good workout, your whole family will notice a difference. You'll come back looking and feeling more focused, clear-headed and happy.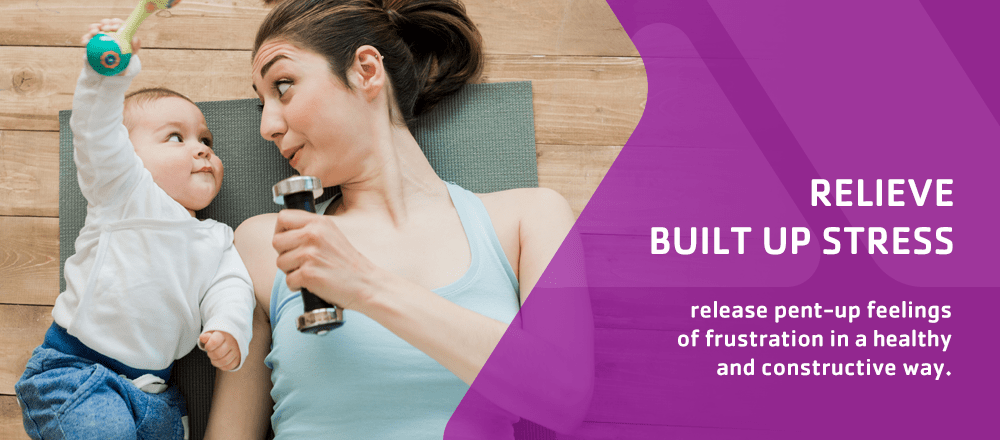 3. Find More Energy for Other Tasks on Your To-Do List
It seems like a strange contradiction, but exercise gives you more energy, not less. It may make you tired initially, but being a fit, healthy mama means that in the long run, you'll have more energy to tackle your day. And more energy means all those items on your to-do list will seem far less overwhelming.
Having a fit body also allows you to join your kids in the activities they love. No more sitting on the sidelines during a game of tag. You'll be able to dance, run, jump and tickle with the best of them.
4. Improve Confidence for Both You and Your Kids
As we mentioned earlier, you are your kids' primary role model. When you feel bad about yourself, they see that. They also notice when you don't make yourself a priority. In many ways, self-esteem is a learned behavior. When your kids observe you not taking care of yourself, they could internalize that without realizing it. However, the opposite is also true. When your children understand that making yourself a priority is okay, it improves their confidence.
It's also essential your kids learn that you're a person with your own desires and needs. Not only will that teach them a greater respect for you, but it will also show them that their own needs are important. And at the end of the day, when you work out and get fit, your overall confidence increases exponentially.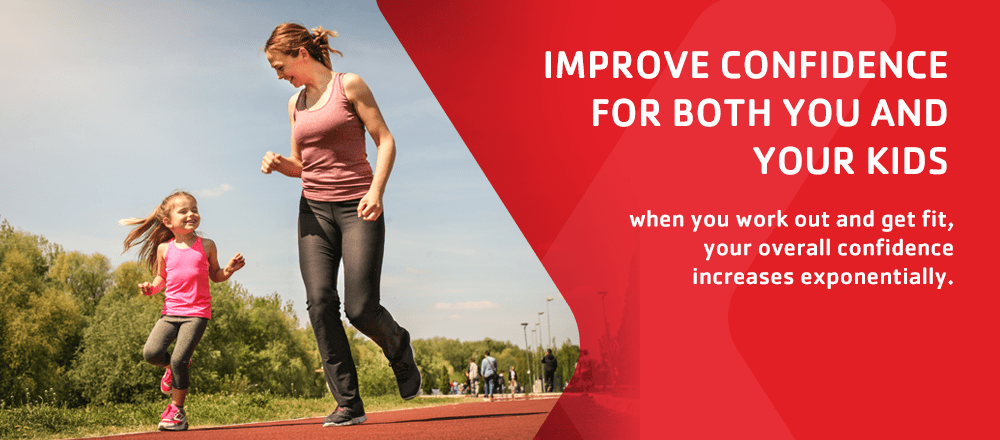 5. Exercise for Better Health
Since our school days, this idea has been said repeatedly— exercise equals better health. A regular workout schedule has innumerable benefits for our body, from trimming down and building muscle mass to things we might not think about, like healthier skin and hair. If you struggle with health issues, a regular fitness routine could be the answer. Our bodies were not meant to sit still and be immobile. Exercise is an essential way to keep active, especially if your job requires you to sit at a desk all day.
Believe it or not, exercise is also closely linked to improved sleep. If you've noticed yourself waking up sluggish and sleep-deprived, a good workout could help you slip into a healthier sleep pattern.
When you pair exercise with a healthy diet, these two habits create a dynamic duo that gets you fit and helps you lose any extra weight you're seeking to shed.
6. Get Some Much-Needed Alone Time
Everyone needs a break, and don't let mommy-guilt tell you otherwise. Whether you go to the gym or set aside an hour during your day where the kids know it's mom's workout time, exercise can be a mini-vacation you start to look forward to.
If you're a stay at home mom, those getaway moments are even more essential. They remind you that you're an individual, and they give you a chance to take a step away and breathe deep. It may not make sense, but a little bit of "me time" helps keep every mom happier and healthier.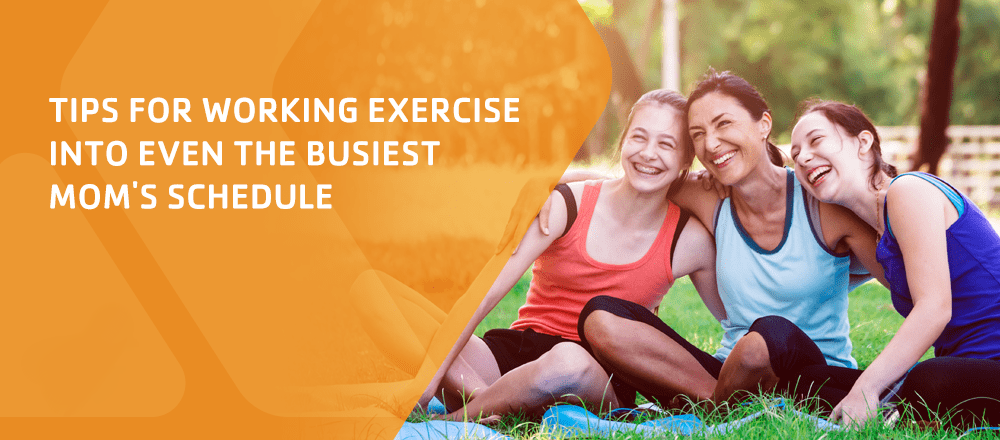 Tips for Working Exercise Into Even the Busiest Mom's Schedule
Okay, so now that you know exercise is good for even the busiest mama, how are you going to do it? You know it'll be great once you figure it out, but you're just not sure how to get started. That's totally understandable.
The key is creating a habit. Most people agree that it takes about three weeks to form a new habit. But with all that's already crammed into your day, how can you possibly find time for one more thing? Here are 10 tips that many busy moms utilize to sneak a short workout into their schedule.
1. Set an Appointment for Your Workout
When we say that we need to find time to workout, the truth is that we need to make time. You need to treat exercise like an important client that deserves a prime spot in your appointment calendar — pencil it in. Any time will do, but it's up to you to figure out the best time that works with your busy schedule.
There are many different options, but it all comes down to personal preference and feasibility. Some moms set their alarm an hour earlier and use those wee morning hours before the kids wake up to jam in a workout. Others find that after-work evenings are best. Some even enjoy using their lunch breaks as a 30-minute workout window. For that strategy, see which YMCA location is near your office, and give yourself a chance to get away.
2. Use Your Time Efficiently
Once you create a workout time slot for yourself, don't waste a moment. Whether it's a morning jog, a home workout routine or you head to the gym, you need to go in with a plan. Don't just wander around hoping something will strike your fancy. Have in your mind exactly what you'd like to do. You may even want to write down which workouts and the number of reps you'll be doing each day. For instance:
Monday: four chest and three bicep exercises
Tuesday: four back and three tricep exercises
Wednesday: six leg and two butt exercises
Thursday: five shoulder exercises and 30 minutes of cardio
Friday: 30 minutes of cardio plus abs
Weekend: Relax with the family
This workout program is just a short example. So many variations and options are available depending on how much time you can dedicate and your personal goals.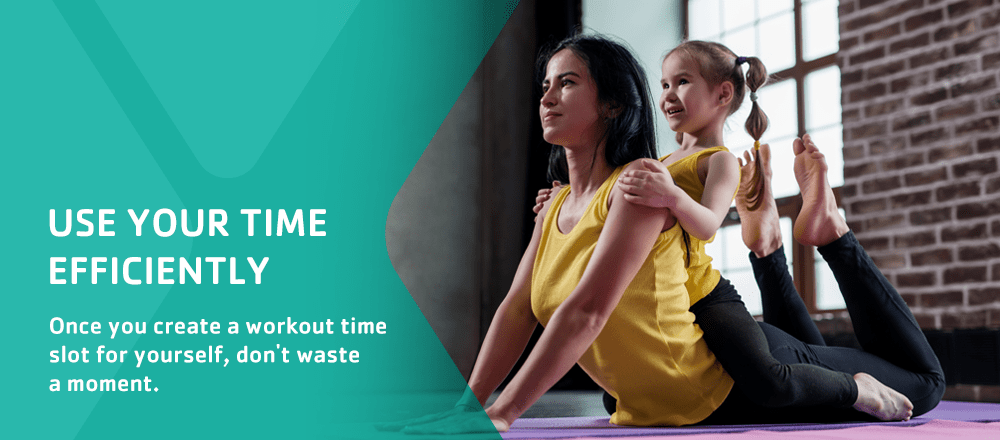 3. Include the Kiddos
Your kids thrive on quality time spent with mom. If a personal workout isn't feasible for your schedule, why not exercise with them? From infant-age and up, there are ways you can get your kids involved. When your baby is little, you can keep them close enough to keep an eye on you. They may enjoy the funny faces mom makes while exercising. You can even incorporate them into your workout by squatting with them in your arms or investing in a jogging stroller for morning runs.
As your children get older, they'll love being included in your workouts. From running after your toddler to bringing the older kiddos to the gym, your family will learn how important it is to incorporate fitness into their life.
4. Be Creative With Where You Workout
The gym is a great place to get some exercise. With a variety of workout machines and various fitness classes, it's no wonder most people prefer to make this their designated workout space. You can also be creative and choose an unconventional workout space.
While your kids are running around the playground, use the time to do some tricep dips on a bench or step ups. Or if you're glued to your desk, work in the occasional 15-minute fitness routine. You can even do lunges or squats while waiting in line at the grocery store, as long as you don't mind the stares. If you live close enough to the office, why not jog or ride your bike to work?
5. Remember That If The Kids Are Busy, You Can Be too
No matter what age they are, your kids will always need their parents. They want you to be around all the time, which can interfere with your regularly scheduled activities. Instead of getting things checked off your to-do list, you end up acting as your child's personal entertainment system. However, there are ways to keep them busy so that you can cut out a workout time for yourself. Of course, our suggestions really depend on your child's age:
Have a designated homework time, or give them an arts and crafts activity while you get your fitness on in another room.
If you know your child has an after-school or weekend activity, use that time to your advantage.
If you need to keep an eye on your young child, work out in the same room. Let them watch a show or play outside while you indulge in some exercise.
Utilize the childcare possibilities at your local gym. Your local Gateway Region YMCA has professional childcare so that you can drop them off for a fun time while you head to the gym.

6. Keep in Mind That Some Excercise Is Better Than None at All
In a perfect world, you'd be able to carve out a 30-minute to an hour workout every day. But sometimes that's just not possible. Remember, some exercise is better than no exercise. Doing a 15-minute jog is better than giving up because you feel like you're not dedicating enough time to it. Don't compare yourself to those who can fit in a full fitness program.
Another method is practicing the art of ninja workouts. Start out with 20 minutes of cardio in the morning and sneak in 15 minutes of strength training while the kids are eating. Pretty soon, you've given yourself a full day's workout.
7. Utilize Your Spare Time
When you're a busy mom, you value those spare moments when you can sit back and breathe. You may even indulge in some social media time on your phone or a show or two on Netflix. Spare time is precious, but it can be utilized to your advantage. Instead of taking 15 minutes to play Candy Crush, use that time to get in a short exercise.
Also, you don't have to be a couch potato to watch your favorite show. Work out and watch at the same time. Although weekends are more often than not rest days, you can also wake up a little early for a Saturday morning jog.
8. Get Your Friends or Colleagues Involved
Working out is always better when you have a friend along for the journey. But the real reason it's great to have a workout buddy is accountability. There will constantly be reasons not to exercise, but your friend is there to remind you of the many reasons why keeping your workout routine is important to you both. These workout times are also a valuable asset that can be used to strengthen friendships.
Even if you can't find a friend or colleague who can work out with you, there are other ways to build a support network. Facebook groups and other social media are an excellent avenue for friendly advice and encouragement. We know there are other busy moms out there going through the same things you are.
9. Keep Your Workouts Fun and Interesting
The best way to keep up your motivation is to find exercises and fitness routines that you actually enjoy.
Whether it's a workout regimen you love or you're an elliptical phenom, enjoying what you do will keep you from burning out. You can even reward yourself for working out, like only listening to your favorite podcasts during that time or creating playlists of upbeat tunes you enjoy.
If you're starting to get bored, you can always mix it up. Take a new fitness class, like yoga or Zumba, and spice things up a bit. This plan will give you something new to try, and you may actually end up enjoying it and incorporating it into your schedule.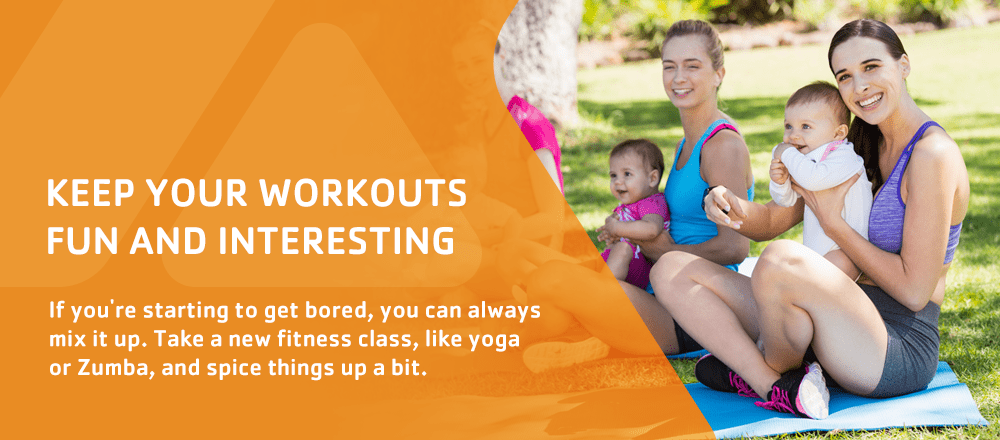 Busy Moms Love Working Out at the Gateway Region YMCA
Whether it be the many tasks around the house, kids who need help with homework or even the pull off that oh-so-comfy couch, it's nice to get away to a gym and work off some mommy stress sometimes.
The Gateway Region YMCA not only provides a state of the art fitness center but also has an essential feature that every busy mom needs — free child care. Before hitting the gym, taking some laps in the pool or partaking in a fun group exercise class, you can drop your kids at Child Watch for free. Doing so gives you all the time you need to squeeze a workout into your busy day.
The Y also has workout opportunities for your little guys. Sign them up for swimming lessons, or let them participate in one of our sports programs. It's a great way to teach them early on the importance of fitness.
Even if you've never worked out in a gym before and have no idea where to begin, we provide free MyFitness Health and Wellness Consultations. Professional trainers are available to offer advice and even help you set goals for yourself. We understand the life of a busy mom, but don't let it rob you of taking some time out to take care of yourself. Instead, take advantage of everything we have to offer.