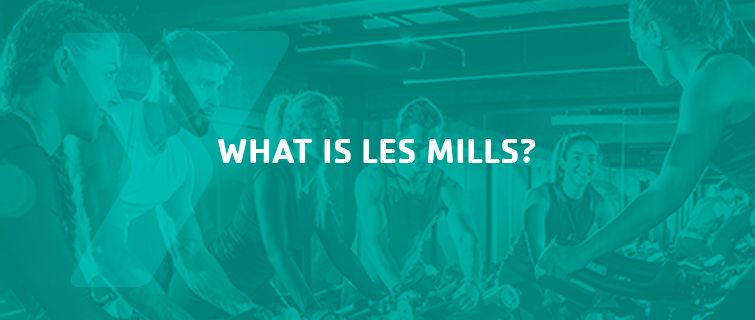 We all know it can be hard to find the motivation to work out some days. But what if you could hop out of bed excited about your daily exercise class? Les Mills hopes to make this dream a reality by offering modern group workout programs that make fitness more enjoyable and accessible.
Les Mills classes fuse science, movement and music with the latest exercise trends and technology to deliver a workout experience that will change your outlook on exercise. Although available in different exercise styles and intensities, all Les Mills classes focus on one goal: bringing people together to harness the power of group fitness and collective determination.
Whether you're new to the Les Mills trend or need clarification, this article will explain everything from the origin of Les Mills to the different types of programs and their benefits. Keep reading to find out why Les Mills might be your new exercise program of choice.
Where Did Les Mills Start?
The Les Mills story began in 1968 when Les Mills, a four-time Olympian, started his first gym in Auckland, New Zealand, because he wanted to make athletic workouts more accessible to the public. But the Les Mills method didn't fully evolve into the cutting-edge group exercise classes we now know and love until Mills' son Philip became fascinated by the power of group fitness and started the first aerobics group workout in 1980. Those early group workout sessions drew lines that stretched down the street, motivating the younger Mills to keep creating group exercise classes revolving around the sounds of trendy music.
Over the next decade, Philip Mills and his wife Jackie built upon the concept of group workout classes before introducing weights and launching the first BODYPUMP™ class in 1990. Since then, the Les Mills brand has grown to include a variety of exercise styles, from high-intensity interval training (HIIT) and cycling to martial arts and yoga. Each Les Mills class incorporates contemporary music, movement and technology, with a spirited and knowledgable instructor leading the way.
Currently headed by Philip and Jackie's children, Les Mills continues to produce heart-pumping fitness classes perfect for group settings that lead to mutual perspiration and inspiration. As an international brand, Les Mills now offers 21 fitness programs in more than 100 countries.
What Are the Different Types of Les Mills Workout Classes?
The wide variety of Les Mills group workouts allows athletes of all fitness levels to find a workout that suits their ability. Whether you're up for a high-intensity cardio class or want to dance your way to fitness, Les Mills has a program for you.
Les Mills currently offers programs for:
Strength
Cardio
Cycling
HIIT
Core
Dance
Flexibility
Mind-body
Kids' workouts
Within these categories of exercise, Les Mills provides various intensities to suit different levels of experience and ability. For instance, a Les Mills dance class can range from no experience necessary to challenging choreography. Finding the right fit for you will depend on what kinds of exercises you enjoy and your current level of activity.
Here are two examples of popular Les Mills programs and how they can suit your needs and fitness goals.
Les Mills BODYPUMP
As one of the most popular Les Mills programs, BODYPUMP is a barbell-based strength workout designed to help participants become fit and toned while having fun. Based on the Rep Effect, each BODYPUMP session follows a proven formula of using light weights to exhaust the muscles while performing high repetitions. The fast-paced resistance training of BODYPUMP kickstarts a long-term calorie-burning response to get greater fitness results within a shorter amount of time.
A standard 55-minute BODYPUMP class includes 10 circuits, each of which concentrates on working a different muscle group. Although the exercises within the circuits vary, most instructors incorporate plenty of squats, deadlifts, presses, push-ups and lunges. Because BODYPUMP is a weight-training workout, it is perfect for anyone from beginners to advanced fitness buffs — adjust the amount of weight to suit your experience level.
Les Mills SPRINT™
Les Mills SPRINT is a cycling program designed to provide powerful HIIT workouts through a low-impact exercise for those who suffer from foot, knee or lower back pain. Because HIIT often involves weight-bearing exercises like squat jumps and burpees, it can cause a lot of wear and tear on joints and risk injury for those with orthopedic restrictions. 
Through the low-impact exercise of cycling, Les Mills SPRINT offers a HIIT alternative for injury-prone athletes to still push their heart rate into the max training zone without risk of harming themselves. The Les Mills SPRINT program features periods of intense pedaling followed by short times of complete rest. The cycling periods include blocks of all-out sprinting, power training with medium resistance and strength building on a resistance level so high it forces you to stand to pedal.
What Type of Equipment Do You Need for a Les Mills Class?
The exact equipment you'll need for your Les Mills class will depend on what type of workout you choose. For example, you'll need a stationary bike for a cycling class, of course. But many Les Mills programs don't require any equipment at all — only some space to move around safely.
What Are the Benefits of Les Mills?
So what makes Les Mills better than other forms of exercise? Essentially, everything. The Les Mills model focuses on the full experience — from the upbeat music to the challenging moves. The unique format of a Les Mills class also encourages friends to work out together, making fitness fun and effective. 
Here are the top five reasons Les Mills has become an international phenomenon.
Motivational groups: Studies show that those who work out in a group are far more likely to keep with their exercise program than those who work out solo.
Methodical programs: Each Les Mills program is a product of thorough scientific exercise research and designed to deliver ultimate results. A well-trained instructor guides the class to ensure students execute each move correctly.
Modern movement: Every three months, Les Mills releases a new version of their programs featuring updated music and exercises on par with current fitness trends.
Monitored progress: A Les Mills program starts slowly and builds gradually as participants' strength increases and they can handle more challenging workouts.
Match your preferences: With a wide variety of fitness programs across an assortment of exercises, there's a Les Mills workout for everyone.
Sign up for a Les Mills Class at Your Local Y
If you're interested in taking a Les Mills class, find out which Les Mills programs your Gateway Region YMCA branch offers. From the original Les Mills BODYPUMP program to the latest Les Mills SPRINT workouts, the Y provides a selection of Les Mills programs for our community.
Many Gateway Region YMCA locations offer Les Mills classes, so check out the class schedule at your Y today!