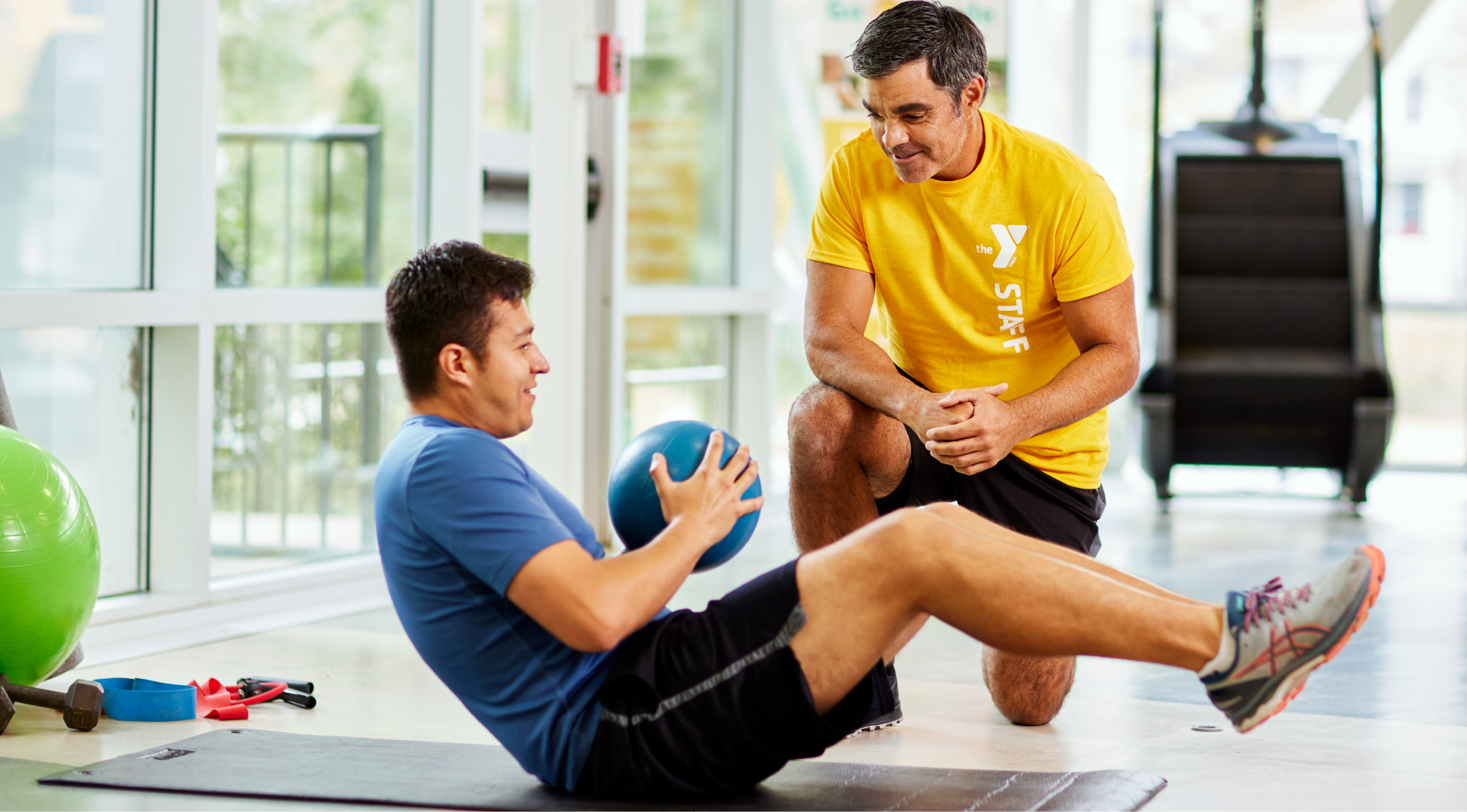 Strength training is a great form of exercise. You can strengthen your muscles and burn calories during weight training workouts. If you're new to the world of weight training, there are two options to help you achieve your goals — free weights and weight machines. Is one better than the other? What are the differences between the two?
We're here to answer that and more. Whether you're just starting your fitness journey or have been a fitness enthusiast for years, remember that strength training is excellent for your overall health. It's beneficial for muscle growth and it can help you develop stronger bones, better flexibility and greater balance.
Free Weight Examples
Free weights are weights you can pick up and move around, which offers many benefits for weight training. There are a variety of exercises you can perform with free weights to intensify your workouts. Here are examples you'll find in most gyms:
Dumbbells: Dumbbells range in weight, and you can use one individually or a pair of equal weights in each hand.
Barbells: This type of free weight is common in weightlifting, powerlifting and bodybuilding. It's a long bar that you can lift on its own, or you can add weight plates on both ends.
Medicine balls: This type of free weight is also known as a fitness ball or exercise ball. Medicine balls come in different weights and sizes and are helpful in working on your core strength.
Kettlebells: Kettlebells are weighted balls with a handle that are useful in various strength and cardio exercises.
Each of these examples offers versatility and effectiveness in weight training, which is why they are common among most gyms.
Weight Machine Examples
Gyms offer a wide variety of weight machines, so you can work various muscles and switch up your routine often. Here are a few examples of machines you would normally see:
Smith machine: This weight machine includes a barbell that is placed between rails. You can perform squats, overhead presses and other exercises with this barbell.
Horizontal leg press: This machine includes a cable weight stack that allows you to easily select your desired weight. You sit with your feet on the platform and press to work your legs.
Lat pulldown machine: This weight machine uses cable weights that allow you to choose the weight you're comfortable lifting. It has two cables with handles so you can work your chest and upper back.
There are plenty more examples of weight machines, and not all gyms carry the same equipment. It's good to familiarize yourself with the popular choices so you have plenty of options for your workout.
Free Weights vs. Machines
Free weights and machines are both beneficial choices for strength training. Check out the full list of pros and cons for each workout method to see which one may complement your fitness routine:
Pros and Cons of Free Weights
Free weights are the king of serious strength training, which is why many bodybuilders and professional athletes focus on them. While bench pressing and squatting are popular movements within the gym, there are many other options for using this equipment. Here are some pros of free weights:
You get stronger by working more muscles.
You mimic everyday movements and increase your functional fitness.
You can burn more calories.
It's helpful to develop a workout plan that will help train different parts of your body when you use free weights. You can plan your goals, what types of workouts you'll complete, what areas of your body you'll work on and more. The great thing about exercise weights is that the options are pretty much limitless, and you have total control over what movements you target.
Though free weight training offers freedom and possibilities, there are also some downsides when using this type of equipment. Here are some cons of using free weights:
You need balance when exercising with this weight.
There's a higher chance of injury if proper technique isn't used.
They require more skill, which may lead to a learning curve.
Free weights give you plenty of options and potential for working out, but they require more focus, skill and safety. If your focus is on increasing strength, free weights are the way to go. If you know someone who is comfortable using free weights, ask them for advice and bring them to the gym to make the transition to free weights easier. 
Pros and Cons of Weight Machines
Weight machines are another option gym-goers have to work out their muscles. Many people prefer this way of lifting since they're able to learn the proper mechanics for an exercise without risking injury. Here are the pros of using weight machines:
They carry less injury risk.
They take you through the same range of motion every time.
They can ease you into lifting or recovery from injury.
These machines lock people into movements, which makes it far easier to train specific muscles. Targeting muscles can help people who are injured and who cannot train certain muscles. Cable machines offer a hybrid option where your muscles aren't locked into a specific position. These resistance machines offer more flexibility with exercise options while still being a safe way to lift weights.
Weight machines have their fair share of benefits, but there are drawbacks to this type of lifting. Here are some cons of using weight machines:
You can only train a particular muscle with an exercise rather than a group.
It can be tricky sometimes to know how a specific machine functions.
Depending on machines can prevent full-body strength and balance.
Safety and comfort are big selling points for weight machines. They do make working out faster and changing weight easier. If you're a novice or looking to isolate a muscle, weight machines may be what you need.
Align Your Fitness Goals With Your Choice of Weight Equipment
Both options are great for strengthening your body. What this choice comes down to is your personal experience and goals.
If you're just beginning your fitness journey, learn the proper techniques for both free weights and weight machines. Incorporating both types of exercises into your routine is an excellent way to keep your workout diverse and interesting.
If you're more comfortable with one type of strength training over the other, choose the one that will continue to motivate you in your exercise routine. Performing workouts you enjoy can help you stick with exercising and form a habit.
Weight Training at Your Local Y
Now you're ready to crush your next workout and give yourself the physical freedom you deserve. Weight training is great for a well-rounded workout routine, and you have plenty of strength training workouts to choose from. Do what you feel comfortable with and what helps you progress toward your fitness goals.
Interested in taking that first step? We can help! Contact us or visit one of our locations today to start a conversation.
Already a Y member, but have more questions? Sign up for a complimentary Fitness Orientation to have more of your questions answered. During this 30-minute appointment, you'll receive guidance on how to best use our cardio equipment and strength training machines. Stop by the Welcome Center, call the Y, or schedule an appointment in the Gateway Region YMCA mobile app.