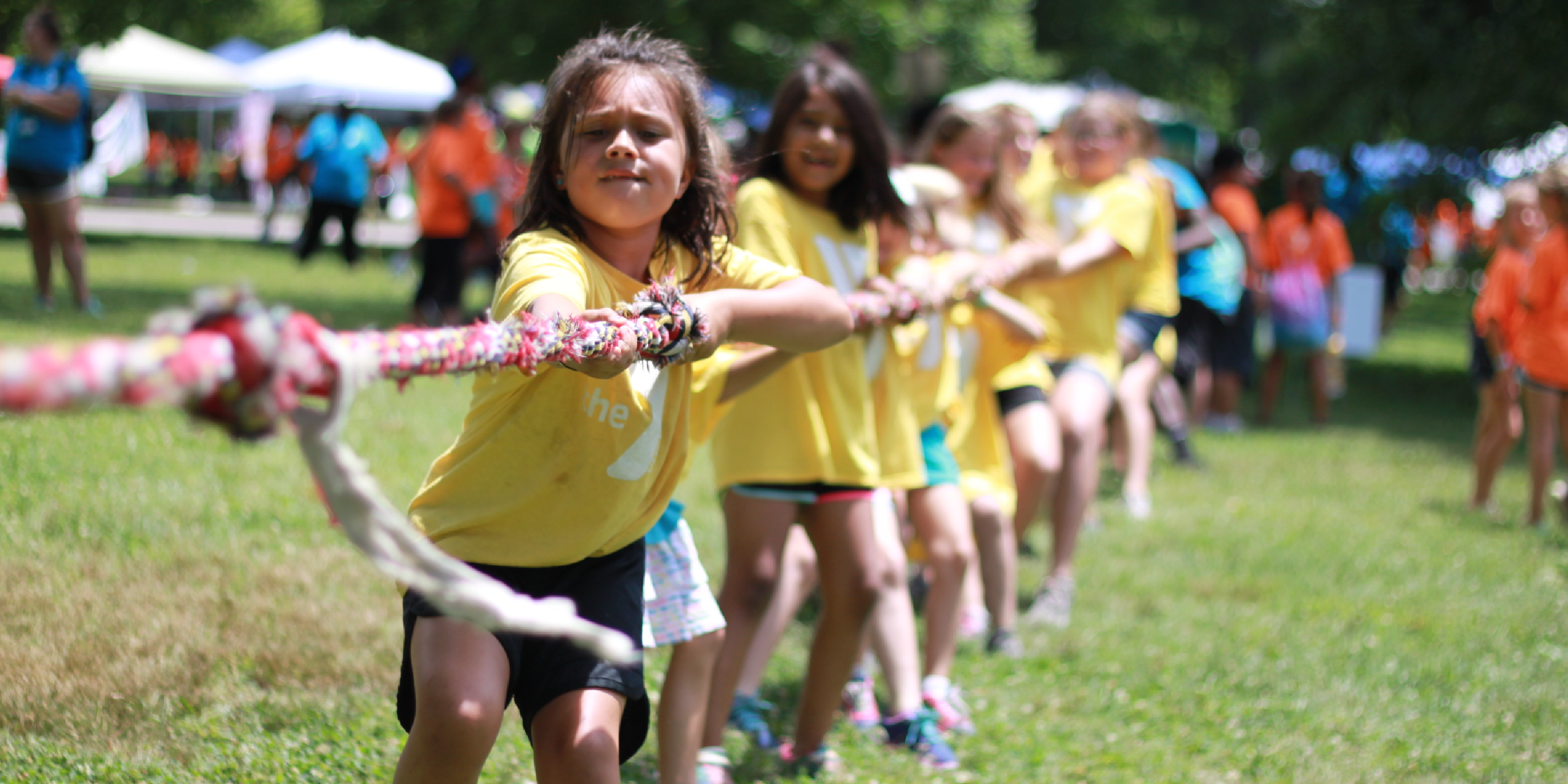 Summer camp conjures up different images for different people. For some, it is the classic idea of roasting marshmallows over the fire, swimming in the lake and making summer friends. For others, it is memories of learning a new skill or how to live off the land. 

Summer camps offer kids a chance to unplug after a busy school year, and there are plenty of options. There are more than 14,000 camps in the United States, according to the American Camp Association. Of these camps, 8,400 are overnight camps, while 5,600 are day camps. Whether you want your kids to stay overnight or come home each day, they can find an activity that fits with their interests. The American Camp Association breaks down the different types of activities camps offer: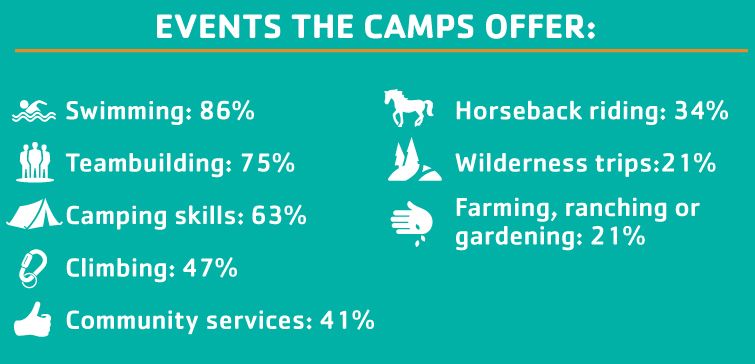 Swimming: 86 percent
Teambuilding: 75 percent
Camping skills: 63 percent
Climbing: 47 percent
Community services: 41 percent
Horseback riding: 34 percent
Farming, ranching or gardening: 21 percent
Wilderness trips: 21 percent
Let your kids discover the joys of camp this summer. The Gateway Region YCMA has more than 20 different branch locations in and near St. Louis that offer a full schedule of different camp options. Here are some of the best 2017 St. Louis summer camps to consider:
Arts and Crafts Camp
Some kids love to channel their creative energy. As something different from an outdoor adventure or sports camp, consider other camps that match some of their other interests. Many of the Gateway Region YMCA locations have arts and crafts camps your kids will love.

Several locations, such as the Edward Jones Family YMCA in Maryland Heights, Missouri and the O'Fallon Family YMCA in O'Fallon, Missouri, offer the weeklong Artrageous camp for children ages six to 11 years old. Kids will spend the whole week learning about and trying out different forms of art. Just like any camp, be prepared for your kids to get a little dirty!
If your kid has a taste for a different kind of art — and possibly a flair for the dramatic — consider a camp with a different type of artistic outlet. The Kirkwood Family YMCA in Kirkwood, Missouri offers options like Off-Broadway camp and Circus camp. 
The two-week Off-Broadway camp features acting activities, as well as makeup, set building and costume design. At the end of the camp, kids put on a show for their families. During Circus camp, kids get a chance to learn some acrobatic tricks, try out some crafts and take a trip to the City Museum circus. YMCA summer camps in St. Louis can help your kids unleash their inner creativity.
Many Y branches in and around St. Louis have similar summer camps so be sure to check out the location most convenient to you.
Camp for Tots
Many people think of summer camp as an activity for grade-schoolers and teens, but there are plenty of opportunities for younger kids to join the fun. The Collinsville Maryville Troy YMCA in Marysville, Illinois holds Preschool Camp, the perfect summer camp for toddlers and preschoolers. Preschool camp is open to all kids ages three to five years old.
The day camp helps prepare your little ones for a school environment. Kids participate in a mix of indoor and outdoor play, gather for story time, swim and more. Summer camp for preschoolers is a fun way to socialize your child and set the foundation for their academic lives.
Summer camp for kindergarten-aged children can be a little more adventurous. Five-year-olds can try out sports, cooking, swimming and more. For example, the Emerson Family YMCA in St. Louis offers traditional camp programs like Emerson's Got Talent, Splish Splash! and Community Helpers!
Each of these programs welcomes children ages five to 13 years old. Your kindergarteners can have a blast showing off their talents, swimming and participating in community activities.
Cooking Camp

Have your kids wreaked havoc in your kitchen? Do they always want to help you bake? Many of the YMCA's locations offer camps for the junior chef in your family. The Edward Jones Family YMCA hosts the Incredible Edibles summer day camp from June 12 to June 16. This program welcomes kids from ages nine to 13 years old. Campers whip up different dishes and learn about nutrition, different ingredients and table manners.
Little chefs can also satisfy their appetites at Little Chef Camp held at the St. Charles County Family YMCA in St. Peters, Missouri. This camp, for kids ages five to 13 years old, takes place July 10 to July 14. Kids have the chance to try their hand at creating some traditional dishes and new recipes from scratch.
YMCA Camp Lakewood
YMCA Camp Lakewood is the Gateway Region YMCA's premier overnight camp located 90 minutes outside of St. Louis. Kids are truly able to unplug and forget about smartphones and video games on this 5,000-acre camp. YMCA Camp Lakewood has forests, hills, caves, creeks and a 360-acre lake for kids to explore. The camp is also home to the Triangle Y Ranch, a nature center and an arts and crafts center.
YMCA Camp Lakewood is one of the best summer camps for teens and kids. The camp welcomes children ages six to 17 years old. There are different programs tailored to every age group and every interest. Just a few of the activities kids can look forward to include:
Archery
Campfires
Canoeing
Cookouts
Fishing
Games
Kayaking
Rock climbing
Sports
Zip lining
YMCA Camp Lakewood offers programs of various lengths. Four-day programs are one option. These co-ed programs are four days and three nights long. Kids can choose from options like:
Mini Camp. Mini Camp is one of the best summer camps for kids ages six to eight years old. The co-ed camp includes activities like swimming, arts and crafts, pony rides, nature exploration and more. Parents can rest easy knowing there will be at least one camp counselor for every four kids.
Mini East Camp. Camp Lakewood's East Camp sits across the lake. This camp has a more classic camping experience with a bathhouse and original cabins. This program also welcomes both boys and girls ages 11 to 12 years old. Like all mini camps, this program is four days and three nights.
Mini Raptors Camp. If your child has never been to summer camp, Mini Raptors Camp is a great place to start. This program is designed for first-time campers. The camp welcomes boys and girls ages nine to 10 years old. Campers will love swimming, archery, arts and crafts and more.

Ranch Camp. Ranch Camp is great for teens ages 13 to 16 years old. This camp is held at the Triangle Y Ranch. Ranch campers learn horseback riding skills and spend a night camping outside.
Camp Lakewood also has a series of traditional camp programs, which lasts a week. Traditional camp programs are held at the:
Main Camp. The traditional Main Camp program welcomes boys and girls ages eight to 12 years old. This camp has cabins with indoor plumbing and climate control. During the program, kids can participate in activities like archery, fishing, games, swimming, snorkeling, yoga and more. One night of the weeklong program will be spent camping outdoors.
East Camp. East Camp is for older children, welcoming kids 13 to 16 years old. Camp Lakewood's original cabins are on this side of the camp. Teens have a more traditional camping experience in these cabins. They can still participate in all the different activities the camp has to offer.

More adventurous campers will love Camp Lakewood's Adventure Programs series. This series, similar to the Outdoor Rangers Camp, caters to teen ages 13 to 15 years old. Weeklong options include:
Canoeing. This camp features canoeing activities, as well as swimming and snorkeling. Teens who love to spend their time in the water will find themselves right at home during this Adventure Program.
High Adventure. High Adventure campers zip line through the camp's trees and spend time climbing the camp's climbing structures. These teens also learn knot tying and other great skills.
Hiking. Hiking campers will explore Camp Lakewood's thousands of acres. Backpacking through the camp's varied landscape is an exciting challenge for active teens.
Rustic Engineering. Teens who love to build will fit right in during the Rusting Engineering program. Campers learn engineering skills and participate in projects like chair and table building. They also get to try out their blacksmith skills.

Teens who grew up going to and loving summer camp might want to learn how to become camp counselors. Camp Lakewood offers a suite of leadership training programs designed to hone teens' skills and prepare them to become counselors. The leadership programs include:
Leaders in Training. This co-ed program is open to teens who have completed their sophomore year of high school. The entire two-week program is designed to push campers to develop their communication and problem-solving skills. Campers will take a test at the end of the program to evaluate what they learned.
Counselors in Training. The Counselors in Training program is an intensive, three-week long program for high school students who have finished their junior year. During the program, campers learn skills like child care and program training. They have the chance to shadow full-fledged counselors. Teens interested in this program must go through an application and interview process.
Anytime during a camper's stay, they can choose to try an elective activity. Elective availability depends on counselors' skills and the popularity of the activities. Elective options include:
Arts and crafts
High adventure
Horsemanship
Paintball
Golf
Camp Lakewood has something for kids of all ages. Discover just how fun summer can be.
Outdoor Rangers Camp

Outdoor Rangers Camp is perfect for kids who want to explore nature. The Gateway Region YMCA partnered with the Army Corps of Engineers, Missouri State Parks, U.S. Fish and Wildlife Service and U.S. National Park Services to create this fun and educational camp series. This camp, held at the South City Family YMCA in St. Louis, is one of the best full day summer camps for active kids.
The camp is split into six different options.
River Rangers. The River Rangers camp is open to kids ages five to 13 and is held from June 12 to June 16. During the camp, kids learn how to navigate rivers via canoe and how to appreciate the natural world around them. Other activities include archery and geocache hiking.
Rock Rangers. The Rock Rangers camp is also open to kids ages five to 13 years old. This part of the Outdoor Rangers Camp teaches kids all about Missouri's natural rock formations. Kids become junior spelunkers when they explore Fisher Cave.
Rock Rangers discover the history of mining and spend time combing through the rocks of Washington State Park. This part of the Outdoor Rangers Camp will be held June 19 to June 23.
Bike Rangers. Let your kids bike the great outdoors. Bike Rangers camp will be held June 26 to June 30. Camp leaders will take your kids on a biking adventure on trails and through parks around St. Louis. In addition to riding, kids will also learn about how to be safe on a bike and how to maintain their bikes.
If your child does not have a bike yet, the camp does have 24 bikes available. Be sure your child has some experience being on a bike before signing up for this camp.
Nature Rangers. Nature Rangers puts kids in touch with the natural fauna that lives in and around St. Louis. Children from ages five to 13 years old are welcome to participate. Kids have a ball learning how to catch and identify bugs and fish. They also learn how to bird watch. Experienced park rangers lead this camp, which runs from July 10 to July 14.
Survival Rangers. Survival Rangers is a great way for kids to learn important outdoor skills. During this camp, kids spend a week learning how to build shelter, fish and cook in the outdoors. One night of the camp will be an overnight adventure. Kids ages seven to 13 years old are welcome to become survival rangers. The camp will run from July 17 to July 21.
Science Camp
Science summer camp is a great summer day camp option for kids who excel in STEM. For example, one of the great science summer camps in Illinois is held at the O'Fallon Illinois YMCA. The Scientific Explosion camp is held from June 19 to June 23.

Campers ages six to 12 years old learn about chemical reactions, how different types of energy work and more. Kids can get involved in hands-on experiments. Let your junior scientists get a little messy this summer.
The O'Fallon Illinois YMCA also hosts the Underwater Biology summer day camp from June 5 to June 9. Boys and girls ages eight to 12 years old learn all about creatures that live in the water through hands-on experience. These little scientists raise their own sea monkeys, dissect sea creatures and more. They also bring home a handmade coral reef diorama. 
The St. Charles County Family YMCA in St. Peters, Missouri offers the Wacky Science camp from July 17 to July 21 for kids ages eight to 13 years old. This camp covers many different science disciplines and engages kids with hands-on experiments. Let your kid discover just how much fun science can be.
Sports Camp
Sports camp is a fantastic option for active kids of all ages. Some kids like team sports, while others prefer solo sports. Most Gateway Region YMCA locations have loads of sports camp options. You can find everything from basketball camps to soccer camps in St. Louis.
For example, the South City Family YMCA in St. Louis offers a series of sports camps for kids ages eight to 13 years old. The first week of the camp, held June 5 to June 9, is a sampler week. Kids try out all different kinds of sports, traditional and non-traditional. The next week of the camp focuses on baseball and softball. Kids will learn how to hit, catch and play different positions.
Kids new to sports and experienced players are welcome. The next week of the camp focuses on soccer. From dribbling to passing, kids will have a ball playing soccer.
If you and your kids are looking for a basketball camp near St. Louis, the Y has many great options. For example, the Wildwood Family YMCA in Wildwood, Missouri might just be the right fit. There is an entire week of this seven-week program dedicated entirely to basketball. The camp is open to eight to 13-year-olds.
The first week of the camp is a fun fitness week. Kids will work with a personal trainer to set fitness goals and learn about healthy ways to exercise. The next week is all about shooting hoops. Next, kids will love sports mayhem week. This week is dedicated to playing a mix of games including basketball, volleyball and kickball. The camp also includes a whole week of soccer.
The last week of the camp kids will participate in the Y Games. The camp leader will organize games from all the different sports the kids learned and played during the program.
If your kid prefers more solo sports, try a dance program like the Cheer, Dance and Drill camp offered at the Edward Jones Family YMCA. Kids from ages six to 11 years old learn different cheers and dances. They also take a field trip to HiNRG Gymnastix. Additionally, nearly all the Gateway Region YMCA locations offer summer day camps focused on swimming. Swimming is a great way to keep your kids active and get them engaged in sports.
Become a Gateway Region YMCA member so you can share all the benefits of the YMCA with your kids. 
St. Louis summer camps are a great way to let your kids make new friends, learn new skills, build confidence and have fun! Ask your kids what they are interested in and find the right summer day camp or overnight program at YMCA Camp Lakewood to capture their interest. Summer fun is just around the corner.