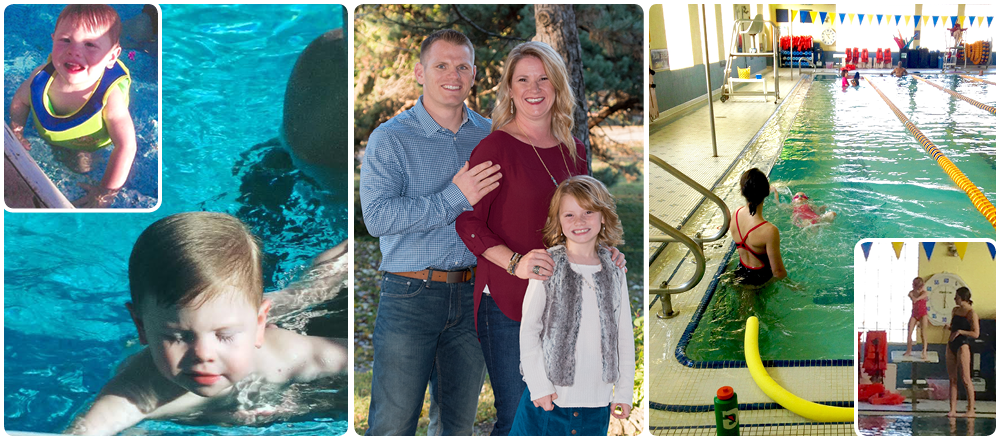 A military change of station brought us to Scott Air Force Base and O'Fallon, IL in June of 2012.  We visited the YMCA while we were house hunting and knew it was the perfect fit because the foundation of the YMCA is family, faith, health and education.  We joined as members the day we visited and have been blessed to be surrounded by such a community that has the desire not only to remain fit, but more importantly give back to others. 
Initially, the YMCA provided critical swim lessons for, our then, four year old daughter.  We started her in private swim lessons in Kansas before we moved, and wanted to continue her training and focus on water safety.  You see, water safety is very important to us as we lost our son Christopher Jr. in a drowning accident in 2007 while he was visiting his grandparents in Colorado.  All the wrong stars aligned that evening, and being a 22-month-old, curious and active boy, who LOVED the water, found an open door to the pool.  He was found in a matter of minutes, but doctors were unable to revive him that night.  Accidents happen and tragedies occur even with the safest of people.  The grandparents he was with were always very safety cautious, however fate had a different plan.  Christopher and Isabella were both water babies and loved to swim.  Unfortunately, he knew how to swim but not how to survive if he fell in. 
We started Isabella in mommy and me swim classes at just a few months old.  We were not going to make the same mistake twice.  We realized drowning prevention and water safety play a big piece of our life and something we think about on a daily basis.  We discovered the impact we could make by sharing our story after Christopher Jr. passed away.  If we could help save just one life, any life!  We thought if our story could make people more cautious and watchful around water then we will tell it as much as we could.  Isabella has been in private swim lessons at the O'Fallon YMCA - Illinois for over 4 years and has loved every single one of her coaches and instructors. She has made huge improvements in her stroke skills and water safety awareness. 
We are very passionate about water safety, drowning prevention and giving back because of our story. We started a legacy in our son Christopher Jr.'s name at the O'Fallon YMCA - Illinois to help fund other kids in the swim lessons and water safety programs.  We became YMCA Board members this past year to have more of a voice when it came to drowning prevention and programs that include water safety and education.  The YMCA has had a huge impact on our family and we are proud to be members, board members, and have Christopher's Legacy associated with the O'Fallon Y. 
Written by: Holly Schlachter
Click here to learn more about our NEW swim lesson program, and for more information on water safety.