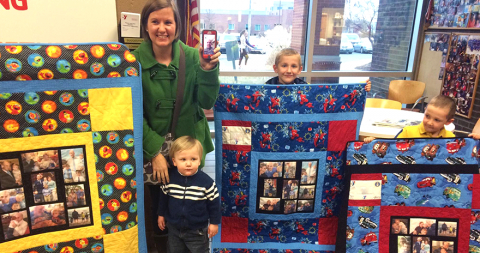 SUPPORTING OUR MILITARY FAMILIES
O'Fallon Illinois YMCA and East Belleville YMCA
Operation Kid Comfort provides support for children of military families, who have a parent that is deployed. Operation Kid Comfort will provide military children with a quilt or pillow that is made out of pictures of both the child and his/her deployed parent. It is our hope that with our help, each child will feel closer to his/her parent while they are so many miles away.
Info To Know
• Ages 7 and under will recieve a quilt. Ages 8 and up will recieve a pillow.
• Parent must be deployed for a minimum of 6 months.
• Must provide 8-10 photos. 1 photo must be the parent in uniform.
How To Register
• To register your child for a quilt or a pillow, click here!
• For more information and to volunteer, please contact Julie Murphy at the O'Fallon Illinois YMCA at 618-628-7701 or julie.murphy@gwrymca.org
We need volunteer quilters!
Do you love to sew? Are you wanting to get involved in this program and help create something special for a child? Operation Kid Comfort would love to have you as a volunteer! We are looking for sewers for both quilts and pillows. Please call the O'Fallon Illinois YMCA at 618-628-7701 or email Julie at julie.murphy@gwrymca.org to get started!
Gateway Region YMCA has been able to begin Operation Kid Comfort through generous lead donations from Scott Credit Union and the Armed Services YMCA.