The GATEWAY REGION YMCA is proud to support our military and veteran families by providing programs and services to the men and women of all five armed services: Army, Marine Corps, Navy, Air Force, and Coast Guard. 
You do so much to keep our country safe. Let us give back to you!  Operation Salute is to honor active duty military, veterans, and their families. All military families, past and present, can now take advantage of new, exclusive military-friendly rates. 
Exclusive Military & Veteran-Friendly Rates
(You'll save up to $384 on membership fees annually!)
You'll enjoy these benefits with your membership to the Y:
Free group exercise & water fitness classes

Free MyFitness health and wellness consultation

Free child watch for household members

Lowest rates on paid family programs 

Pool, gymnasium, indoor track

Swimming and basketball

Access to individual and group personal training 

Access to the YMCA Diabetes Prevention Program

Programs for ALL ages and abilities

Community atmosphere
Contact your local YMCA to learn more or join today!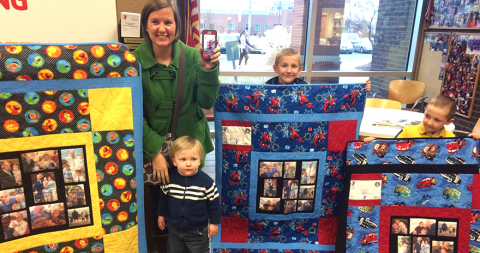 Operation Kid Comfort
Operation Kid Comfort provides support for children of military families, who have a parent that is deployed. Operation Kid Comfort will provide military children with a quilt or pillow that is made out of pictures of both the child and his/her deployed parent. It is our hope that with our help, each child will feel closer to his/her parent while they are so many miles away.
We are proud to partner with the Armed Services YMCA to offer membership and respite child care services to eligible military families and personnel. 
This initiative addresses the needs of the families of deployed military personnel and their families.
Children are able to stay connected to their deployed parents through videotapes of the parent reading their child's favorite books.