You are here
Meet Jasmine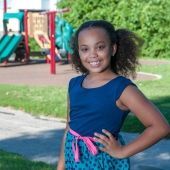 Meet Jasmine
"The YRead Program made a huge difference in our lives."
Jasmine works hard and earns good grades, but her mother worried that she struggled with reading comprehension. After being unable to get help through her local school district, Jasmine's mother, Carla, contacted YMCA Community Development. Carla felt assured that her daughter would get the help that was right for her.
After an assessment, Jasmine was paired with a tutor for one-on-one sessions. As a result of the tutoring, Jasmine has gone from getting good grades to outstanding grades. She most recently received A's in reading, social studies and writing, which hasn't happened before!
"I'm very grateful to the YRead Program. It has made a huge difference in my life and the life of my daughter. I smile as I see my Jasmine pick up a book or check out a challenging book from the library. She no longer sees reading as a challenge, but more of an adventure and an escape."