You are here
Meet Dustin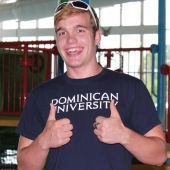 Meet Dustin
We are so proud of Dustin!
Dustin is a lifeguard, Teen Leader, volunteer, and important part of our Y. He started in our Teen Leaders program as a participant, where he learns valuable leadership skills that he will take with him after high school. This year he was nominated to be the clubs president. Dustin transitioned from member to employee when he became a Lifeguard.

Dustin not only puts his all into the Y, he also is a star student. He graduated Valedictorian at McKinley. Because of his great accomplishments both in school and at the Y, he will be attending Dominican University on a full scholarship.

We are so proud of Dustin and are excited to see what he can accomplish in this next stage of his education and life!