You are here
Meet Bobbie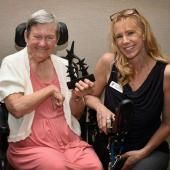 Meet Bobbie
Bobbie has found strength and confidence to keep moving forward and inspiring others.
Bobbie was recently nominated and won the Jim Guest 'Reaching for the Stars Award' given by the Recreation Council of Greater St Louis in recognition of the progress and effort she has made in the Integrated Fitness program with the Y.

The Rec Council is a non-for-profit organization that works to ensure individuals with disabilities are aware of and have access to activities and programs of their choice in a recreation environment.

Bobbie is a constant fixture at our South City Family Y location where she does cardio by herself for an hour and a half 3 days a week BEFORE she meets with her Integrated Fitness Instructor.

This year Bobbie mastered the art of floating on her back in the pool without a flotation device or aide from her Instructor. It took several years to remove some of the flotation devices she used to remain upright in the water, but Bobbie has learned to overcome her fears and trust in herself and her strength.

We are very proud of Bobbie, and feel that she deserves the 'Reaching for the Stars' award for her dedication to her health.