You are here
Meet Andrew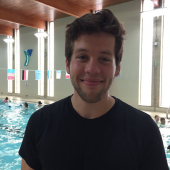 Meet Andrew
Andrew is a 1st year Camp Counselor at the Kirkwood Y. He just graduated from Webster University with a Sociology Degree, and hopes, in the future, to work with us in the Inclusion Services Integrated Fitness Program. This program provides opportunities for people with developmental disabilities to be engaged in a number of programs at the Y branches.
Andrew is currently working with our Camp Inclusion group. ​Our inclusion services department works with families to provide staffing to ensure that every child is able to have a fun, meaningful experience.
He works with a camper who is non-verbal and needs one-on-one assistance. Andrew's passion to help others drives him to even use personal time to research and find better ways to assist this camper. "We were having some trouble waiting between activities and restroom breaks that then caused some misbehaving. I found an app on my phone called 'Children Count down Therapy' and have now been able to keep the control during our down time."

Thank you Andrew for all your hard work and for helping to continue to make the Y a place for all.