You are here
Gymnastics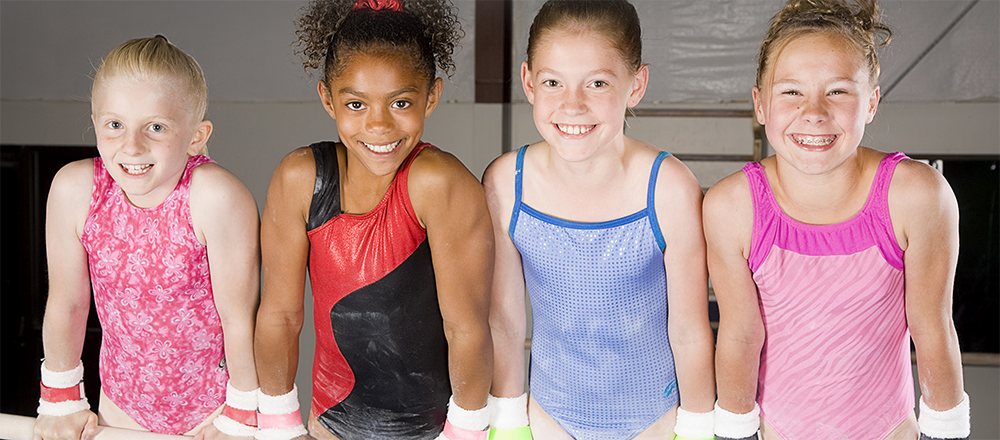 Youth Gymnastics and Dance Programs
Our gymnastics programs begin as early as 12 months old as a parent-child class, and continue through preschool, progressive, and even competitive levels. Some Y's even offer gymnastics specifically for boys!
Gymnastics offers many positive physical benefits and improves confidence and self-esteem!
In the summer, be sure to check out gymnastics camps offered by some YMCA branches.
Continous Enrollment Gymnastics - New!
Three of our YMCA branches – Mid-County, O'Fallon IL and South County – offer extensive gymnastics programs and began to offer continous enrollment gymnastics in 2018. Sessions run on an academic calendar (September-May) and some branches offer summer programs as well. Payments are made monthly. More information including class schedules may be available on branch pages. View our locations page.
Here are the policies for this program and the authorization form for automatic payments. Please register for these programs at the branch so you can supply payment authorization and work with our welcome specialists for class placement.
Gateway Region YMCA Gymnastics and Dance
Your children are the most precious thing to you, and you want them to have the best possible experience when it comes to extracurricular activities like gymnastics and dance, but finding opportunities for gymnastics in St. Louis, MO, isn't always easy. With location and age group limitations, you may struggle with selecting the right dance and gymnastics classes for your kids — but with the opportunities, outreach and exceptional environment of the Gateway Region YMCA, you don't need to.
Here at YMCA locations across Missouri and southwestern Illinois, we want your children to grow, develop and thrive as much as you do, and we make it our goal to provide gymnastics and dance classes for everyone.
Gateway Region YMCA locations offer gymnastics and dance classes in St. Louis for just about every age. Our classes for kids are a big part of our efforts to promote our core values in the following three areas.
1. Youth Development
Our goals start with building up your kids, and our programs are designed to promote positive development, leadership, learning and interaction. Provide your kids with enrichment and life skills by enrolling them in our custom programs, including:
2. HEALTHY LIVING
Wellness is one of our top priorities, and with our healthy living, healthy eating and fitness programs, we make sure it's one of yours, too.
Put your physical fitness and wellbeing in perspective by taking advantage of all our programs and facilities, including:
Free access to our pool, basketball court, gymnasium and indoor track facilities
Fun, free water fitness classes
Optional free group exercise classes like BODYPUMP®, Yoga, Cycling, Pilates, Zumba, Piyo, Insanity and more
Programs to monitor blood pressure
Group or individual personal training programs
Access to MyFitness features, including no-cost wellness and health consultations
Access to health programs like the YMCA Diabetes Prevention Program and the LiveStrong® at the YMCA Program
Participation in Y paid programs and the Y Weight Loss Program for an even lower cost
3. SOCIAL RESPONSIBILITY
Developing and supporting our communities is our biggest goal, and our generous volunteers and donors help make it all possible.
Here are our programs and services that foster community outreach:
Financial Assistance: No matter your income, everything the Y has to offer should be accessible to you — that's why we're proud of our financial assistance programs, which allow anyone to enjoy the benefits of membership.
Community Development Programs: We want both young and adult learners to have new opportunities to expand and enrich their minds with education, so we provide numerous positive programs and services to help their discovery continue. Those who take advantage of our services see such positive results — like Jasmine, a YRead participant whose tutoring experience has helped her become confident in her reading skills and boost her grades.
Inclusion Services: With our specialized services, we ensure that members of all needs, ages, ability levels and interests can experience developmental, positive programs perfect for their individual requirements.
Sports Safety
The Gateway Region YMCA partners with Cardinal Glennon SportsCare to give kids a healthy advantage through educational programs and support for parents, coaches and athletes. Cardinal Glennon representatives visit sports programs at our YMCA branches to share information on injury prevention, proper technique and overall athletic health. Here are tips for Gymnastics Safety. View more Sports Safety and Injury Prevention sheets from Cardinal Glennon SportsCare. If you need help finding an expert physician for your young athlete, contact a local SportsCare representative at 314-577-5640 (this is a Cardinal Glennon phone number.)
Branch Locations