You are here
Cycling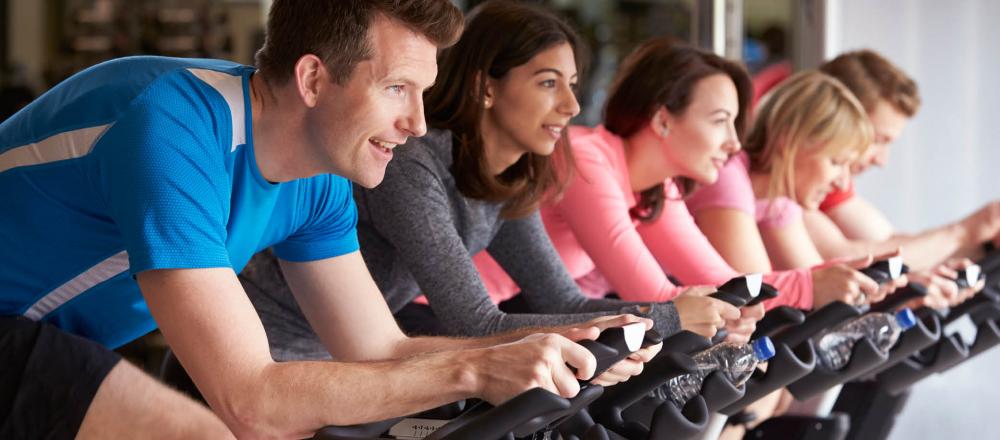 The Gateway Region YMCA is excited to have added LES MILLS SPRINT® and LES MILLS RPM® to their indoor cycling and spinning programs!
All indoor cycling classes are for ages 17 and up (ages 13-16 may attend with a participating adult). For a schedule of classes, download the Gateway Region YMCA mobile app. Please contact your branch for specific questions about our classes. Our indoor cycling classes are included with YMCA membership!
SPRINT®
This 30-minute High-Intensity Interval Training (HIIT) workout uses an indoor bike to achieve fast results. Build lean muscle and burn fat in this short, but intense 30-minute workout.
SPRINT features bursts of intensity where you work as hard as possible, followed by periods of rest that prepare you for the next effort. Push your physical and mental limits, smash your fitness goals and burn calories for hours after each workout.
You don't need to be a cyclist but some level of fitness is needed for this workout. Don't be afraid to dial back in your first few sessions, and just get a feel for what it is all about.
RPM®
This indoor cycling class is set to the rhythm of motivating music. Burn calories, get fit, and have fun during this workout.
Through simulated climbs and sprints, RPM® creates a great workout for all fitness levels from beginner exerciser to cycling enthusiasts. You'll learn all the basic cycling moves like standing up, sitting down, changing hand positions, speeding up and slowing down. You control your own resistance levels and sprint speed, so you can build your training level up over time.
Additional Cycling Classes
In addition to SPRINT® and RPM® classes, we also offer traditional indoor cycling and spinning classes. Cycling utilizes strength, interval, endurance, recovery and race date class formats to provide a wide range of fitness benefits. Classes are held with dynamic music that creates an energized atmosphere. Classes warm up first, then move to upbeat cadences, sprints and climbs. Class ends with a cool down.
Cycling
This basic class is a great cardiovascular workout. Pedal through hill climbs, sprints and many other challenging drills and exercises. All fitness levels are welcome.
Cycle Fusion
By combining cycling and other disciplines such as yoga, pilates and strength training, you will get a great cardio and toning workout!
LES MILLS SPRINT™
a 30-minute High-Intensity Interval Training (HIIT) workout, using an indoor bike to achieve fast results. It's a short, intense style of training where the thrill and motivation comes from pushing your physical and mental limits. A high intensity, low impact workout, it's scientifically proven to return rapid results.
RPM™
A group indoor cycling workout where you control the intensity. It's fun, low impact and burns loads of calories. With great music pumping and the group riding as one, your instructor takes you on a journey of hill climbs, sprints and flat riding. In an RPM workout, you repeatedly reach your cardio peak then ease back down, keeping pace with the pack to lift your personal performance and boost your cardio fitness.