You are here
St. Louis & Southwestern Illinois Child Care and Camp With The YMCA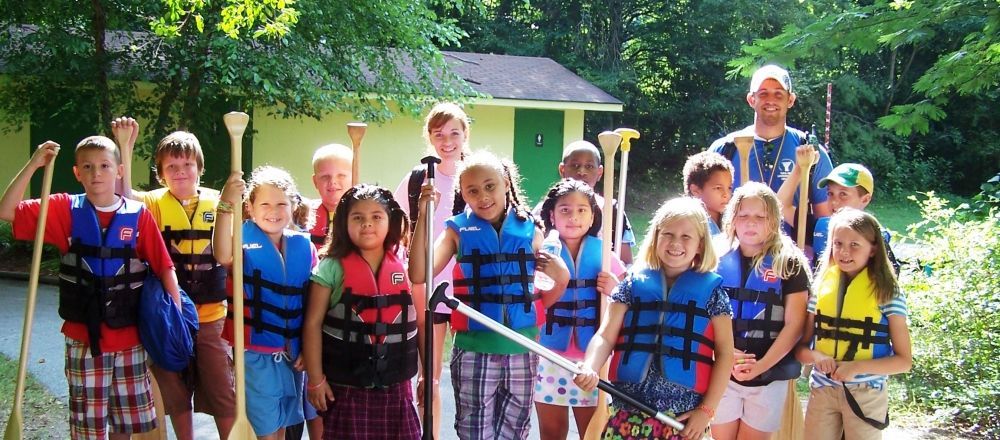 Child Care and Day Camps
Working families need help with child care, but you want your day care in St. Louis and southwestern Illinois to be more than just babysitting. The best daycares in St. Louis and southwestern Illinois should do more than provide supervision — they should educate and nurture your child, as well. That's what you get with Gateway Region YMCA St. Louis day care centers. Here at the YMCA, we strive to promote education, enrichment, leadership and learning in every child care program we offer.
We offer child care for just about every age, with fun, educational programs that embody everything we believe in. Our daycare programs are just one part of the YMCA's efforts to promote the following core values.
1. YOUTH DEVELOPMENT
Promoting positive development, social interaction, leadership and learning are our goals for your kids. Here are our programs specifically tailored to providing them with life skills:
2. HEALTHY LIVING
We focus on making wellness your top priority by helping you put physical fitness in perspective. Here is what we offer to assist you with your health:
Access to our indoor track, pool, gymnasium and basketball court
Fun water fitness classes at no additional charge
Free participation in group exercise classes like Yoga, Pilates, Piyo, Zumba, Insanity, BODYPUMP®, Cycling and more
Blood pressure monitoring assistance programs
Access to personal training programs in group or individual settings
Free health and wellness consultations with MyFitness
Special program access, including the YMCA Diabetes Prevention Program and the LiveStrong® at the YMCA Program
Discounted rates for Y paid programs
SOCIAL RESPONSIBILITY
Our utmost concern lies in strengthening our St. Louis and Southwestern Illinois communities, and we couldn't do it without the help of generous donors and volunteers.
Here are the programs we provide to promote outreach and development:
Financial Assistance: Everyone should experience the Y, no matter their income — that's why we offer financial assistance for those who qualify, allowing anyone to enjoy membership and programs.
Community Development Programs: We're proud to provide both young learners and adults with the opportunity for educational expansion and enrichment through our plethora of positive education programs and services.
Inclusion Services: With our specialized services, we make sure people of all ages, interests, ability levels and needs can experience programs that fit them perfectly.
Day Care in St. Louis, MO, and Southwestern Illinois
The Gateway Region YMCA is the most experienced and biggest provider of child care in all of Missouri, and our locations can help guide your child through every stage of development — from infant care in St. Louis and the Southwestern Illinois area through sixth grade. Our day care programs include:
Need a special place for your preschooler in St. Louis and the surrounding Southwestern Illinois areas? The Gateway Region YMCA offers Preschool programs at the O'Fallon Family YMCA and the South County Family YMCA. We work with families to individually tailor programs for the cognitive, physical, social and emotional growth of your child. YMCA's preschool programs are licensed by the state of Missouri, so you can be confident your child is having a quality experience. Programs are partial week and half day, for children three years old to five.
Like our preschools, our Early Childhood Centers are fully licensed in Missouri and Illinois, with child care staff who are extensively trained and personally interested in your kids' success. These programs can further enhance and encourage your child's learning and development, with various locations in the Gateway Region, including:
Y Club is a program that will take away your concerns about where to leave your children when school is not in session and you're busy working. Our programs are available for children from preschool age to sixth grade, both before and after school Monday through Friday, as well as during early release days and some days off.
This program is an opportunity for your kids to build on their academic experience, getting help with homework from trained YMCA staff, engaging in creative, physical and educational activities and honing their socialization skills with other kids in the program.
The YMCA Summer Day Camps are a great way for kids to learn new skills, practice old skills, gain confidence and build relationships. The YMCA's range of exciting themes allows kids to spend the summer engaging with the activities they enjoy the most, whether they prefer a sports camp, a music camp, an art-focused camp or a traditional outdoor activities camp among many other possibilities.
Best of all, our camps accommodate kids of all ability levels. Andrew, one of our Inclusion Services camp counselors, works with a non-verbal camper in our Camp Inclusion group to make his experience meaningful. Every child is different, and we make sure we can make a difference with every child.
St. Louis, MO, & Southwestern Illinois Childcare You Can Count On
With YMCA programs in St. Louis, MO, and southwestern Illinois, you can leave your cares and concerns to us. We focus on educating, enriching and enhancing your children in every environment. Explore our programs today.