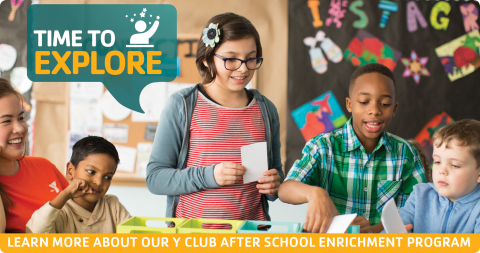 We believe that childcare should provide opportunities and experiences that stimulate a child's physical, social, intellectual and emotional development. In Y Club - An After School Enrichment Program, kids will engage in physical learning and imaginative activities that encourage them to explore who they are and what they can achieve. In addition to supplementing what they've learned in school, they will participate in interactive learning models that engage critical thinking skills, get assistance with their homework from trained YMCA staff, have a chance to socialize with each other and form long-lasting friendships that enhance their development, growth and self-confidence. This program is available Monday - Friday on regular release days, running from the end of the school day until 6:00 p.m..
Our goals are to provide quality care for all children; provide a safe, structured, and free choice environment; support and strengthen the family unit; and help children develop to their fullest potential.
Afterschool programming focuses on eight core content areas:
Arts & Humanities
Character Development
Health & Wellness
Homework Support
Literacy
STEM (Science, Technology, Engineering & Math)
Service Learning
Social Competence & Conflict Resolution
An After School Enrichment Program is the perfect option for your childcare needs. You can find us in the following school for the 2017-2018 school year:
2018-2019 School Year
Current participants (and their incoming kindergarten siblings) can begin registration April 1, 2018.
Open registration begins May 1, 2018. Registration will be closed from August 9-15 as we prepare our staff and the site. It will reopen August 16, 2018.
Click here for the registration form. Please return to the YMCA to complete your child's registration.
For more information, please contact Katie Kimmle.
2018-19 Y Club New Participant Registration Form
Health Form
Withdrawal Form
Change Form
Family Handbook
Monthly pricing is available for both members and non-members, and payments can be made by EFT (check/debit card), credit card or money order. Fees must be paid by the first of each month, regardless of attendance. We accept CHASI payments.
Member Rates ($25 per child registration fee, family max of $50 in registration fees)
1 Child $210
2 Children $378
3 Children $546
Non-Member Rates ($25 per child registration fee, family max of $50 in registration fees)
1 Child $232
2 Children $418
3 Children $604