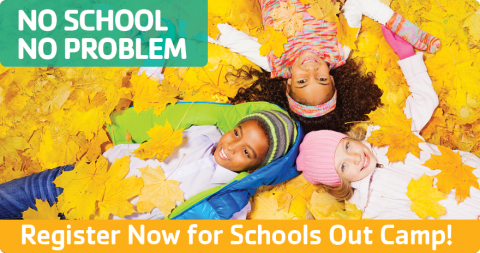 The O'Fallon Illinois Y is offering out Schools Out Camp to help with child care on days that school is out of session. Students will stay busy with arts, crafts, group games, sports, swimming and more! (Swimming will not take place on Monday.)
Ages 5-12 years (up to 6th grade)
6:30 am-6 pm
Things to Bring:
Sack lunch (no refrigeration available)
Morning & Afternoon snack
Swimsuit & towel (everyday except Mondays)
Water bottle
Register here.
Registration will close one week prior to the day of the camp. Late registrations add $10/day - if space is available. Refunds will be given for cancellations made prior to 48 hours before the program. Fees must be paid at the time of registration or drafted on the Friday before the scheduled day of the program.
2018-2019 School Year Dates:
August 13, 14, 31
October: 8
November: 6, 9, 12, 21, 23
December: 26, 27, 28
January: 2, 3, 4, 7
February: 15, 18
April: 2, 18, 19, 22