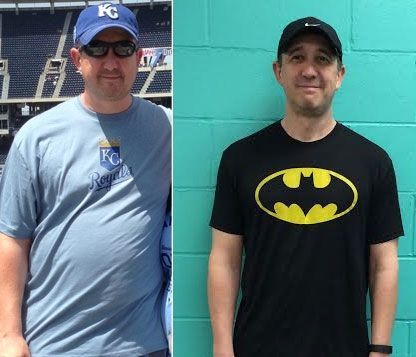 Some stories just have to be shared in hopes that they will inspire change in someone else. Just as much as we hope this provides motivation for someone facing a fitness struggle we want to celebrate Chad on his achievement and his willingness to document his journey. Way to go Chad!
Small Changes, Short Term Goals…that eventually snowballed into the past 8 months!
Motivation to get started.
There were many things that motivated me. Family history of high blood pressure, wanting to be as healthy as I can to be around for my kids and getting tired of seeing photos of myself and realizing how big I had gotten.
All about goals…
When we started last May, my goals were focused on weight loss. My first goal was to be under 200lbs and the stretch goal was 190 lbs. After that I made a goal to run a 5K in under 30 minutes and was able to accomplish that on Thanksgiving.
Today, I've lost over 40lbs and have gained a tremendous amount of strength.
My goals now are focused on fitness and strength. My goals include being able to do a pull-up, bench 150 lbs, and to get my body fat percentage under 19%! Accomplished March 3! Now it's figuring out what's next for me.
When I started the main motivation was getting healthy to be around as long as I can to see my kids grow up. While that is certainly still something I want to do, somewhere in this process I've changed. Now it is much more about doing it for me. It is more about enjoying exercise, enjoying being in better shape. It really has become my hobby.
Commitment
I started this process near the beginning of summer so one of the first things on the to-do list was get the kids certified for working out upstairs. My youngest (8) absolutely loved being trained by Conner and is excited to fill out his workout sheet when he comes.
I usually exercise 5-6 days a week. I train with Jenny two days a week. I also attend multiple group exercise classes, run outside and cross train with cardio machines in the fitness center. My son participates in Karate at the Y on the weekends so I make sure to get my extra strength training workout in while we were already at the Y.
There are some days I feel really great and I am excited to work out. There are other days I'm tired and would rather just stay home--those are the workouts that I am most proud of…getting in half a workout is still better than getting in no workout!
One of the things that kept me going is having definitive goals and being able to see progress toward those goals. When you start to see progress toward a goal you set- you want to keep moving forward.
Challenges
My biggest challenge, although I am also very excited about it, is switching goals from weight loss to strength training. I was never an athlete so I never had experience with weight training. It is a different mindset with diet to think about putting on muscle compared to just losing weight.
Nutrition
The biggest thing about changing my diet was mainly focusing on not eating crap! I love salty snacks and if they are around-- it is easy for me to sit and eat a big bag of chips. I have found that I have much better will power at the store than I do at home so I focus on not having bad snacks around. The other challenge was portion control.
While during weight loss the focus is on calories, since my goals have changed so has my focus on diet. I am actually tracking what I eat more now to insure that I am getting the right balance of protein.
Favorite and not so favorite exercises
I have worked so hard to master my pull-up. It is now my favorite! I enjoyed seeing the progress I was making daily. It is such an accomplishment to no longer rely on the "assisted" machine or bands.
My least favorite is still the dreaded jump rope. Little kids do this for fun so why does it seem so hard?
Personal Training
When you don't know what you are doing at the gym, training in general can be daunting. Where to start? What to do?
I might have come in and walked on the treadmill, even lost some weight, but there is no way I would be where I am at without having a personal trainer.
Looking 8 months into the future is the beginning of next school year which seems so far away. If someone had laid out 8 months ago everything I would need to do to get to where I am now it would have been overwhelming. It was small changes, short term goals that eventually snowballed into the past 8 months.
I know one thing, for sure, I wouldn't be where I am without a trainer-without that knowledge and guidance. Jenny is the best, but she will make you work! She will push you and challenge you…but always in an instructive and positive way.
Having a trainer has also provided accountability. I hate to go in after a bad weekend and tell Jenny that I missed a workout. On the other hand, when I met a goal- like my time on my 5K- I am excited to tell her about the success.
Besides just the hours of training, Jenny has helped me develop workout plans for the other days of the week and helped me plan out classes to take at the Y including yoga and cycling. Things I doubt I would have done on my own.
My wife and I had talked about getting a personal trainer for some time. Besides the fact that I generally didn't know what I was doing I have had knee and back issues and wanted to get into shape but didn't want to cause further injury. Finally taking that next step was one of the best things I have done for my health! My wife has been absolutely supportive with the time and money put into the process.