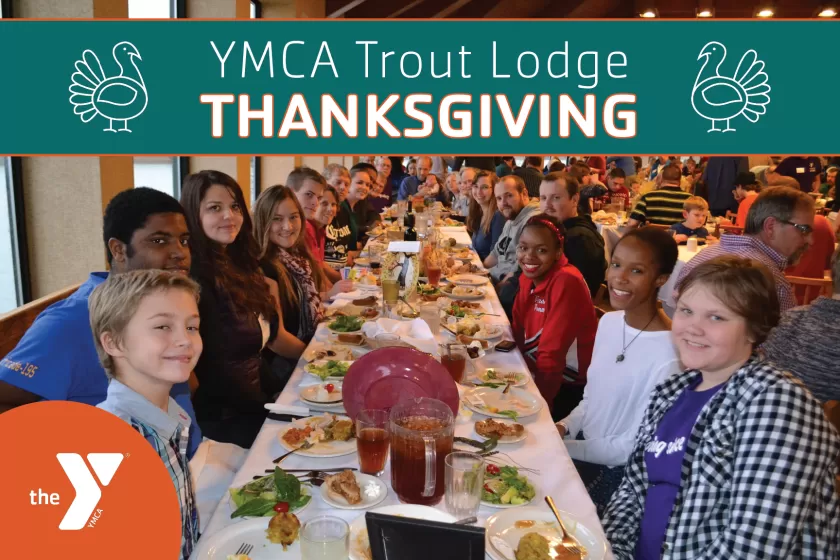 THANKSGIVING AT YMCA TROUT LODGE 

🦃
Wednesday, November 22 - Sunday, November 26
Thanksgiving at YMCA Trout Lodge is a tradition like no other. See what keeps families coming back year after year and join us for a Thanksgiving dinner and tons of other activities over the weekend. Stay as long or as short as you want November 22 - 26.


RATES
Ages 0-4: FREE
Ages 5-12: $29 per night per person
Ages 13-17: $79 per night per person
Ages 18 & up: $99 per night per person (Wednesday), $119 per night per person (Thursday - Sunday)
Rooming Fees: $120 per night per cabin*, $30 per night per loft room*
PLUS, Y members receive 25% off!
ACTIVITIES
Daytime Activities
Stay tuned for more added events!
Evening Activities
Wednesday - Campfire with songs, skits, and s'mores; bonfire lit at 8pm
Thursday - Thanksgiving dinner (served buffet style); bonfire lit at 8pm
Friday - Minute-to-Win-It; bonfire lit at 8pm
Saturday - Evening Nature Adventure; bonfire lit at 8pm
CONTACT
Jessie Stevenson (jessie.stevenson@gwrymca.org, 573-438-2154 ext. 140)
*Indoor fireplaces are currently unavailable.
YMCA Trout Lodge Alcohol Policy
Alcohol of any kind is NOT allowed in any open public areas, including lobbies, hallways, beaches, and other open spaces, unless a previously-approved event.