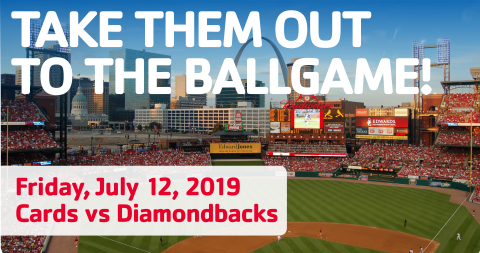 Give your little fan the opportunity to see our Cardinals take on the Arizona Diamondbacks on Friday, July 12! Your child will participate in a pregame parade at Busch Stadium! Tickets available through the Y will cost only $15 each; they would normally be $40 or more! Kids will have the opportunity to walk in the pre-game parade around the field.
FRIDAY, JULY 12, 2019
CARDS VS DIAMONDBACKS
For your child to walk in the parade, meet your YMCA branch team at the gate to prepare for the parade before heading to your seats. Click here for parade information.
SCHEDULE
5:30 pm: Enter Gate 1 at southeast side of Stadium
5:50 pm: Parade participants line up on East Ramp
6:00 pm: Pregame Parade
7:15 pm: Game
REGISTER for tickets by June 24! Please register with the YMCA branch where you will want to pick up your tickets. Tickets will be available after July 2.