You are here
Quick Meals for Busy Families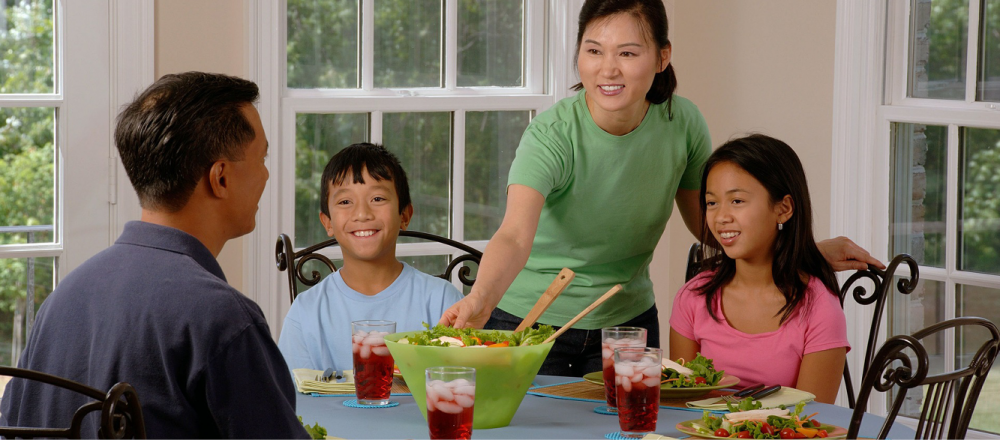 Between work and after-school activities, it can be a challenge to make quick, nutritious meals as well as eat together as a family. Eating together has many benefits including communication skills, cooperation, cooking skills and table manners. According to research, children who eat dinner with their families most nights are more likely to do well in school and less likely to become overweight, develop eating disorders, smoke cigarettes or abuse drugs. So how can you maintain family mealtime and still meet the demands of a busy schedule?
Here are some simple strategies and tips that will help inspire you to put together healthy meals in no time!
Make a list. Once a week take some time to create a menu and shopping list. Then head to the grocery store and purchase all of the ingredients for those recipes. Helpful hint: keep your shopping and recipe lists on your computer or phone along with weekly menus that can be rotated monthly.
Plan simple meals for your busiest nights. Soup, salad, and bread; eggs and toast; tuna wrapped in a tortilla with peppers and cucumbers.
Mix prepared & scratch foods together. Rotisserie chicken with microwaved baked potatoes and a salad; frozen shrimp with cut up veggies and served over rice; whole grain pasta with olive oil and garlic, add frozen veggies during the last few minutes of cooking to save time and dishes, top with chicken. Helpful hint: choose lower-sodium versions and read labels carefully to watch out for unwanted ingredients.
Use your crockpot (or Instant Pot). Make a pot of chili to be used once or twice throughout the week (one night have chili and salad, another night use chili on top of baked potatoes or pasta for chili mac).
Keep a stocked pantry. Items like whole wheat pasta, whole grains (quinoa, bulgur, barley, farro, etc), beans and lentils, wild Alaskan salmon or tuna packets, peanut butter, canned tomatoes, dried fruit, and nuts. A pantry stocked with healthy ingredients can be used to make healthy meals in a snap. You could make a grain bowl with quinoa, black beans, veggies, walnuts, and a vinaigrette or an Asian noodle dish with whole wheat noodles, peanut butter, veggies, and ginger sesame dressing.
Meal plan & prep. Spend some time on the weekends (or one night a week) prepping parts of meals. For example, steam a batch of brown rice or quinoa, wash and chop veggies, and cook ground beef and chicken. When cooked in large quantities, these can be used throughout the week. Another helpful hint: get your kids involved, it makes the process more fun rather than a chore.
Here are a few recipes to help get you started!
Kale Quinoa Salad
INGREDIENTS
3 cups quinoa, cooked
5 oz kale
1 purple cabbage, chopped
4 carrots, thinly sliced
1 oz dill
4 eggs, boiled
1/3 cup rice wine vinegar
1/4 cup extra virgin olive oil
INSTRUCTIONS
Add all the ingredients to a large bowl, except the eggs, combine well. Portion salad equally and top with sliced egg.
10-Minute Tostadas
INGREDIENTS
corn tortillas
olive oil
salt tostado toppings (beans, chicken, beef, lettuce, cheese, avocado, etc)
INSTRUCTIONS
Preheat oven to 400 degrees.
Line a baking sheet with foil and arrange as many tortillas as will fit without overlapping.
Brush both sides of tortillas with oil and sprinkle with salt.
Bake for 4 minutes, turn over and bake for 4 more minutes.
Top with your favorite toppings.
Foil Packet Sausage and Veggies
INGREDIENTS
1 red bell pepper, sliced
1 cup corn
1/2 yellow onion, chopped
4-5 red potatoes, cut into bite-sized pieces
1 zucchini, sliced
13 oz chicken sausage, sliced
5 tablespoons olive oil
1 tablespoon dried oregano
1 tablespoon dried parsley
1/2 tsp garlic powder
1 teaspoon paprika
INSTRUCTIONS
Preheat oven to 400 degrees.
Combine all ingredients into a bowl and stir well.
Arrange mixture onto 4 large pieces of tin foil, top with another piece of oil, and secure.
Bake in oven for 30-35 minutes.
Happy, healthy eating!
Written by Personal Trainer and Nutritionist. Corey Bivins
About the Author: Corey Bivins is a NASM Certified Personal Trainer and Nutrition Coach at the South City Family YMCA. She holds a Masters in Applied Clinical Nutrition.
All opinions expressed here are those of their authors and/or contributors and not of their employer.
Any questions or concerns regarding the content found here may be sent to info@gwrymca.org.