You are here
For the Love of Books!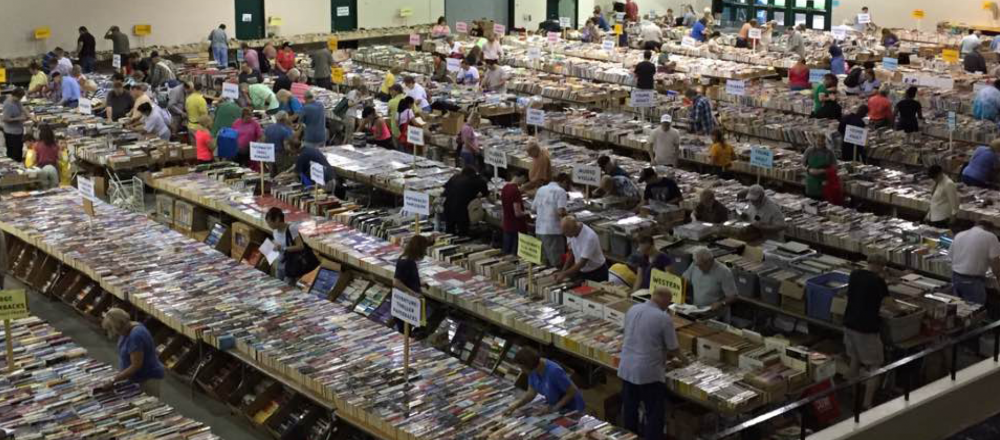 It is a little-known fact that the Gateway Region YMCA is in the midst of a love affair...with books! Our annual Book Fair, from August 17-21 at Queeny Park is among the biggest book resales in the entire Midwest.
You might ask, "But what does that even mean? Seriously, how big is it really?" Let's put that in context for you; take the size of your kitchen table, then double it - you are going to need 400 of those kitchen tables!
Our "Rare and New Book" section is larger than most other book fairs in the metro area … and that section only accounts for about 15% of total books. And because of the size of the YMCA Book Fair, the scope is equally as large. Looking for biographies? We have a few thousand of those. How about children's books? We have so many we sell 'em by the inch! On top of that, we have 30 different categories of books, offering something for readers of every variety.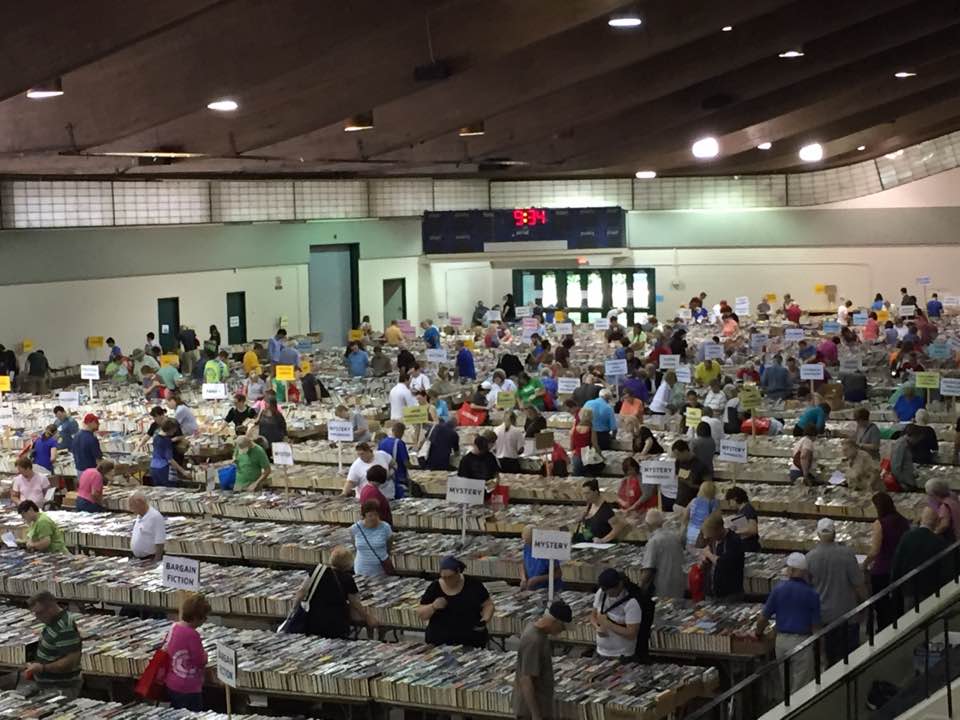 New to the Book Fair this year, is our family day on Saturday, August 18 from 10 am - 2 pm. We will have local authors, food trucks, scavenger hunt, family activities, arts & crafts, and MORE!!!!
We haven't even gotten to the best part yet! The vast majority of books sell for about $1. That means you will go home with a stack of books to keep your mind and imagination filled for the foreseeable future, gifts for the favorite book nerds in your life, AND still, have dollars to stop for ice cream with the kids on the way home! The YMCA Book Fair is hands-down, the best value for books in the entire St. Louis metro area.
The books we resell are donated to us by the loving hands of those in the community! Every book - all half-million of them (that's a bottom-number estimate!), are donated. An army of hundreds of volunteers puts in more than 6,000 hours every year to support the work of The Y. Every dollar you spend at the Book Fair helps us fulfill our promise to strengthen the communities we serve. Not only are you getting the best book value in all of St. Louis, the Book Fair helps to change the lives of thousands of your fellow friends and neighbors.
All of this makes for a beautiful love affair with books between the YMCA and our community, that is 39 years in the making. The YMCA Book Fair is an annual event that supports both the broad reading interests and provides essential support for members of our community who need it most. So, pack up the car, bring the kids, call your neighbors, and get ready to be carried away into an explosion of literature in your own home!
BOOK FAIR DETAILS: The YMCA Book Fair runs from Friday, August 17 - Tuesday, August 21, 9am to 9pm each day at the Greensfelder Recreation Complex (the hockey rink) at Queeny Park (near-west St. Louis suburb of Ballwin, Missouri, just a couple of short minutes from Exit 9 off of Interstate 270).
550 Wiedman Road, St. Louis, MO.
There is plentiful, free parking adjacent to venue, and ample handicap-accessible parking. Complete details can be found here.
All opinions expressed here are those of their authors and/or contributors and not of their employer.
Any questions or concerns regarding the content found here may be sent to info@gwrymca.org.