10 Breakfast Ideas to Kickstart your Child's Morning!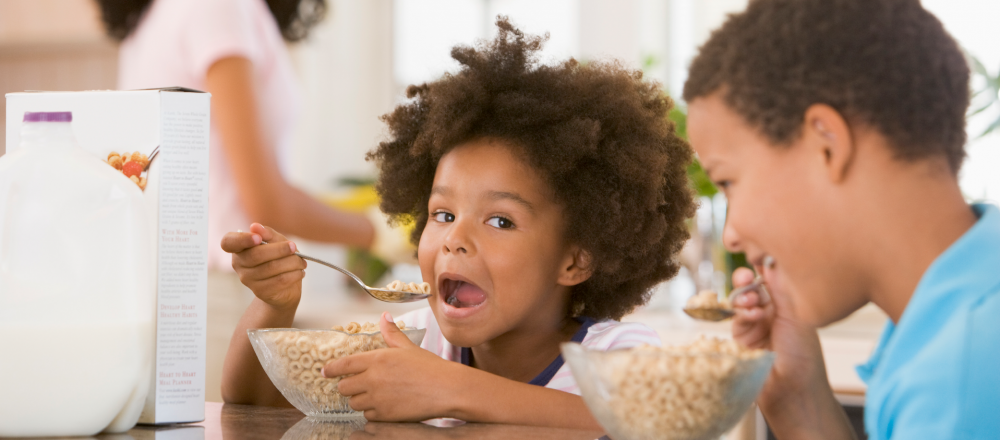 Eating breakfast is one habit that has been shown to help children concentrate better, achieve higher test scores and miss fewer days of school. One barrier to eating breakfast in the morning is time. Planning ahead is one way to ensure success. To prove this point, we had children at the O'Fallon Family YMCA compete in making breakfast. The kids had to open a small cereal box and pour it in a bowl, open a pint of milk and pour it over the cereal, peel a banana and finally, open a small 100% juice box. It took the kids less than 10 seconds! They were shocked to see how easy it was to make breakfast when the foods were readily available. Improve the staying power of breakfast for the day by combining lean proteins, whole grains, fruits and vegetables. Whether you have 10 seconds to prepare your meal or 10 minutes, here are 10 easy breakfast ideas.
Oatmeal: Make with skim milk topped with walnuts and berries or mix with 1/4 unsweetened applesauce and sprinkle with apple pie spice or cinnamon.
Whole Grain Waffle Sandwich: Place peanut butter and bananas in the middle of two waffles for an easy breakfast on the run.
Yogurt Parfait: Layer yogurt with blueberries and granola or a favorite whole grain cereal.
Breakfast Tacos: Roll scrambled eggs, shredded cheese and salsa in a corn tortilla to spice up breakfast.
Fruit Smoothie: Mix frozen strawberries and a banana with milk to make a smoothie. Add a muffin.
Leftovers: If your child is not a breakfast eater, try their favorite leftovers from dinner.
Breakfast Sandwich: Place reduced sodium ham with swiss cheese on a whole grain English muffin with cantaloupe on the side.
Bagel: Top with cream cheese and strawberries for a quick breakfast.
Trail Mix: For teenagers that will not make time for breakfast, mix their favorite whole grain cereal with nuts and dried fruit such as apples, mangoes or pineapple.
Vegetable Egg Cups: Make ahead with your favorite vegetables to save time. Refrigerate overnight and warm up in the morning in the microwave. Serve with salsa. See recipe below.
Vegetable Egg Cups
Serves: 6 (2 each) Approximate Prep Time: 10 min Cooking time: 15-20 min

Ingredients
Nonstick cooking spray
12 large eggs
1 cup chopped mushrooms
1 medium red bell pepper, chopped
2 green onions, thinly sliced
Salt and pepper season to taste
Salsa
Directions
Heat oven to 375F
Lightly coat a twelve-cup muffin tin with non-stick cooking spray
Place eggs in a large bowel; whisk to blend. Season with salt and pepper (if desired)
Add mushrooms, bell pepper and green onions; mix well
Evenly pour egg mixture into muffin cups
Bake for 15 to 20 minutes, or until a toothpick inserted into the center of cups comes out clean
Top each cup with salsa
Nutritional Information per serving
156 calories, 10 gm fat, 3 gm saturated fat, 372 mg cholesterol, 3 gm carbohydrates, 1 gm fiber, 13 gm protein

Sources: Calabrase, A., Autumn Calbrese Presents Fixate: 101 personal recipes to use with the 21 Day Fix Portion-Control Program. Beachbody, LLC, 2015.
https://www.eatright.org/food/planning-and-prep/snack-and-meal-ideas/6-tips-for-better-breakfasts
https://www.eatright.org/food/nutrition/healthy-eating
https://www.eatright.org/food/nutrition/eating-as-a-family
https://www.eatright.org/food/planning-and-prep/snack-and-meal-ideas/power-up-with-breakfast
All opinions expressed here are those of their authors and/or contributors and not of their employer.
Any questions or concerns regarding the content found here may be sent to info@gwrymca.org.