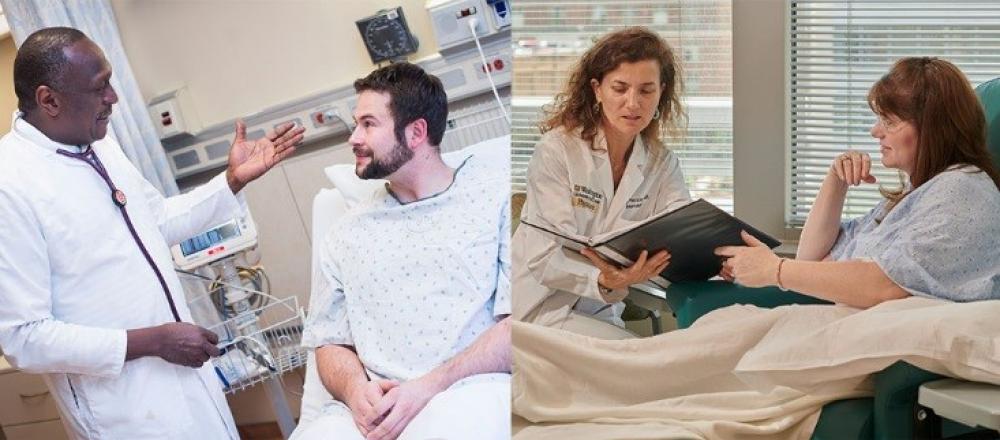 Going to the doctor or health center can feel overwhelming, especially if you have a new health problem or illness. Sometimes, it can feel like doctors and nurses are in a rush because of a busy schedule. Other times, even when they take the time to explain things, you might feel like they are using complicated language you don't understand.
To get the most out of these visits, here are some tips:
Prepare in advance of your health care appointment

Make a list of what is bothering you, your symptoms, questions and concerns
Bring your medication bottles, or a list of your medications for your doctor or nurse to review. Knowing what other medications you take can help your doctor or nurse treat you in the safest, most effective way.

Bring a friend or family member to the appointment when you can

Ask him or her to write down things you should remember

Engage with your doctor or nurse during your appointment

Ask the questions you've prepared, and tell them what's bothering you about your health
Ask them to repeat anything you don't understand
If you still don't understand, ask them to write things down so you do not forget something important
If you are struggling to think of the right questions to ask, The Agency for Healthcare Research and Quality has a "question builder" you can use before your appointment to help you think of what to ask. You can use the tool to make your own question list based on what is important to you. They suggest questions such as:
What is my diagnosis?
What are my treatment options? What are the benefits of each option? What are the side effects?
Will I need a test? What is the test for? What will the results tell me?
What will this new medicine do? How do I take it? Are there side effects?
If you are wondering how to engage with your doctor or nurse during a healthcare visit, sometimes a friend or family member can help speak up and support you.  That person can also help you write things down and can be an extra pair of ears to listen to the information. After the visit, if you have a question, you can always call or email your doctor or nurse. It's better to make sure you understand something important about your health than sit at home wondering how to take a medication or when to follow-up about a concern.
Being involved in your health care and asking questions can help your doctor and health-care team learn more about you. Your doctor's answers to your questions can help you make better decisions and receive better care. In the end, partnering with your doctor can lead to better results for your health.
Another way to help improve your health is by using Your Disease Risk, a free personalized assessment tool to help you understand your risk of common chronic diseases and cancer, or by contacting Siteman Cancer Center.
Written by: Mary Politi, PhD, is a health psychologist and associate professor of surgery in the Division of Public Health Sciences at Washington University School of Medicine and a Siteman Cancer Center research member. Her primary research interests include health communication and shared decision-making. Her work helps patients and the public understand health information, explore what is important to them when making health decisions and collaborate to make evidence-informed decisions that meet their needs.
Photo: Patient Talking with Doctor, NIH Clinical Center; Washington University Photographic Services.