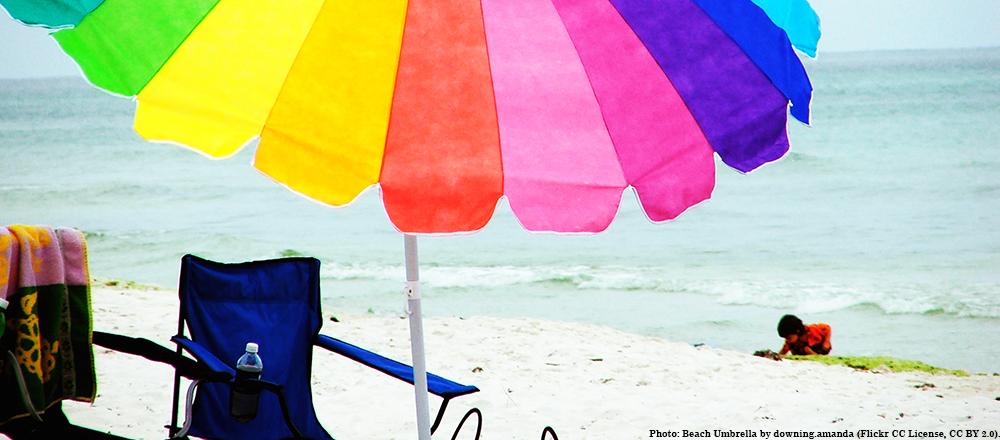 May often is the unofficial start of summer. The days continue to be warmer and longer, children are out of school for the summer break, and weekends become filled with a range of activities. Some of these activities include being outside, such as when visiting a pool, park or zoo. And while being outside is part of what defines summer, it also increases sun exposure and skin damage. Skin damage is done by the sun's ultraviolet (UV) rays, and too much sun exposure and skin damage can lead to skin cancer, including the deadliest form, melanoma.
So, during your time in the sun, remember these easy tips to help reduce exposure. Don't forget about protecting the kids, too.
Protect yourself with sunscreen every day. Use a broad-spectrum sunscreen with a sun protection factor (SPF) of 30 or higher, and make sure to apply it even when it is cloudy outside. Don't forget to apply it everywhere, including on your back, neck and ears, and to reapply every two hours, if not sooner. Sunscreen sprays provide ease of application for adults and children, but they must be rubbed in to assure complete coverage. Physical blockers, containing titanium dioxide and zinc oxide, are chemical-free, effective options. Remember that sand, water and snow can reflect UV and increase exposure.
Find Shade. Give yourself a break from the sun when you're outside for long periods of time. Seek out shaded areas, such as inside a building or under a tree, or bring a large umbrella or canopy to use.
Wear appropriate clothing. Wearing long sleeves, pants and hats (even when it's hot outside), as well as sunglasses, will help protect you from the sun's harmful rays. If you're at the pool or beach, UV-protective clothing and swim attire is available and will improve protection. Similar to sunscreen, which is measured by SPF, UV-protective clothing is measured by UPF, or its ultraviolet protection factor. We recommend clothing with a UPF of 50. Remember that thin fabrics and loose-weave clothing without UPF are less protective. Sunglasses are important, too, since they help protect your eyes from too many UV rays.
Don't use indoor tanning booths. Studies show that adolescents and young adults who use indoor tanning beds are 87% more likely to get melanoma. A tan isn't worth the risk of deadly skin cancer. Plus, indoor tans lead to premature skin aging, including wrinkles.
Avoid peak sun hours. The sun's UV rays are highest during peak hours, between 10 a.m. and 4 p.m. This is a great time to try indoor activities or limit prolonged outdoor activities.
Damage from the sun and other UV exposure can occur in as few as 15 minutes. Set an example for your family by wearing sunscreen and a hat and by limiting sun exposure and avoiding tanning beds. May is a great time to model healthy sun and skin-cancer prevention methods for children and adults.
If you have questions or are concerned about skin cancer or your risk, talk with your doctor. He or she may check your skin and refer you to a dermatologist for evaluation. Skin cancer is preventable and treatable when caught early, so don't hesitate to start the conversation.
For more information about skin cancer and limiting sun exposure, visit Siteman Cancer Center's skin cancer webpage or 8 Ways to Prevent Cancer and Stay Healthy, or call 1-800-600-3606 for a referral.
Lynn Cornelius, MD, is the Winfred A. and Emma R. Showman Professor and Chief of the Division of Dermatology at Washington University School of Medicine in St. Louis. She also leads the melanoma multidisciplinary clinic, treating patients with skin cancer and melanoma at Siteman Cancer Center. Dr. Cornelius is a longtime cancer prevention advocate, educating patients and the public about reducing skin cancer risk through proper sun protection.
Photo: Beach Umbrella by downing.amanda (Flickr CC License, CC by 2.0)