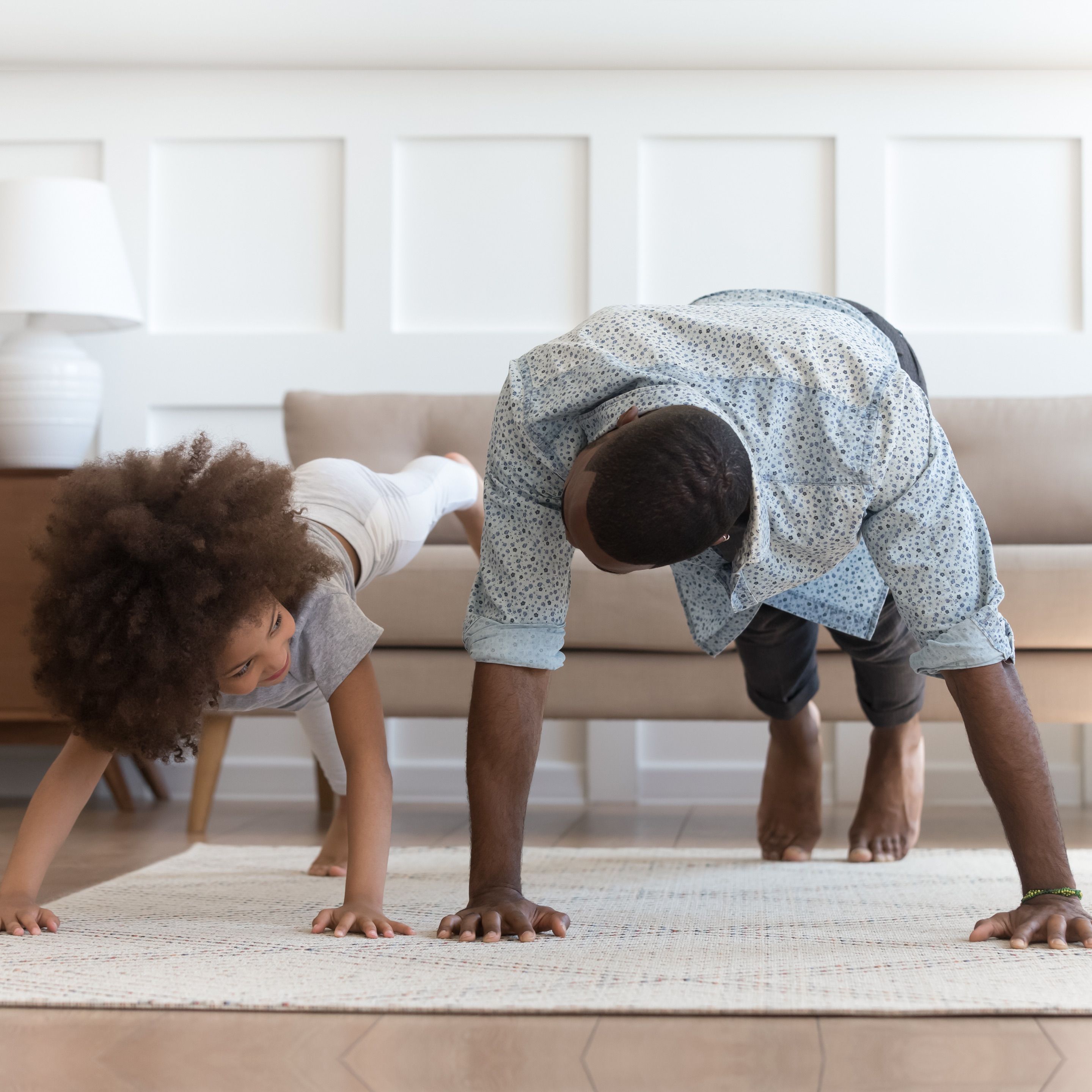 As a parent, you want the best for your child. The best schools, the best teachers, the best home. You want them to be safe, healthy and loved. But sometimes what's best for your child isn't always easy. Today, one in five American children is considered obese — or carrying too much body fat. Most scientists believe that this is due to a combination of consuming too many unhealthy calories and not spending enough time engaged in physical activity. There's plenty of information out there on ways to sneak healthy foods into your child's diet and healthy meal planning, but it's difficult to make a child be more active. After all, you don't want them to resent you and feel forced to head outdoors or take a jog. If you're like most parents, you're looking for ways to encourage your child to be physically active. We've got you covered!
1. Plan Ahead
Take a few minutes to think about the week ahead. Start by asking yourself, "How do I motivate my child to exercise?" Brainstorm ideas for activities they will enjoy. Then, think about the details. Will the weather be conducive to an outdoor activity, or should you look for something you can do indoors? Does your child enjoy sports, or do they prefer to spend time engaged in free play at the neighborhood playground?
2. Include a Friend
When you plan ahead, it also gives you time to invite a friend to join you. Children love spending time with their friends, and they'll be much more engaged in whatever activity you plan if their friends are involved. When children are engaged in what they're doing, they'll stay active for longer.
3. Choose Developmentally Appropriate Activities
How do you promote physical activity for toddlers? After all, they aren't likely to be interested in kicking a soccer ball or playing tag. It's important to consider developmental abilities when planning activities for your child. For example, a 3-year-old probably won't be able to enjoy playing basketball for an hour. An 8-year-old probably won't want to spend much time on the swings at the park. Think about your child's current interests and then choose an activity that's appropriate. If your child is old enough, you may want to consider giving them a couple of options to choose from so that they don't think you're trying to make them do something.
4. Model the Behavior You Want to Encourage
If you want your child to become more active, then you need to model activity. Incorporate physical activity into your daily routine. Tell your child when you're going for a walk or run, and invite them to come along if they're old enough. Or, consider joining your local Y where children can play, climb or engage in age-appropriate activities while their parents take a class or work out.
5. Limit Screen Time
The American Academy of Pediatrics recommends limiting the time children spend in front of the television, mobile device or tablet each day. When you enforce regular viewing limitations, children will have time to engage in other interests, such as going outside, playing sports or engaging in more active play.
6. Provide Them With Toys That Encourage Activity
If you want your child to engage in active play, then provide them with toys that will encourage activity, such as balls, jump ropes, hockey sticks, bikes and other items they can play with outside. If your child is younger, things like sidewalk chalk and bubbles are still a great way to motivate them to move outdoors. Once they're out there, you'll find that they may go between blowing bubbles, playing tag and exploring the yard. There's no reason this needs to cost a fortune — scour your local second-hand store or consider a swap with another parent who has an older child who might have outgrown some of these items.
7. Join Your Child
If your child refuses to participate in an activity, join them! Instead of sending your child outside to play while you stay in to fold laundry, join them! Play hide-and-seek, take a walk, see who can collect the most beautiful fall leaf. Offer to coach a team and let them pick a sport. When you take the time to engage in activity with your child, you're providing them with the attention and quality time they crave. A double win!
8. Encourage Healthy Eating
Healthy eating goes a long way toward giving your child the energy they need to be active. Encourage fruits, veggies and protein, and discourage foods that are full of sugar and salt. Also, help your child avoid caffeine since it may affect their sleep, resulting in fatigue the next day. A tired kid won't want to be active.
9. Make Time to Be Active
Take a close look at your family's schedule. Is there room in your day for your child to be active? If your family's schedule is packed full, then you may need to clear some time to make physical activity a priority. Consider limiting how many activities each child is involved in or prioritizing those that emphasize physical activity. Also, look at the order things happen. Many parents expect their children to finish their homework before they go outside. But if your child's homework takes too long, it may be dark or you might run into the dinner hour. Consider swapping the order and allowing time for physical activity before homework. You might be pleasantly surprised at how much faster your child does their homework when they've had a chance for physical activity first.
10. Don't Press the Issue
Although it's important to encourage your child to be physically active, you can go too far and turn encouragement into annoyance. If your child doesn't want to participate in activities, gently try to figure out why. Are they self-conscious about their athletic ability? Are they bored by the idea of playing ball or a game of tag? Do they prefer getting active indoors by having a dance party rather than going outside and getting sweaty? Whatever it is, it's important that you validate their feelings and encourage them to participate in an activity they love. If you insist on your way and your activity all the time, your child may become even more resistant to the idea of activity.
Gateway Region YMCA
Winter is approaching, but there's no better time to encourage your entire family to become more active. The best way to beat those winter blues and avoid cabin fever is to find ways to get out and get active together. The Gateway Region YMCA is committed to providing a family-friendly atmosphere with plenty of activities for even the smallest member. Besides offering workout rooms and a variety of classes for all ages, we also provide a wide variety of youth sports, swim lessons, and community activities to get kids active and keep them engaged throughout the year. Find your local branch, or learn more about a membership at the Y.