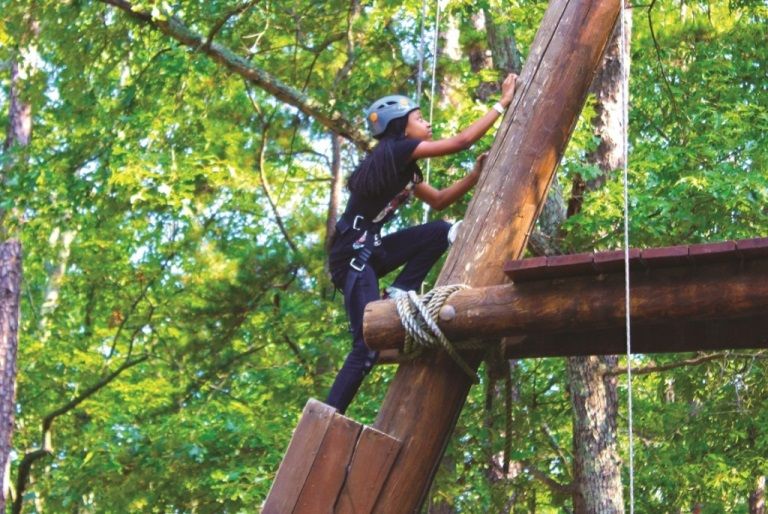 Think you've got what it takes to be a YMCA adventurer?

If you're trying to test your limits this summer, we've got your challenge right here! Here's a list of our fave adventure activities at Trout Lodge:
SUMMIT ZIP
400-ft. zip line! Climb 35 feet up and zip line down to earth!
 
PINES PEAK
A vertical climbing wall for all experience levels!
 
PINES ZIP
This 250-ft. zip line sends you flying back down to the ground.
 
ALPINE OR "SUPERMAN-STYLE" SWING
Those choice is yours here. Swing in the traditional alpine style or bring out your super hero skills and swing "superman-style!" if you dare! Both are a combination of a brief free fall and circular swing. You will be pulled up 30 ft. into the air, where you will begin your drop and swing.
 
ALPINE TOWER
A 50-ft. hourglass-shaped jungle gym with a variety of elements including rocks, cables and poles.
 
GLADIATOR ZIP
Not for the faint of heart! Try this zip line with a twist – jousting! You will zip out over the valley to hit targets with your "lance." You'll have two opportunities.
 
MOONLIGHT SWING
Be harnessed in and lifted up 30 ft. into the air for an exciting combination of a brief free fall and swing—all in the DARK!
 
WATER BLAST ZIP (SEASONAL)
Step up to the platform and get blasted with water while you zip! (Bonus: cooling down on a hot summer day has never been more fun)
 
SPECIAL AGENT ZIP
Step up to our zip line and test your special agent skills! Try to hit all 10 targets with your paintball marker while zipping through the trees!
Think you've got what it takes? Make plans to visit us by calling 888-FUN-YMCA or booking online!